Blog/Market Talk
Posted Jun 12, 2019 by marty armstrong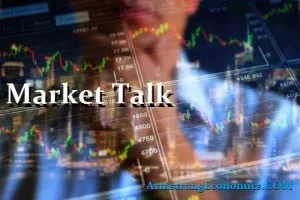 ASIA / AUSTRALIA:
News emanating out of China states big tech firms are planning to move production out of China. This comes around after Huawei just failed to launch their new laptop. This was a first time a Huawei product failed to launch since the trade war began. An Apple partner, Foxconn Technology Group, said it would be able to manufacture all U.S.-bound iPhones outside of China if it was forced to do so. A company that makes servers for Facebook and Microsoft is reportedly looking to shift some production away from China as well. Nintendo, who manufactures gaming consoles, stated that it might be forced to sell its consoles at a loss in the U.S.
Meanwhile in neighboring Hong Kong, rubber bullets and tear gas were used to maintain crowd control as over a million people came to the streets regarding the new extradition laws to China.
President Trump suggested he was holding up a deal with China, and that China wants this deal to happen "very badly." He then went on to insult Joe Biden, stating he and Obama were foolish to assume China is not our competitor. He finished the talk at the White House, stating that the U.S. is taking billions of dollars from China. He claims his relationship with President Xi is very good and they will meet at the G-20.
The major Asian stock markets had a negative day today. Shanghai decreased 16.34 points or -0.56% to 2,909.38; KOSPI decreased 3.06 points or -0.14% to 2,108.75; ASX 200 decreased 2.60 points or -0.04% to 6,543.70; NIKKEI 225 decreased 74.56 points or -0.35% to 21,129.72; and Hang Seng decreased 480.88 points or -1.73% to 27,308.46; and SENSEX decreased 193.65 points or -0.48% to 39,756.81.
The major Asian currency markets had a mixed day today. AUDUSD decreased 0.0030 or 0.43% to 0.6930, NZDUSD decreased 0.0007 or 0.10% to 0.6576, USDJPY decreased 0.0490 or 0.05% to 108.4510, and USDCNY increased 0.0071 or 0.10% to 6.9310.
Gold increased 6.49 USD/t oz. or 0.49% to 1,332.13 and silver increased 0.0725 USD/t. oz or 0.49% to 14.7602.
Some economic news:
New Zealand:
Electronic Card Retail Sales (MoM) (May) decreased from 0.6% to -0.5%
Electronic Card Retail Sales (YoY) (May) decreased from 4.5% to 3.2%
External Migration & Visitors (Apr) increased from -2.60% to 8.30%
Permanent/Long-Term Migration (Apr) increased from 4,630 to 4,870
Visitor Arrivals (MoM) decreased from 2.4% to -3.1%
South Korea:
Unemployment Rate (May) decreased from 4.1% to 4.0%
M2 Money supply (Apr) increased from 6.50% to 6.90%
Japan:
Core Machinery Orders (MoM) (Apr) increased from 3.8% to 5.2%
Core Machinery Orders (YoY) (Apr) increased from -0.7% to 2.5%
PPI (YoY) (May) decreased from 1.2% to 0.7%
PPI (MoM) (May) decreased from 0.3% to -0.1%
Australia:
Westpac Consumer Sentiment (Jun) decreased from 0.6% to -0.6%
China:
CPI (YoY) (May) increased from 2.5% to 2.7%
CPI (MoM) (May) decreased from 0.1% to 0.0%
PPI (YoY) (May) decreased from 0.9% to 0.6%
Singapore:
Retail Sales (MoM) (Apr) decreased from 1.1% to 0.5%
Retail Sales (YoY) (Apr) decreased from -0.9% to -1.8%
India:
CPI (YoY) (May) increased from 2.99% to 3.05%
Industrial Production (YoY) (Apr) increased from 0.4% to 3.4%
Manufacturing Output (MoM) (Apr) increased from 0.1% to 2.8%
Europe / EMEA:
In what could be one of her last policy initiatives, Theresa May vows that the UK will cut greenhouse emissions to zero by 2050. Boris Johnson, who is currently the forerunner to become the next prime minister, has officially launched his bid for the job.
Elsewhere in the UK, a think tank reported that most of the companies in the UK are not prepared for a no-deal for Brexit and that it will have disastrous effects on the economy. A senior diplomat has called Brexit a "shamble" and that it has ruined the reputation of the UK. Many Brexiters have claimed that the UK can become a free-market haven, like that of Switzerland and Singapore, once it moves away from the EU.
The Spanish government has agreed to accept more U.S. troops at the Naval Station Rota in the province of Cadiz. There was some criticism over the move as the decision bypassed the MPs.
French President Macron will reportedly send a new "friendship tree" to President Trump as the last one planted outside the White House has apparently died.
The major European stock markets had a negative day today. CAC 40 decreased 33.52 points or -0.62% to 5,374.92, FTSE 100 decreased 30.83 points or -0.42% to 7,367.62, and DAX decreased 40.13 points or -0.33% to 12,115.68.
The major European currency markets had a mixed day today. EURUSD decreased 0.0036 or 0.32% to 1.1293; GBPUSD decreased 0.0031 or 0.24% to 1.2691; and USDCHF increased 0.0029 or 0.29% to 0.9951.
Some economic news:
France:
French Non-Farm Payrolls (QoQ) (Q1) increased from 0.3% to 0.4%
Spain:
Spanish CPI (MoM) (May) decreased from 1.0% to 0.2%
Spanish CPI (YoY) (May) decreased from 1.5% to 0.8%
Spanish HICP (YoY) (May) remain the same at 0.9%
Spanish HICP (MoM) (May) decreased from 1.1% to 0.2%
U.S. / AMERICAS:
The U.S. government has approved year-round access to gasoline with greater ethanol blends. At a rally in Iowa this Wednesday, President Trump said that the move will help the struggling farming sector. E15 gasoline (15% ethanol) typically requires corn and renewable fuel. Experts estimate the demand for corn will double from 100 to 200 million bushels short-term.
Bank shares fell this Wednesday due to declining Treasury yields: Wells Fargo (-2.92%), J.P Morgan (-1.27%), Citigroup (-1.58%), Bank of America (-1.03%), PNC (-0.80%), and HSBC (-1.25%).
Facebook shares fell -1.72% today after the Wall Street Journal released an incriminating report about founder Mark Zuckerberg. Emails from 2012 were uncovered that suggest Zuckerberg was aware that the company was breaching FTC policy by sharing user information with third-party sources. Facebook is currently under investigation by the FTC in relation to their data sharing policies.
The Canada Revenue Agency (CRA) conducted a large-scale raid this Wednesday on 15 companies throughout Ontario and Quebec. Over 120 agents participated in the surprise search. The raid is part of an ongoing investigation to recover evaded taxes and uncover money laundering schemes.
Most major U.S. indexes continued to decline this Wednesday. The Dow slipped 43.68 points or -0.17% to 26,004.83, the S&P 500 lost 5.88 points or -0.20% to 2,879.84, the NASDAQ fell 29.85 points or -0.38% to 7,792.72, but the Russell 2000 added 0.68 of a point or +0.05% to 1,519.79.
In Canada, the TSX Composite and TSX 60 both fell -0.13% after closing at 16,227.24 and 972.90 respectfully.
Brazil's Bovespa had its recent upward momentum interrupted this Wednesday after the index fell 639.12 points (-0.65%) to 98,320.88.
ENERGY:
Amid uncertainty with the Chinese and global economy, Dubai oil company ENOC has managed to secure 690 million dollars of funding from China. According to Sif Al Falasi, ENOC group chief executive, there will be "rapid changes in the evolving energy industry, there is a global shift towards alternative energy, innovation and digitization…We are forerunners in the areas of innovation and technology in the regional energy market and are pleased to see international financial institutions trusting and endorsing our growth plans."
WTI Crude oil is now looking to slip under 50 dollars a barrel for the first time as it rose over 50 dollars in January.
The oil markets had a negative day today. Crude Oil decreased 2.2 USD/BBL or -4.13% to 51.0977; Brent decreased 2.41 USD/BBL or -3.87% to 59.8461; Natural gas decreased 0.017 USD/MMBtu or -0.71% to 2.3864; Gasoline decreased 0.0745 USD/GAL or -4.24% to 1.6784; and Heating oil decreased 0.0441 USD/GAL or -2.42% to 1.7785.
Top commodity gainers: Lumber (5.85%), Bitumen (3.34%), Soybeans (2.24%), and Canola (3.03%). Top commodity losers: Gasoline (-4.13%), Crude Oil (-4.04%), Brent (-3.79%), and Coal (-3.76%)
The above data was collected around 14:59 EST on Wednesday.
BONDS:
Japan -0.11%(+1bp), US 2's 1.88% (-4bps), US 10's 2.12%(-2bps), US 30's 2.62%(+0bps), Bunds -0.23% (-1bp), France 0.11% (-1bp), Italy 2.43% (+5bp), Turkey 16.86% (-57bp), Greece 2.74% (-8bp), Portugal 0.65% (+1bp), Spain 0.58% (-1bp) and UK Gilts 0.87% (+2bp).
US 10-Year Note Auction decreased from 2.479% to 2.130%
German 10-Year Bund Auction decreased from -0.070% to -0.240%
Italian 12-Month BOT Auction decreased from 0.122% to 0.069%