Blog/Market Talk
Posted Jun 13, 2018 by Martin Armstrong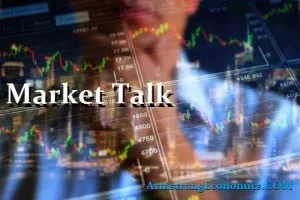 Obviously, the headline topic throughout Asian and European trading hours was the Singapore meeting between US President Trump and N. Korea's Kim Jong Un. Interesting the markets were reasonably quiet during the process and even during the hour long Trump press conference. An historic day for sure as just to meet and talk has taken over 70 years. The Shanghai index benefited from these talks with a strong almost 1% higher close. Japans Nikkei also benefited from the Summit and managed a gain of +0.35% with the Yen still edging its way back to mid 110's. Other core Asian indices moved better on the day, backing out of the early negative prints. The SENSEX ended at the days high with the INR mid 67's.
Europe is back to discussing QE concerns and market interpretations of the big buyer finally backing away. The Bund and OAT markets are fearful the big buyer absence already and the Bund/US 10yr spread continues to narrow the spread closing this evening at +248bp. Core European indices lagged many counterparts and in dull volumes. We do have much to anticipate later this week starting today with the FED meeting. We also have BOJ and the ECB to look forward too. GBP bounced late this evening after PM Theresa May won approval on EU withdrawal Bill. However, despite the initial bounce, by the close of US trading Sterling had lost all gains and was trading lower on the day.
The US CPI release was inline with market forecasts releasing at 2.8% and continues to support the FED's timing also. We start the first day of the two day FED meeting today with almost everyone looking for another FED hike. The market still prices another for the September meeting and then is looking for a rest period. The DOW Industrials was a little hesitant to trade higher today, spending much of the session trading a touch lower. However, the NASDAQ and Russell continue their march adding another +0.4% today. VIX yet again finding it hard to reason with any price increases. With fewer active players there is little need to hedge and with so much cash still sitting on the side-lines, sees any sell-off activate fresh investment.
Japan 0.05%, US 2's closed 2.54% (+1bp), 10's closed 2.97% (+1bp), 30's 3.09% (-2bp), Bunds 0.49% (u/c), France 0.87% (-3bp), Italy 2.82% (u/c), Greece 4.46% (+2bp), Turkey 15.02% (+32bp), Portugal 1.96% (+3bp), Spain 1.41% (-2bp), and Gilts 1.40% (u/c).