Blog/Market Talk
Posted Jun 11, 2021 by Martin Armstrong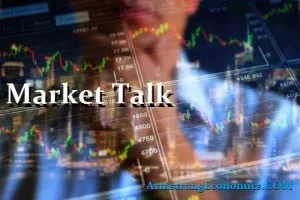 ASIA:
Didi Chuxing, China's biggest ride-hailing firm, on Thursday, made public the filing for its long-anticipated U.S. stock market listing, setting the stage for what is expected to be the world's biggest initial public offering this year. The company – backed by Asia's largest technology investment firms, SoftBank, Alibaba, and Tencent – did not reveal the size of the offering, but sources familiar with the matter had previously told Reuters that it could raise around $10 billion and seek a valuation of close to $100 billion. At that valuation, Didi's listing would be the biggest Chinese share offering in the United States since Alibaba raised $25 billion in 2014.
As the second wave of Covid-19 and the resultant lockdowns have severely impacted the livelihoods and the economy, a report by Brickwork Ratings said that in the current situation full recovery of the Indian economy may become feasible only by the third quarter of the ongoing financial year. It also said that time is opportune for the Centre to announce a clear stimulus package to help the recovery process and build confidence among economic agents. Union Finance Minister Nirmala Sitharaman has already asked the departments and public enterprises to front-load their capital expenditures, but in a situation where the virus continues to spread fast and restrictions in various states are still in place, the spending plans can be implemented only in a staggered manner.
The major Asian stock markets had a mixed day today:
NIKKEI 225 decreased 9.83 points or -0.03% to 28,948.73
Shanghai decreased 21.11 points or -0.58% to 3,589.75
Hang Seng increased 103.25 points or 0.36% to 28,842.13
ASX 200 increased 9.80 points or 0.13% to 7,312.30
Kospi increased 24.68 points or 0.77% to 3,249.32
SENSEX increased 174.29 points or 0.33% to 52,474.76
Nifty50 increased 61.60 points or 0.39% to 15,799.35
The major Asian currency markets had a mixed day today:
AUDUSD decreased 0.00547 or -0.71% to 0.76966
NZDUSD decreased 0.00677 or -0.94% to 0.71225
USDJPY increased 0.36 or 0.33% to 109.74
USDCNY increased 0.0127 or 0.20% to 6.39735
Precious Metals:
Gold decreased 22.10 USD/t oz. or -1.16% to 1,876.04
Silver decreased 0.05 USD/t. oz or -0.19% to 27.913
Some economic news from last night:
Japan:
BSI Large Manufacturing Conditions (Q2) decreased from 1.6% to -1.4%
South Korea:
Export Price Index (YoY) (May) increased from 11.1% to 12.3%
Import Price Index (YoY) (May) decreased from 15.3% to 13.8%
New Zealand:
Business NZ PMI (May) increased from 58.4 to 58.6
Some economic news from today:
India:
FX Reserves, USD increased from 598.17B to 605.01B
Industrial Production (YoY) (Apr) increased from 24.1% to 134.4%
Manufacturing Output (MoM) (Apr) increased from 28.3% to 197.1%
EUROPE/EMEA:
British Prime Minister Boris Johnson expects the Group of Seven to agree to donate 1 billion COVID-19 vaccine doses to poorer countries during its summit starting on Friday, and help inoculate the world by the end of next year. Just hours after US President Joe Biden vowed to supercharge the battle against the coronavirus with a donation of 500 million Pfizer shots, Johnson said Britain would give at least 100 million surplus vaccines to the poorest nations. Johnson has already called on G7 leaders to commit to vaccinate the entire world by the end of 2022 and the group is expected to pledge 1 billion doses during its three-day summit.
France's economy will return to pre-COVID 19 levels by the first quarter of 2022, Finance Minister Bruno Le Maire told weekly JDD, as a return of spending and investments lay the ground for a recovery. Le Maire, who reaffirmed his target of 5% economic growth for France this year, said the recent surge in credit card payments, rising holiday season bookings and soaring clothing purchases showed that France was quickly returning to growth. The minister said the country's debt, which ballooned during the pandemic to fund support measures, should begin to stabilize in 2025 and then decrease. He said he expected the public deficit to be below 3% of gross domestic product in 2027.
The major Europe stock markets had a green day:
CAC 40 increased 54.17 points or 0.83% to 6,600.66
FTSE 100 increased 45.88 points or 0.65% to 7,134.06
DAX 30 increased 122.05 points or 0.78% to 15,693.27
The major Europe currency markets had a mixed day today:
EURUSD decreased 0.00678 or -0.56% to 1.21055
GBPUSD decreased 0.00665 or -0.47% to 1.41057
USDCHF increased 0.00422 or 0.47% to 0.89893
Some economic news from Europe today:
UK:
NIESR Monthly GDP Tracker increased from 1.5% to 3.8%
Construction Output (MoM) (Apr) decreased from 5.8% to -2.0%
U.K. Construction Output (YoY) (Apr) increased from 6.0% to 77.9%
GDP (MoM) increased from 2.1% to 2,3%
Index of Services increased from -2.0% to 1.4%
Industrial Production (MoM) (Apr) decreased from 1.8% to -1.3%
Industrial Production (YoY) (Apr) increased from 3.6% to 27.5%
Manufacturing Production (YoY) (Apr) increased from 4.8% to 39.7%
Manufacturing Production (MoM) (Apr) decreased from 2.1% to -0.3%
Monthly GDP 3M/3M Change increased from -1.5% to 1.5%
Trade Balance (Apr) increased from -11.71B to -10.96B
Trade Balance Non-EU (Apr) increased from -6.55B to -5.55B
Germany:
German WPI (MoM) (May) increased from 1.1% to 1.7%
German WPI (YoY) (May) increased from 7.2% to 9.7%
Spain:
Spanish CPI (MoM) (May) decreased from 1.2% to 0.5%
Spanish CPI (YoY) (May) increased from 2.2% to 2.7%
Spanish HICP (MoM) (May) decreased from 1.1% to 0.5%
Spanish HICP (YoY) (May) increased from 2.0% to 2.4%
US/AMERICAS:
The Federal Reserve's balance sheet reached $8 trillion for the first time this week. The central bank sold nearly $160 million of corporate debt this week and announced it would let go of its $14 billion corporate debt portfolio. On Monday, the bank began selling on 16 bond exchanges.
Former Director of the National Economic Council of the United States Larry Kudlow is concerned that Biden's infrastructure plan could lead to runaway inflation. Kudlow stated if Biden "gets his green worker paradise, Soviet-style Bulgarian economic policies, massive tax increases, massive social spending, destroying the fossil fuel energy sector, then the dollar will collapse and leaping tax rates will choke off economic growth." However, Kudlow believes the current rise in inflation will last only a few months and have no long-term consequences if Biden's policies are not adopted.
Leaders at the G7 summit have agreed upon a "global" minimum tax rate of 15%, however, some are concerned that pact will drive investment away from the West. The current average among G7 nations is 24%, while the US' rate stands at 21% on average. Groups such as the Taxpayer Protection Alliance (TPA) are worried the policy will result in "anemic growth" for the economy. "Biden's global minimum corporate tax isn't so much about ending the competition between nations, but rather ending the competition between progressives' wishes and reality," a member from the group stated.
US Market Closings:
Dow advanced 13.76 points or 0.04% to 34,480.00
S&P 500 advanced 8.3 points or 0.2% to 4,247.48
Nasdaq advanced 49.09 points or 0.35% to 14,069.42
Russell 2000 advanced 24.4 points or 1.06% to 2,335.81
Canada Market Closings:
TSX Composite advanced 88.88 points or 0.44% to 20,138.35
TSX 60 advanced 5.64 points or 0.47% to 1,202.83
Brazil Market Closing:
Bovespa declined 620.56 points or -0.48% to 129,455.61
ENERGY:
The oil markets had a mixed day today:
Crude Oil increased 0.46 USD/BBL or 0.65% to 70.7500
Brent increased 0.04 USD/BBL or 0.06% to 72.5600
Natural gas increased 0.138 USD/MMBtu or 4.38% to 3.2870
Gasoline decreased 0.0304 USD/GAL or -1.37% to 2.1818
Heating oil decreased 0.028 USD/GAL or -1.31% to 2.1154
The above data was collected around 15:35 EST on Friday
Top commodity gainers: Zinc (1.27%), Bitumen (2.50%), Feeder Cattle (1.90%) and Natural Gas (4.38%)
Top commodity losers: Orange Juice (-5.56%), Palm Oil (-4.84%), Soybeans (-2.32%), and Lumber (-5.61%)
The above data was collected around 15:39 EST on Friday.
BONDS:
Japan 0.0370%(-1bp), US 2's 0.15%(-0.0001%), US 10's 1.4603%(+0.13bps); US 30's 2.1490%(-0.01%), Bunds -0.2730% (-2.6bp), France 0.097% (-2.6bp), Italy 0.7469% (-6bp), Turkey 17.54% (-11bp), Greece 0.7510% (-6bp), Portugal 0.357% (-4.1bp); Spain 0.36% (-3.65bp) and UK Gilts 0.701% (-5bp).