Blog/Market Talk
Posted Jun 11, 2020 by Martin Armstrong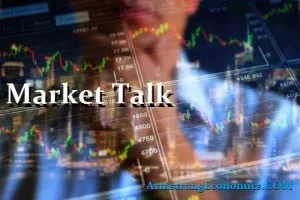 ASIA:
Australian Prime Minister Scott Morrison said that he would not be intimidated or give into coercion when asked on Thursday whether Australia would keep taking hits on exports from major trading partner China. "We are an open-trading nation, mate, but I'm never going to trade our values in response to coercion from wherever it comes," Morrison told radio station 2GB on Thursday. China has in recent weeks banned Australian beef imports and imposed tariffs on Australian barley.
The UK's foreign secretary, Dominic Raab, has urged China to step back from the brink by abandoning plans to impose new security laws on Hong Kong, as he accused Beijing of treating a member of Foreign Office staff in a way "amounting to torture." Urging the Chinese government not to interfere in elections for a new Hong Kong legislature due to be held in September, he said Beijing should stop using its economic power to try to influence business in the territory.
India's fuel demand nearly doubled in May from the previous month as the country eased coronavirus-led restrictions, Oil Ministry data showed on Wednesday, signaling a slow revival of economic activity. Fuel consumption, a proxy for oil demand in Asia's third biggest economy, totaled 14.65 million tonnes in May, 47.4% higher than in April but still 23.3% lower than a year earlier, the data from the Petroleum Planning and Analysis Cell (PPAC) of the ministry showed.
India's Economic Advisor Krishnamurthy Subramanian said on Thursday that India's fundamentals demand a much better rating, after Moody's downgraded the country's rating and S&P retained it at the lowest investment grade. India's ability and willingness to repay debt is gold standard, he said, making a case for ratings upgrade. India's economic growth will depend on when recovery happens. It is uncertain if the recovery will happen in the second half of this year or next year. On India's privatization policy, he said that banking will form part of the strategic sector and the government is working on to identify strategic and non-strategic sectors.
Japan plans to ease its coronavirus travel restrictions by letting in up to around 250 foreign travelers per day from Australia, New Zealand, Thailand and Vietnam, government sources said Thursday. The quota, which Japan aims to introduce this summer, will initially apply to business people, the sources said.
The major Asian stock markets had a negative day today:
NIKKEI 225 decreased 652.04 points or -2.82% to 22,472.91
Shanghai decreased 22.86 points or -0.78% to 2,920.90
Hang Seng decreased 569.58 points or -2.27% to 24,480.15
ASX 200 decreased 187.80 points or 3.05% to 5,960.60
Kospi decreased 18.91 points or -0.86% to 2,176.78
SENSEX decreased 708.68 points or -2.07% to 33,538.37
Nifty50 decreased 214.15 points or -2.12% to 9,902.00
The major Asian currency markets had a mixed day today:
AUDUSD decreased 0.0108 or -1.55% to 0.68728
NZDUSD decreased 0.0072 or -1.11% to 0.64468
USDJPY decreased 0.2780 or -0.26% to 106.68
USDCNY increased 0.0191 or 0.27% to 7.07410
Precious Metals:
Gold decreased 3.30 USD/t oz. or -0.19% to 1,731.40
Silver decreased 0.24 USD/t. oz or -1.32% to 17.7425
Some economic news from last night:
Japan:
BSI Large Manufacturing Conditions (Q2) decreased from -17.2 to -52.3
Foreign Bonds Buying increased from -497.7B to 1,065.5B
Foreign Investments in Japanese Stocks increased from -38.2B to 268.7B
Australia:
MI Inflation Expectations decreased from 3.4% to 3.3%
New Zealand:
Electronic Card Retail Sales (YoY) (May) increased from -47.5% to -6.0%
Electronic Card Retail Sales (MoM) (May) increased from -47.5% to 78.9%
EUROPE/EMEA:
London Heathrow airport said it has begun cutting front-line jobs after a recovery in passenger numbers was delayed by Britain's introduction of a quarantine rule for incoming travelers. UK's busiest airport has begun to restructure after agreeing on a voluntary severance plan with unions, it said in a statement Thursday. The hub has already eliminated a third of management posts.
Unilever is to abandon its dual Anglo-Dutch corporate structure in favor of a single company based in London, reversing attempts two years ago to combine its businesses in the Netherlands. The consumer goods group, one of the UK's largest companies by market capitalization, said the shift would make equity-based acquisitions or disposals easier and faster, including a potential spin-off of its tea division.
German Chancellor Angela Merkel says her country wants stable relations with China and greater access to the Chinese market for foreign companies. In a statement, her office said Merkel stressed Germany's interest in "rules-based and free multilateral trade" during a video call on Thursday with Chinese Premier Li Keqiang.
One month after France ended its strict eight-week lockdown, there has been no rise in coronavirus cases as life returns towards normality. The number of new Covid-19 cases continued to drop even as most of France reopened for business – while maintaining physical distancing and protection measures – with the number of additional deaths down to its lowest figure since March.
The Organisation for Economic Cooperation and Development (OECD) predicted a -6% decline in the world's GDP this year. They said Britain, France, Italy, and Spain would suffer the most damage (in that order), with their economies expected to shrink by between -11.5% and -11.1% if the COVID-19 pandemic "remains under control." A worst-case scenario in the event of a second virus wave would see those figures hit more than 14 percent.
The major Europe stock markets had a negative today:
CAC 40 decreased 237.82 points or -4.71% to 4,815.60
FTSE 100 decreased 252.43 points or -3.99% to 6,076.70
DAX 30 decreased 559.87 points or -4.47% to 11,970.29
The major Europe currency markets had a negative day today:
EURUSD decreased 0.0011 or -0.10% to 1.13612
GBPUSD decreased 0.0104 or -0.82% to 1.26253
USDCHF decreased 0.0025 or 0.26% to 0.9407
Some economic news from Europe today:
Germany:
Germany Thomson Reuters IPSOS PCSI (Jun) increased from 45.89 to 47.40
France:
France Thomson Reuters IPSOS PCSI (Jun) increased from 38.77 to 40.35
France Thomson Reuters IPSOS PCSI (Jun) decreased from 0.4% to -2.0%
Italy:
Italy Thomson Reuters IPSOS PCSI (Jun) increased from 32.08 to 35.77
Italian Industrial Production (MoM) (Apr) increased from -28.4% to -19.1%
Italian Industrial Production (YoY) (Apr) decreased from -29.4% to -42.5%
UK:
Thomson Reuters IPSOS PCSI (Jun) decreased from 42.3 to 40.7
RICS House Price Balance (May) decreased from -22% to -32%
US/AMERICAS:
Coronavirus cases, as well as testing, are beginning to increase throughout the US. However, US Treasury Secretary Steve Mnuchin said that another quarantine would not be implemented. "I think we've learned that if you shut down the economy, you're going to create more damage," Mnuchin admitted, saying that the US government "learned a lot" in the aftermath of the lockdown. "We're going to get everybody back to work. That's my number one job working with the president, and we're going to do that," the secretary reported.
Weekly jobless claims totaled 1.5 million, according to data released by the US Labor Department today. Unemployment filings have steadily declined for the past 10 weeks. Over 44 million Americans lost their livelihoods over the past 12 weeks. Yet, today's figures show that employment is slowly but steadily improving in the US.
Biotech company Moderna will begin testing a new COVID-19 vaccine next month, the company announced on Thursday morning. The company is currently recruiting 30,000 individuals to take place in the placebo-based randomized trial.
Hawaii Governor David Ige is extending the state's mandatory 14-day quarantine for new arrivals until the end of July. Despite having one of the lowest rates of infection among the US states, the Hawaiian governor plans to install facial recognition and temperature monitoring software in Hawaiian airports by the end of the year. Anyone with a temperature above 100.4 degrees will not be permitted to fly.
Non-essential travel restrictions between the US-Canadian border were set to expire on June 21, however, both governments announced plans to extend the ban until July. Trade will remain unaffected. The ban will hurt the travel and airline industries. Air Canada recently liquidated shares and convertible debt worth C$1.6 billion to keep the company afloat.
The Organization for Economic Co-operation and Development (OECD) Secretary General Angel Gurria painted a grim picture for the Canadian economy for the duration of the year. At best, he foresees Canada's GDP contracting -8% in 2020 followed by a 3.9% rebound in 2021. However, in the event of a second coronavirus wave, the Canadian economy may decline by -9.4%. "With or without a second outbreak, the consequences will be severe and long-lasting," the OECD report noted.
US Market Closings:
Dow declined 1,861.82 points or -6.9% to 25,128.17
S&P 500 declined 188.04 points or -5.89% to 3,002.1
Nasdaq declined 527.62 points or -5.27% to 9,492.73
Russell 2000 declined 111.17 points or -7.58% to 1,356.22
Canada Market Closings:
TSX Composite declined 650.41 points or -4.14% to 15,050.92
TSX 60 declined 37.41 points or -3.95% to 908.66
Brazil Market Closing:
Bovespa declined 2,060.57 points or -2.13% to 94,685.98
ENERGY:
WTI contracted falling over by -13.21 % today. Brent also fell by over -8.44 %.
The oil markets had a mixed day today:
Crude Oil decreased 3.18 USD/BBL or -8.03% to 36.4200
Brent decreased 3.09 USD/BBL or -7.40% to 38.6200
Natural gas increased 0.01 USD/MMBtu or 0.78% to 1.8060
Gasoline decreased 0.09 USD/GAL or -7.16% to 1.1083
Heating oil decreased 0.07 USD/GAL or -6.33% to 1.0812
The above data was collected around 13.34 EST on Thursday.
Top commodity gainers: Natural Gas (0.78%), Cheese (0.84%), Corn (0.84%), and Orange Juice (1.58%)
Top commodity losers: Crude Oil (-8.03%), Brent (-7.40%), Gasoline (-7.16%), and Heating Oil (-6.33%)
The above data was collected around 13:45 EST on Thursday.
BONDS:
Japan 0.01%(-1bp), US 2's 0.18% (-0bps), US 10's 0.68%(-7bps); US 30's 1.44%(-8bps), Bunds -0.41% (-8bp), France 0.01% (-7bp), Italy 1.49% (-3bp), Turkey 11.91% (+12bp), Greece 1.33% (-6bp), Portugal 0.61% (-4bp); Spain 0.65% (+3bp) and UK Gilts 0.20% (-7bp).
US 4-Week Bill Auction increased from 0.125% to 0.130%
US 8-Week Bill Auction increased from 0.145% to 0.155%
US 30-Year Bond Auction increased from 1.342% to 1.450%
Italian 3-Year BTP Auction decreased from 0.87% to 0.46%
Italian 7-Year BTP Auction decreased from 1.53% to 1.10%