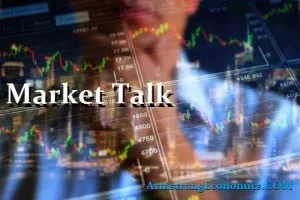 ASIA / AUSTRALIA:
In Hong Kong over a million people attended a demo today to protest the recent ruling which will allow extradition to China; with those questioning the future of democracy in the region.
The trade war is still escalating between the U.S. and China, with China stating they will "fight to the end." This message comes after President Trump remarked that if China does not represent themselves in the G20 meeting, he will increase the tariffs on more goods. There have been recent reports that America's political role with Taiwan is of large importance to keep peace with China and prevent tensions from reaching a boiling point. A recent U.S. government report suggests Taiwan to be an independent country and that Washington is preparing to sell two billion dollars' worth of arms to Taiwan. Both actions already angered the Chinese.
The major Asian stock markets had a green day today. Shanghai increased 73.59 points or 2.58% to 2,925.72; KOSPI increased 12.32 points or 0.59% to 2,111.81; ASX 200 increased 102.40 points or 1.59% to 6,546.30; NIKKEI 225 increased 69.86 points or 0.33% to 21,204.28; Hang Seng increased 210.70 points or 0.76% to 27,789.34; and SENSEX increased 165.94 points or 0.42% to 39,950.46.
The major Asian currency markets had a mixed day today. AUDUSD increased 0.0001 or 0.02% to 0.6962, NZDUSD decreased 0.0021 or 0.31% to 0.6587, USDJPY increased 0.0360 or 0.03% to 108.4660, and USDCNY decreased 0.0197 or 0.28% to 6.9230.
Gold increased 0.13 USD/t oz. or 0.01% to 1,329.04 and silver increased 0.1 USD/t. oz or 0.68% to 14.7647.
Some economic news:
Japan:
M2 Money Stock (YoY) increased from 2.5% to 2.7%
Machine Tool Orders (YoY) increased from -33.4% to -27.3%
New Zealand:
Manufacturing Sales Volume (QoQ) (Q1) remain the same at 2.0%
Australia:
NAB Business Confidence (May) increased from 0 to 7
NAB Business Survey (May) decreased from 3 to 1
EUROPE / EMEA:
The UK is narrowing down candidates for the new Prime Minister as Theresa May is set to step down within the coming weeks. There are said to be 10 candidates, including Michael Gove, the current environmental secretary who is a true believer in Brexit. Boris Johnson is another candidate and one of the most well-known names on the list. Johnson was the former foreign secretary and mayor of London and has a good chance of taking the top job. Jeremy Hunt is another candidate and the current foreign secretary. Hunt is a former Remainer and believes the UK can make a better deal with the EU.
UK mobile network operators have written a letter to the government asking for greater transparency with regards to the dealings of Huawei and the new 5G network.
Europe has seen a sharp rise in asylum applications from Venezuela after years of declining applications since the Syrian war.
The major European stock markets had a green day today. CAC 40 increased 25.96 points or 0.48% to 5,408.45, FTSE 100 increased 22.91 points or 0.31% to 7,398.45, and DAX increased 110.43 points or 0.92% to 12,155.81.
The major European currency markets had a green day today. EURUSD increased 0.0023 or 0.20% to 1.1335, GBPUSD increased 0.0045 or 0.36% to 1.2728, and USDCHF increased 0.0017 or 0.17% to 0.9913.
Some economic news:
Norway:
Core CPI YTD (May) decreased from 2,6% to 2.3%
Core Inflation (MoM) (May) decreased from 0.5% to -0.2%
CPI (MoM) (May) decreased from 0.4% to -0.3%
CPI (YoY) (May) decreased from 2.9% to 2.5%
PPI (YoY) (May) decreased from 2.6% to 0.4%
Norges Bank regional network Survey increased from 1.46 to 1.57
UK:
Average Earnings ex Bonus (Apr) increased from 3.3% to 3.4%
Average Earnings Index +Bonus (Apr) decreased from 3.3% to 3.1%
Claimant Count Change (May) increased from 19.1K to 23.2K
Employment Change 3M/3M (MoM) decreased from 99.0K to 32.0K
Unemployment Rate (Apr) remain the same at 3.8%
Eurozone:
Sentix Investor Confidence (Jun) decreased from 5.3 to -3.3
U.S. / AMERICAS:
The U.S. economy is poised to continue growing at an annual rate of 3%, according to National Economic Council Director Larry Kudlow. In an interview this Tuesday, Kudlow stated that the economy is strong and growth is "not contingent on a China deal." "What has changed is lower tax rates, massive deregulation, opening up the energy sector and various trade reforms," Kudlow added.
In a separate interview, Commerce Secretary Wilbur Ross expressed support for President Trump's tariff strategy. However, he warned that the public should not expect a deal between the U.S. and China to occur at the upcoming G20 summit. Ross noted that detailed negotiations of this manner do not occur at summits, and the best anyone can expect is a discussion alluding to high level alignment on key areas, hopefully laying the groundwork required to secure a deal in the future (there is no guarantee any such discussion, or alignment, will happen at the G20 summit though). President Trump has threatened to impose additional tariffs on China if President Xi does not attend. "Either we will collect more and more tariffs on more and more products or we'll back an arrangement with them," Ross commented on the ongoing trade war.
Housing in Canada slipped last month by 13.3% on a MoM basis. According to the Canadian Mortgage and Housing Corp., May established 202,337 units compared to April's posting of 233,410. Economists had expected May's rate to reach 205,000.
Existing home sales are dropping in Canada as well. The Vancouver real estate bubble seems to have burst. In May, new home sales dropped 44.23% on a MoM basis, which accounts for the lowest level posted in almost two decades. On a YoY comparison, new home sales were down just 6.9%. The number of available housing in Vancouver increased 30.04% on a YoY basis this May, and 2.28% on a MoM basis.
All major U.S. indices closed lower today. Despite trading in positive territory earlier in the session, the Dow broke its six-day streak of consecutive gains after closing down 14.17 points (-0.05%) to 26,048.51. The S&P 500 dropped 1.01 points (-0.04%) to 2,885.72. The NASDAQ was just barely in the red, losing 0.60 of a point (-0.01%). The Russell 2000 was the largest loser of the day on a percentage basis, closing down 4.45 points (-0.29%) to 1,519.11.
On the other hand, the Canadian markets began to rebound this Tuesday. The TSX Composite increased by 32.50 points (+0.20%) to 16,248.76, while the TSX 60 increased by 1.67 points (+0.17%) to 974.13.
The Brazilian Bovespa climbed 1,493.31 points (+1.53%) and closed at 98,960.00.
ENERGY:
The EIA report reduced its forecasts today for oil prices and U.S. crude oil production, according to the short-term energy report released today. The forecast for 2019 U.S. production is at 12.32 mbpd, down -1% from last month's estimate. WTI and Brent production estimates were down -5% for the year.
The oil markets had a mixed day today. Crude Oil decreased 0.01 USD/BBL or -0.02% to 53.1443; Brent increased 0.08 USD/BBL or 0.13% to 62.4566; Natural gas increased 0.036 USD/MMBtu or 1.53% to 2.3978; Gasoline increased 0.0254 USD/GAL or 1.47% to 1.7581; and Heating oil increased 0.0167 USD/GAL or 0.92% to 1.8254.
Top commodity gainers: Lumber (5.86%), Oat (2.97%), Corn (2.53%), and Canola (2.51%). Top commodity losers: Rice (-1.87%), Feeder Cattle (-1.48%), Coffee (-1.27%), and Cotton (-0.59%)
The above data were collected around 14:25 EST on Tuesday.
BONDS:
Japan -0.11%(+1bp), US 2's 1.92% (+2bps), US 10's 2.14%(+0bps), US 30's 2.62%(-0bps), Bunds -0.23% (-23bp), France 0.12% (-1bp), Italy 2.38% (+3bp), Turkey 17.43% (-12bp), Greece 2.82% (-3bp), Portugal 0.65% (-4bp), Spain 0.58% (-2bp) and UK Gilts 0.85% (+1bp).
Spanish 6-Month Letras Auction increased from -0.397% to -0.392%
Spanish 12-Month Letras Auction decreased from -0.336% to -0.362%
French 3-Month BTF Auction decreased from -0.543% to -0.546%
French 6-Month BTF Auction increased from -0.557% to -0.544%
French 12-Month BTF Auction increased from -0.562% to -0.559%
US 3-Year Note Auction decreased from 2.248% to 1.861%