Blog/Market Talk
Posted Jun 11, 2018 by Martin Armstrong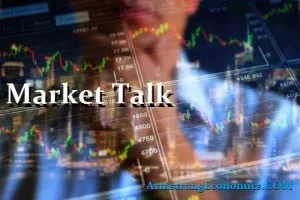 We saw an interesting response after the weekends G7 meeting. Despite many negative headlines and a nervous stock opening we eventually saw confidence return and prices built momentum. The Nikkei bounced from a negative opening and rallied throughout the day to eventually close +0.5% higher on the day. Exporters, Technology and Financials all helped gains but with the Yen back above 110 is another factor helping. The hang Seng assumed a similar pattern today with an uncertain opening followed by a steady price increase. The SENSEX followed these patterns initially, but then lost into the close. Money is flowing out of the Indian market and the currency is suffering as a result. The INR continues to play mid 67 with the negative bias returning with the uncertainty ahead. Shanghai and ASX were both lower and could not find the support needed at anytime throughout the day, as Asia meanders along.
Europe is watching headlines for the Singapore Summit, FED, ECB and US/China Trade Talks. European markets steadied after the Italian Finance Minister Tria, commented Italy's support for the Euro and its concept. The FTSE MIB benefited from the headline closing up 3.5% on the day. Italian BTP's narrowed the spread against Bunds closing over 20bp on the day. The UK's FTSE did well but mainly from the poor GBP performance following worse than expected Factory Output as it fell to the worst in over five years. Core DAX and CAC both closed around +0.5% firmer as fixed-income markets starting to price-in the possible end of QE.
US markets saw a quiet yet steady return today, content in the view we have much to digest this week. G7 resulted in many negative reviews, obviously all blaming US President Trump, especially as he refused to endorse the G7 joint statement. Whatever the reasoning, core US indices responded positively. Obviously, still much to play for this week but as we head into the close all markets are up close to the days highs around +0.3%. We are seeing more curve flattening as the front-end feels the weight of the next possible FED move.
Japan 0.04%, US 2's closed 2.53% (+4bp), 10's 2.96% (+2bp), 30's 3.11% (+2bp), Bunds 0.49% (+5bp), France 0.90% (+9bp), Italy 2.82% (-27bp), Greece 4.44% (-15bp), Turkey 14.70% (+21bp), Portugal 1.93% (-8bp), Spain 1.43% (-2bp), and Gilts 1.40%