Blog/Market Talk
Posted Jun 10, 2020 by Martin Armstrong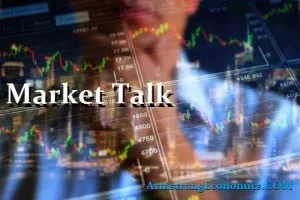 ASIA:
China has been accused by Brussels of running disinformation campaigns inside the European Union, as the bloc set out a plan to tackle a "huge wave" of false facts about the coronavirus pandemic. The European Commission said Russia and China were running "targeted influence operations and disinformation campaigns in the EU, its neighborhood, and globally." While the charge against Russia has been leveled on many occasions, this is the first time the EU executive has publicly named China as a source of disinformation.
HSBC is facing harsh criticism from Western government officials and investors after its top executive in Asia publicly declared the firm's support for a controversial national security law that Beijing is introducing in Hong Kong. In a blistering statement on Tuesday, US Secretary of State Mike Pompeo chastised HSBC for backing the legislation, saying "corporate kowtows" would not earn the bank respect in Beijing. Critics fear the law erodes the autonomy that Hong Kong was promised when the former British colony was returned to China more than 20 years ago.
Amidst the constant bad news for the Indian economy, a piece of good news has emerged. US credit rating agency Fitch Ratings has stated in its recent report that the Indian economy is expected to hit a tremendous boom during the next financial year. Fitch Ratings, the world's third-largest credit rating agency in the world, said in its recent report that the Indian economy is expected to grow at a rate of 9.5% in the next financial year that is 2021-22. S&P Global Ratings has forecast India's economy to shrink by 5% in the current fiscal. It however has projected GDP growth to be 8.5 percent in 2021-22 and 6.5% in 2022-23.
India's central bank- Reserve Bank of India, is proposing a new set of guidelines that would address the differential between mortgage loans and other loans securitization, simplifying regulations. In two draft papers released on its website the central bank also proposed to bridge the difference between sale of loans and assignments' of receivables, which lenders use to improve their cash flows while keeping the loans on their books. In the draft guidelines RBI said has modified the definition of securitization to include single asset securities against the multiple asset securities allowed in the existing norms.
The major Asian stock markets had a mixed day today:
NIKKEI 225 increased 33.92 points or 0.15% to 23,124.95
Shanghai decreased 12.36 points or -0.42% to 2,943.75
Hang Seng decreased 7.49 points or -0.03% to 25,049.73
ASX 200 increased 3.50 points or 0.06% to 6,148.40
Kospi increased 6.77 points or 0.31% to 2,195.69
SENSEX increased 290.36 points or 0.86% to 34,247.05
The major Asian currency markets had a mixed day today:
AUDUSD increased 0.0056 or 0.81% to 0.70045
NZDUSD increased 0.0037 or 0.57% to 0.65425
USDJPY decreased 0.5390 or -0.50% to 107.24
USDCNY decreased 0.0272 or -0.38% to 7.05182
Precious Metals:
Gold increased 0.30 USD/t oz. or 0.02% to 1,716.30
Silver increased 0.13 USD/t. oz or 0.73% to 17.6910
Some economic news from last night:
China:
CPI (YoY) (May) decreased from 3.3% to 2.4%
CPI (MoM) (May) increased from -0.9% to -0.8%
PPI (YoY) (May) decreased from -3.1% to -3.7%
Japan:
Core Machinery Orders (YoY) (Apr) decreased from -0.7% to -17.7%
Core Machinery Orders (MoM) (Apr) decreased from -0.4% to -12.0%
PPI (MoM) (May) increased from -1.6% to -0.4%
PPI (YoY) (May) decreased from -2.4% to -2.7%
South Korea:
M2 Money supply (Apr) increased from 7.50% to 7.90%
Unemployment Rate (May) increased from 3.8% to 4.5%
Australia:
Westpac Consumer Sentiment (Jun) decreased from 16.4% to 6.3%
Home Loans (MoM) decreased from -1.0% to -4.4%
Invest Housing Finance (MoM) decreased from -3.9% to -4.2%
New Zealand:
Manufacturing Sales Volume (QoQ) (Q1) decreased from 2.7% to -1.7%
Some economic news from today:
China:
M2 Money Stock (YoY) (May) remain the same at 11.1%
New Loans (May) decreased from 1,700.0B to 1,480.0B
Outstanding Loan Growth (YoY) (May) increased from 13.1% to 13.2%
EUROPE/EMEA:
The German government extended travel warnings for 160 countries until the end of August on Wednesday, according to a decision reached by the German Cabinet. The travel warnings, which do not include European Union countries, advises against "non-essential tourist travel" due to the risks posed by the coronavirus. As Germany extended its travel warnings, the European Union simultaneously urged its member states to reopen its external borders to travelers from outside the bloc starting on July 1.
France will allow visitors entry to Eiffel Tower which will reopen to the public on June 25 as many EU countries are currently in the process of opening borders to each other within the bloc.
The British government is considering offering drivers up to £6,000 to swap their ICE cars for electric vehicles ahead of a plan to relaunch the economy, according to the Telegraph. Prime Minister Boris Johnson is expected to make his economic stimulus speech on July 6.
UK will open zoos, safari parks and drive-in cinemas will reopen from June 15, as part of plans to loosen lockdown measures and help kick-start the economy. Non-essential shops, such as clothing retailers will reopen on Monday but pubs and restaurants would have to wait until wait until July 4 "at the earliest," despite report suggesting to reopen these starting June 22.
The major Europe stock markets had a negative today:
CAC 40 decreased 41.69 points or -0.82% to 5,053.42
FTSE 100 decreased 6.59 points or -0.10% to 6,329.13
DAX 30 decreased 87.83 points or -0.70% to 12,530.16
The major Europe currency markets had a mixed day today:
EURUSD increased 0.0017 or 0.15% to 1.13510
GBPUSD increased 0.0041 or 0.32% to 1.27538
USDCHF decreased 0.0053 or 0.56% to 0.9456
Some economic news from Europe today:
France:
French Industrial Production (MoM) (Apr) decreased from -16.2% to -20.1%
Norway:
Core CPI YTD (May) increased from 2.8% to 3.0%
Core Inflation (MoM) (May) decreased from 1.1% to 0.1%
CPI (YoY) (May) increased from 0.8% to 1.3%
CPI (MoM) (May) decreased from 0.4% to 0.2%
PPI (YoY) (May) decreased from -16.1% to -17.5%
US/AMERICAS:
Federal Reserve Chairman Jerome Powell announced this Wednesday that he foresees rates remaining near zero for the next two years. The central bank plans to maintain the current benchmark rate "until it is confident that the economy has weathered recent events and is on track to achieve its maximum employment and price stability goals." Economic recovery is expected to begin now that states are reopening. However, the Fed anticipated GDP declining by -6.5% in 2020 before rebounding to 5% in 2021.
In light of the police brutality protests sweeping America, numerous politicians are now calling to defund the police. Attorney General Bill Barr said he understands that reforms are necessary, but warned that defunding the police entirely would be "dangerous." "I think defunding the police, holding the entire police structure responsible for the actions of certain officers is wrong and I think it is dangerous to demonize police," Barr said.
White House advisor Kevin Hassett told reporters at the Wall Street Journal that the chance of Americans receiving a second round of stimulus checks was "very high." "There are a lot of things that really are necessary to make sure that once we open up that we actually lift off," Hassett said. He also noted that the checks would likely come about during phase four of reopening. "If we have another bunch of job numbers like we've seen, you know, going into July, then I could imagine it would be a much different phase four bill than if we had a whole bunch of months like April," Hassett told Fox news. The government had previously provided an additional $600 incentive for unemployment as well, but many Senate Republicans feel this expansion is deterring people from returning to the workforce.
Ford Motor Co will increase its partnership with Volkswagen to manufacture 8 million commercial vehicles. Ford also plans to begin manufacturing electric vehicles for Europe, where stricter guidelines are pushing gas-powered vehicles off the road. The automaker announced that it could possibly deliver 600,000 units in 2023.
US Market Closings:
Dow declined 282.31 points or -1.04% to 26,989.99
S&P 500 declined 17.04 points or -0.53% to 3,190.14
Nasdaq advanced 66.59 points or 0.67% to 10,020.35
Russell 2000 declined 39.66 points or -2.63% to 1,467.39
Canada Market Closings:
TSX Composite declined 132.41 points or -0.84% to 15,701.33
TSX 60 declined 8.18 points or -0.86% to 946.07
Brazil Market Closing:
Bovespa declined 2,060.57 points or -2.13% to 94,685.98
ENERGY:
The UAE is in a better position to absorb the hit to revenue from lower oil prices due to its diversified economy and large sovereign asset base, according to ratings agency Moody's. The agency said the "deeper and longer-lasting shock" to global oil demand caused by the coronavirus pandemic meant it was lowering its oil price assumptions for Brent crude to $35 per barrel this year and $45 per barrel for 2021, which is about $8 per barrel lower than its last forecast in March. Its medium-term outlook for Brent was also lowered by $5 per barrel, to a range of $45-$65.
The oil markets had a mixed day today:
Crude Oil decreased 0.23 USD/BBL or -0.59% to 38.7100
Brent decreased 0.24 USD/BBL or -0.58% to 40.9400
Natural gas increased 0.06 USD/MMBtu or 3.65% to 1.7910
Gasoline decreased 0.02 USD/GAL or -1.83% to 1.1904
Heating oil increased 0.01 USD/GAL or -1.01% to 1.1553
The above data was collected around 13.04 EST on Wednesday.
Top commodity gainers: Natural Gas (3.65%), Rubber (1.45%), Copper (2.23%), and Ethanol (12.52%)
Top commodity losers: Platinum (-1.36%), Soda Ash (-1.32%), Rice (-7.09%), and Gasoline (-1.83%)
The above data was collected around 13:15 EST on Wednesday.
BONDS:
Japan 0.03%(+1bp), US 2's 0.19% (-1bps), US 10's 0.78%(-5bps); US 30's 1.53%(-5bps), Bunds -0.33% (-2bp), France 0.07% (-0bp), Italy 1.52% (+6bp), Turkey 11.79% (-10bp), Greece 1.39% (-7bp), Portugal 0.66% (+6bp); Spain 0.68% (+4bp) and UK Gilts 0.27% (-7bp).
Italian 12-Month BOT Auction decreased from 0.248% to 0.014%