Blog/Market Talk
Posted Jun 1, 2018 by Martin Armstrong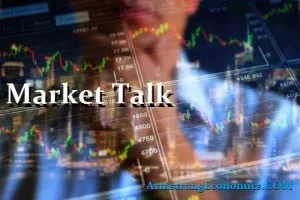 An interesting mixed to slightly negative Asian session in the face of so much uncertainty. Obviously, Trade Talks will dominate headlines over the weekend, but Politics and US data influenced todays markets. In Asia the US Dollar is still in demand despite the midweek rush into the Yen, but watching it leave Asian trading with a 109 handle seems to be calming fears. This helped the Nikkei just ahead of the close (+0.2%) but, again with low volumes still a cause for concern and dipped in the final minutes to close down -0.1%. Chinese equities were a little disappointing today, as many had expected a greater foreign demand given its June inclusion in the MSCI Index. Another example of buy the rumour sell the fact!
Europe opened with a strong positive tone despite Deutsche Bank being cut by S+P from A- to BBB+ (two notches away from non-investment grade) but is taken off of negative watch and placed as neutral. DB shares down 30% in the past three months and -41% over the past one year. Pedro Sanchez to become Spain's new Prime Minister following the backing of the vote although Rajoy initially rumoured, refused to resign; IBEX closed up 1.75%. New Italian government to be sworn-in today. Giovani Tria incoming Finance Minister is expected to tighten the BTP spreads, from a headline perspective, but the extent of the proposed spending plans leaves this idea extremely vulnerable. The headline coalition maybe a short term ease, but remains a structural concern. FTSE MIB also closed up around 1.5%. CAC and DAX both better by 1% also.
The US and afternoon session was always going to be about the US NFP's report. Headline figure was expected 190k (prev 164k); Wages +0.2% (+0.15% prev) expected and 3.9% rate so was huge surprise when the headline number released at 223k, Wages at +0.35 and the rate edged down a touch to 3.8%. Futures were already 100 points firmer upon the release and so added the extra 100 throughout the day. Market now anxious to price in another rate hike for 2018 so we may seen an additional December move.
Japan 0.04%, US 2's closed 2.47% (+5bp), 10's 2.90% (+5bp), 30's 3.05% (+5bp), Bunds 0.38% (+3bp), France 0.7% (+2bp), Italy 2.64% (-14bp) – 2yr BTP's bonds tightened 25bp to 1.01%, Greece 4.43% (-7bp), Turkey 14.30% (+45bp), Portugal 1.83% (-11bp), Spain 1.41% (-5bp) and Gilts 1.28% (+5bp).