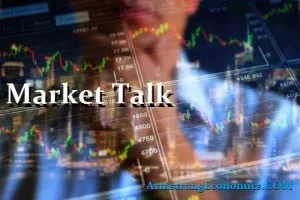 Another mixed session for Asia but we did see a strong performance in the Nikkei as the JPY lost the safe-haven bid. The yen traded high 110's then weaker hitting 111.40 (-0.6%) at one stage. The Japanese equity market added over 1% in todays trading with strong performances from Energy, Utilities and Industrials (Chemical companies). What was interesting is that super-long JGB's lost the recent bid closing -80c weaker on the day The Shanghai and Hang Seng markets off-set each other today with +0.5% and a -0.5% movements. Domestic PMI failed to meet expectations releasing at 49.6% compared to 50.1 forecast; the lowest in almost a year. In India the SENSEX closed small down -0.1%.
We saw a strong session all around in Europe today having seen data, comments and news from all quarters. The Eurozone PMI released better than previous at 57 for May in comparison to the 56.7 seen for April. UK's PMI was marginally better than forecast. German Finance Minister, Schaeuble – commented that the Euro was too low for Germany. Not great news for Banco Popular who's shares lost 16% today after news it may have to be wound down if no buyer is found. This hindered progress for the IBEX which only just managed a positive close. FTSE MIB was the best performing exchange closing 1% higher on the day.
The US markets saw fresh highs and another record close for S+P and NASDAQ after the ADP report released better than expected. The market was expecting a 180k release but data came in at +253k which will raise estimates for Fridays more focused NFP number. Tech was again a leader building on its already strong 20% gain for 2017 adding another 1% today. President Trump pulled the USA out of the Paris Agreement stating it was costing America over $100bn per year and thousands of jobs. He also commented that the Tax deal was moving along and hoped to have more details soon.
2's closed 1.29% (+1bp), 10's at 2.21% (+1bp) 30's 2.86% (u/c), Germany 0.30% (u/c) which closes the US/Bund spread at +189bp (-1bp). France 0.73% (u/c), Italy 2.24% (+6bp), Greece 5.97% (+2bp), Turkey 10.16% (-2bp), Portugal 2.96% (-5bp) and Gilts 1.07% (+3bp).