Blog/Market Talk
Posted Jul 9, 2019 by Martin Armstrong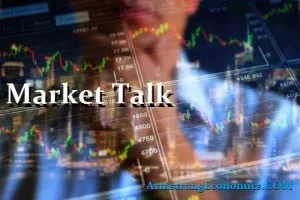 Market Talk – July 9, 2019
ASIA:
The U.S. approved a 2.2 bn USD sale of arms to Taiwan, despite China forewarning them not to do so. China is now demanding that the U.S. cancels the deal, calling the U.S. actions a "crude interference" and further stating that it is harming its sovereignty.
Elsewhere, U.S. Trade Ambassador Robert Lighthizer and Treasury Secretary Steven Mnuchin have arranged a meeting with the Chinese Vice Premier Liu and colleagues in order to try and break down the barriers to a successful trade deal.
Hong Kong pop star and Activist Denise Ho addresses the UN Commission for Human Rights that China is not living up to its commitments when it took in control in 1997. During her speech, she was repeatedly interrupted by Chinese officials.
The major Asian stock markets had a mixed day today:
• Shanghai decreased 5.13 points or -0.18% to 2,928.23
• Kospi decreased 12.14 points or -0.59% to 2,052.03
• ASX 200 decreased 6.50 points or -0.10% to 6,665.70
• NIKKEI 225 increased 30.80 points or 0.14% to 21,565.15
• Hang Seng decreased 215.41 points or -0.76% to 28,116.28
• SENSEX increased 10.25 points or 0.03% to 38,730.82
The major Asian currency markets had a mixed day today:
• AUDUSD decreased 0.0043 or 0.62% to 0.6927
• NZDUSD decreased 0.0012 or 0.18% to 0.6608
• USDJPY increased 0.0900 or 0.08% to 108.8000
• USDCNY increased 0.0077 or 0.11% to 6.8946
Metals:
• Gold increased 1.5 USD/t oz. or 0.11% to 1,393.92
• Silver increased 0.075 USD/t. oz or 0.50% to 15.1067
Some economic news from last night:
Australia:
• NAB Business Confidence (Jun) decreased from 7 to 2
• NAB Business Survey (Jun) increased from 1 to 3
Japan:
• Average Cash Earnings (YoY) increased from -0.3% to -0.2%
• Overtime Pay (YoY) (May) increased from -1.10% to 0.80%
• M2 Money Stock (YoY) decreased from 2.6% to 2.3%
Indonesia:
• Retail Sales (YoY) increased from 6.7% to 7.7%
Some economic news from today:
Japan:
• Machine Tool Orders (YoY) decreased from -27.3% to -38.0%
EUROPE/EMEA:
The Italian Interior Minister has shut down the largest migrant center in Europe. This is one step in the elected parties hard stance against immigration. Although at the peak it held 4000 refugees, it was not used as of late.
UK's farming industry is under red alert. As Brexit approaches, they could lose a portion of 3.5 billion euros a year in subsidies. The BBC reported that some farmers are fearing whether they could be self-sufficient without the funding.
Regarding Brexit, a German car manufacturer has moved engine production from the UK to Germany ahead of the final "no-deal" date in October.
European leaders are calling for an urgent meeting with Iranian officials in order to diffuse the situation. The U.S. sanctioned Lebanon's Hezbollah, claiming they are doing the works of Iran.
The major Europe stock markets had a negative day today:
• CAC 40 decreased 17.09 points or -0.31% to 5,572.10
• FTSE 100 decreased 12.80 points or -0.17% to 7,536.47
• DAX decreased 106.96points or -0.85% to 12,436.55
The major Europe currency markets had a negative day today:
• EURUSD decreased 0.0003 or 0.02% to 1.1212
• GBPUSD decreased 0.00399 or 0.32% to 1.24701
• USDCHF decreased 0.0009 or 0.09% to 0.9930
Some economic news from Europe:
Switzerland:
• Unemployment Rate n.s.a. (Jun) decreased from 2.3% to 2.1%
• Unemployment Rate s.a. (Jun) decreased from 2.4% to 2.3%
Italy:
• Italian Retail Sales (YoY) (May) decreased from 4.2% to -1.8%
• Italian Retail Sales (MoM) (May) decreased from -0.3% to -0.7%
U.S./AMERICAS:
Chinese Vice Premier Liu He will speak with Treasury Secretary Steven Mnuchin and Trade Representative Robert Lighthizer later this week. Despite trade talks resuming, there is much speculation as to whether progress will be made this time around. At the G20 summit in Japan, China and the U.S. agreed not to implement any further sanctions until negotiations resumed. However, China also agreed to purchase a large sum of U.S. agriculture which has not yet occurred. The two economic powerhouses will speak over the phone this week and are expected to meet in person in the near future.
The U.S. Department of the Treasury's Office of Foreign Assets Control (OFAC) announced today that they are going after the Lebanese Hizballah political group for illegal dealings with Iran. Additionally, OFAC claims the group is taking advantage of Lebanon's political and financial system. "The United States will continue to support efforts of the Lebanese government to protect its institutions from exploitation by Iran and its terrorist proxies, and to secure a more peaceful and prosperous future for Lebanon," announced Sigal Mandelker Treasury Under Secretary for Terrorism and Financial Intelligence.
On Tuesday morning, Canadian Imperial Bank of Commerce (CIBC) announced that it will be purchasing the investment bank Clearly Bull Inc. Toronto-based CIBC has not disclosed how much it will pay for Milwaukee-based Clearly Bull. CIBC stock performed well over the past three years after rising by nearly 6% but fell by 10% last year. CIBC stock declined 0.73% this Tuesday.
U.S. market closings:
• The Dow declined 22.65 points or -0.08% to 26,783.49
• S&P 500 advanced 3.68 points or 0.12% to 2,979.63
• Nasdaq advanced 43.35 points or 0.54% to 8,141.73
• Russell 2000 advanced 1.20 points or 0.07% to 1,562.59
Canada market closings:
• TSX Composite advanced 82.26 points or 0.50% to 16,545.21
• TSX 60 advanced 6.22 points or 0.63% to 991.27
Brazil market closings:
• BOVESPA advanced 440.75 points or 0.42% to 104,530.22
ENERGY:
Japan and Russia are undergoing a JV regarding arctic exploration. The current investment size is 3 billion dollars, but the deal was commended by Putin himself – underlying the importance of the deal.
Recent strong U.S. data and tensions in Iran are supporting the crude price at the moment.
The oil markets had a green day today:
• Crude Oil increased 0.16 USD/BBL or 0.28% to 57.7024
• Brent increased 0.09 USD/BBL or 0.14% to 64.1554
• Natural gas increased 0.018 USD/MMBtu or 0.75% to 2.4202
• Gasoline increased 0.023 USD/GAL or 1.21% to 1.9246
• Heating oil increased 0.0137 USD/GAL or 0.72% to 1.9128
• Top commodity gainers: Orange Juice (5.58%), Bitumen (6.99%), Feeder Cattle (2.83%), and Lean Hogs (2.28%).
• Top commodity losers: Cocoa (-4.42%), Oat (-2.17%), Cotton (-4.64%), and Wheat (-1.55%)
The above data was collected around 13:32 EST on Tuesday.
BONDS:
Japan -0.14%(+1bp), US 2's 1.89% (+1bps), US 10's 2.06%(+2bps), US 30's 2.54%(+2bps), Bunds -0.36% (+2bp), France -0.06% (+2bp), Italy 1.74% (-5bp), Turkey 16.46% (+0bp), Greece 2.19% (+11bp), Portugal 0.48% (-1bp), Spain 0.42% (-2bp) and UK Gilts 0.72% (+1bp).
• US 3-Year Note Auction decreased from 1.861% to 1.857%
• Spanish 12-Month Letras Auction decreased from -0.362% to -0.465%
• Spanish 6-Month Letras Auction decreased from -0.392% to -0.496%