Blog/Market Talk
Posted Jul 9, 2018 by Martin Armstrong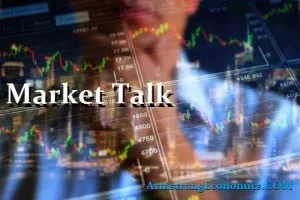 The mood appeared constructive in Asia today mostly following on from the late US rally Friday. Lack of any damaging weekend headlines has proved to be a relief and the markets have reflected it. China showed its reserve today with the core Shanghai index climbing over 2.5% and equally impressive, closing at the highs of the day. The gains were seen as broad based with all sectors, but a much needed rally after recent declines. Japan's Nikkei was also strong and interestingly, an unchanged currency. India's SENSEX bounced also with the INR still very much in the danger zone and not looking that it will change that trend anytime soon. However, lets move on to Europe as this has been the talking point across all time zones today.
We opened Monday with news that the UK government had "apparently" reached their planned proposal for the BREXIT deal, but which has yet to be voted by parliament and then offered to the EU. However, news that the Chief BREXIT negotiator David Davis had resigned from this post wobbled GBP initially, although had been mildly accepted by the market (GBP traded up to 1.3365). Late the UK afternoon, news that Boris Johnson (Foreign Secretary) had also resigned, finally took its toll on sterling and we saw a 1.5% decline from the morning highs. The UK FTSE (+0.9%) was already mildly positive on the day but finally took flight once Sterling turned. Other core European indices closed better with gains of around +0.4%. Away from politics, this week we do have several events that could easily alter market trends from UK economic data tomorrow to President Trumps visit on Friday.
Fridays strength has managed to roll into Mondays trading and we see a 320n point gain for the DOW. Interestingly, we saw the NASDAQ underperform the large caps and S+P. The trade war fears were absent in the weekends headlines and that reflected in todays sentiment. A broad based rally helped all sectors with banks, industrials, financials and energy stocks all contributing to the gains. Not only were people still discussing Fridays solid jobs report, it is also where the global money continues to flow. All the uncertainty within Europe, the nerves surround emerging markets and the underperformance of some core Asian markets is contributing to the attraction of the US.
Japan 0.02%, US 2's 56% (+2bp), 10's 2.86% (+4bp), 30's 2.96% (+3bp), Bunds 0.3% (+1bp), France 0.63% (u/c), Italy 2.66% (-5bp), Greece 3.81% (-8bp), Turkey 16.40% (-28bp) but we hear late of some President Erdogan appointments and so expect a weak opening tomorrow FOR THE lira and Bonds. Portugal 1.76% (-3bp), Spain 1.29 (-1bp), Gilts 1.25% (-2bp).