Blog/Market Talk
Posted Jul 8, 2020 by Martin Armstrong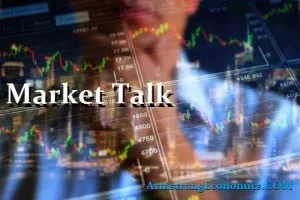 ASIA:
The US has announced new visa bans on senior Chinese officials involved in restricting access to foreigners to the sensitive region of Tibet and reaffirmed its support for "meaningful autonomy" for Tibetans. In retaliation, China has announced that I will impose visa restrictions on US personnel who exhibit egregious behavior toward Tibet, said Chinese Foreign Ministry on Wednesday. Zhao urged the US to stop going down the wrong path to avoid impairing China-US ties and cooperation, adding that China will allow no foreign interference in Tibet's affairs.
A lobby group, US-India Strategic Partnership Forum (USISPF), representing US technology giants, has urged India's finance ministry to defer the digital tax or postpone the date for payment. India in March said all foreign billings for digital services provided in the country would be taxed at 2% from April 1, a move that caught US technology firms off guard as they were battling the coronavirus pandemic. The group argued the tax was "riddled with various ambiguities and interpretational concerns" and it wasn't clear on what amount the companies needed to pay the levy. Google in particular has been worried as the tax applies on advertising revenue earned overseas if those ads target customers in India.
Japanese bank lending grew at the fastest annual pace on record in June as companies continued to hoard cash to tide over the sweeping impact of the coronavirus pandemic, central bank data showed on Wednesday. Deposits parked at financial institutions also surged to an all-time high as big companies parked funds they borrowed as a precaution to meet immediate cash needs; the Bank of Japan data showed. The increase suggests companies are still reeling from the effects of the pandemic, even after Japan lifted lockdown measures to contain the virus in late May.
The major Asian stock markets had a mixed day today:
NIKKEI 225 decreased 176.04 points or -0.78% to 22,438.65
Shanghai increased 58.10 points or 1.74% to 3,403.44
Hang Seng increased 153.52 points or 0.59% to 26,129.18
ASX 200 decreased 92.60 points or -1.54% to 5,920.30
Kospi decreased 5.29 points or -0.24% to 2,158.88
SENSEX decreased 345.51 points or -0.94% to 36,329.01
Nifty50 decreased 93.9 points or -0.87% to 10,705.75
The major Asian currency markets had a mixed day today:
AUDUSD increased 0.0032 or 0.45% to 0.69804
NZDUSD increased 0.0021 or 0.33% to 0.65764
USDJPY decreased 0.3630 or -0.34% to 107.21
USDCNY decreased 0.0252 or -0.36% to 6.99912
Precious Metals:
Gold increased 14.25 USD/t oz. or 0.79% to 1,809.35
Silver increased 0.44 USD/t. oz or 2.43% to 18.7200
Some economic news from last night:
Japan:
Adjusted Current Account increased from 0.25T to 0.82T
Bank Lending (YoY) (Jun) increased from 4.8% to 6.2%
Current Account n.s.a. (May) increased from 0.263T to 1.177T
Indonesia:
Retail Sales (YoY) (May) decreased from -16.9% to -20.6%
Some economic news from today:
Japan:
Economy Watchers Current Index (Jun) increased from 15.5 to 38.8
EUROPE/EMEA:
UK Finance Minister Rishi Sunak has unveiled another £30 billion ($37.6 billion) coronavirus stimulus package aimed at stemming Britain's growing jobs crisis and lifting the economy out of its worst slump in centuries. Sunak said that significant job losses are the most "urgent challenge" the UK economy faces, as he announced a package of tax breaks, restaurant discounts and jobs programs designed to bolster employment as the government prepares to withdraw wage subsidies in October. The spending announced on Wednesday brings the government's stimulus layouts to roughly £166 billion ($208 billion), or 7.4% of 2019 GDP, according to Paul Dales, chief UK economist at Capital Economics. He also announced to cut the VAT from 20% to 5% for entertainment and hospitality sectors. The cut will last from July 15 until January 12 next year.
British budget airline Ryanair has agreed to keep on all UK-based cabin crew in return for pay cuts, according to unions. The deal would involve crew at the budget airline accepting salary reductions of 5-10% over the next four years or until its business returns to pre-pandemic levels.
Germany's federal cabinet on Wednesday adopted a national strategy for equality between women and men, the first strategy plan on gender equality to be implemented on a federal level in Germany. At a press conference in Berlin, Family Minister Franziska Giffey laid out the 9-part plan, coined "Strong for the Future."
The French government said on Wednesday it is preparing for a second wave of COVID-19 cases that could emerge in the coming months, but will not respond with another nationwide lockdown to contain the outbreak.
Saudi Arabia will host an Arab-Chinese summit to discuss further partnerships and cooperation with China, Saudi Arabia's Foreign Minister, Prince Faisal bin Farhan, announced on Tuesday. The Arab-Chinese co-operation increases in strength and diversity with each passing day," Prince Faisal told the Saudi Press Agency.
The major Europe stock markets had a negative day:
CAC 40 decreased 62.60 points or -1.24% to 4,981.13
FTSE 100 decreased 33.74 points or -0.55% to 6,156.16
DAX 30 decreased 121.99 points or -0.97% to 12,494.81
The major Europe currency markets had a mixed day today:
EURUSD increased 0.0057 or 0.51% to 1.13352
GBPUSD increased 0.0073 or 0.58% to 1.26195
USDCHF decreased 0.0043 or -0.45% to 0.93809
Some economic news from Europe today:
Swiss:
Unemployment Rate n.s.a. (Jun) decreased from 3.4% to 3.2%
Unemployment Rate s.a. (Jun) increased from 3.2% to 3.3%
US/AMERICAS:
China is "the greatest long-term threat" to the US, according to FBI Director Christopher Wray. Wray expressed his concerns over China stealing US intellectual property through the Thousand Talents Program, which recruits Chinese spies to steal data in an attempt to promote China's AI and for potential blackmail purposes. "China, as led by the Chinese Communist Party, is going to continue to try to misappropriate our ideas, influence our policymakers, manipulate our public opinion, and steal our data. They will use an all-tools and all-sectors approach —and that demands our own all-tools and all-sectors approach in response," the FBI director stated.
Mexican President Andres Manuel Lopez Obrador met with President Donald Trump at the White House this Wednesday to sign a joint declaration regarding the US-Mexico-Canada Agreement (USMCA). Notably absent was Canadian Prime Minister Justin Trudeau, who spoke to President Obrador on the phone earlier in the week to congratulate him on the free trade deal passing. Although Trudeau's administration cited the coronavirus as one of the reasons for his absence, others believe he skipped the meeting due to the US recently threatening to reimplement tariffs on Canadian aluminum and steel. Trudeau discussed the issue last week, stating, "What we simply highlight is the United States needs Canadian aluminum. They do not produce enough, nowhere near enough aluminum in the States, to be able to fill their domestic manufacturing needs."
The travel and transportation industries are continuing to suffer as a result of the coronavirus shutdown. United Airlines announced today that it may need to furlough one-third of its employees. Since United accepted a $25 billion payout from the US government, they are prohibited from laying off employees until October 1. The largest airliner in the US issued a statement saying that "furloughs come as a last resort" but they cannot afford the current payroll level "in an environment where travel and demand is so depressed."
The US Supreme Court ruled today that employers have the right to deny women birth control coverage. In what seems to be a grey area between religion and state, the highest court voted 7-2 that religious or moral objections were valid reasons to deny women contraception. "Our case is about an overly broad rule that allows the personal beliefs of CEOs to dictate women's guaranteed access to contraceptive medicine," stated Pennsylvania Attorney General Josh Shapiro. Under the new ruling, 125,000 women are at risk of losing coverage.
The Trump administration has officially notified the United Nations that the US will be leaving the World Health Organization (WHO). The administration previously expressed dismay over the organization's handling of the coronavirus, and accused the WHO of being too "China-centric." The WHO requires a mandatory one-year notice before a member can officially leave. According to the organization, the US still owes $198 million in membership dues.
US Market Closings:
Dow advanced 177.1 points or 0.68% to 26,067.28
S&P 500 advanced 24.62 points or 0.78% to 3,169.94
Nasdaq advanced 148.61 points or 1.44% to 10,492.5
Russell 2000 advanced 11.41 points or 0.81% to 1,427.4
Canada Market Closings:
TSX Composite advanced 33.69 points or 0.22% to 15,629.19
TSX 60 advanced 1.47 points or 0.16% to 939.19
Brazil Market Closing:
Bovespa advanced 2,008.84 points or 2.05% to 99,769.88
ENERGY:
The oil markets had a mixed day today:
Crude Oil increased 0.25 USD/BBL or 0.62% to 40.8700
Brent increased 0.17 USD/BBL or 0.39% to 43.2500
Natural gas decreased 0.048 USD/MMBtu or -2.56% to 1.8290
Gasoline increased 0.0124 USD/GAL or 0.97% to 1.2852
Heating oil decreased 0.006 USD/GAL or -0.05% to 1.2371
The above data was collected around 16.02 EST on Wednesday.
Top commodity gainers: Wheat (4.72%), Corn (2.96%), Cotton (2.59%), and Canola (3.17%)
Top commodity losers: Oat (-2.91%), Natural Gas (-2.56%), Bitumen (-1.49%), and Steel (-1.52%)
The above data was collected around 16:08 EST on Wednesday.
BONDS:
Japan 0.02%(-1bp), US 2's 0.15% (-1bps), US 10's 0.65%(-0bps); US 30's 1.38%(-1bps), Bunds -0.44% (+2bp), France -0.12% (-1bp), Italy 1.27% (-1bp), Turkey 12.34% (+24bp), Greece 1.14% (+2bp), Portugal 0.43% (+1bp); Spain 0.42% (+6bp) and UK Gilts 0.19% (+1bp).
US 10-Year Note Auction decreased from 0.832% to 0.653%
German 5-Year Bobl Auction decreased from -0.620% to -0.660%