Blog/Market Talk
Posted Jul 7, 2017 by Martin Armstrong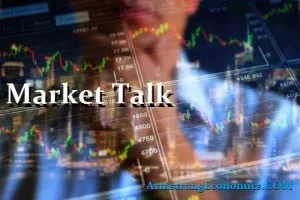 Following on from the weak US session, Asia tended to drift in sympathy. Ahead of the US NFP's it was always going to be light volume but with G20 also just stated numbers were even lighter. The Shanghai has managed a positive close (+0.17%), but not so for the Hang Seng which closed down -0.5%. After trading hours China released Foreign Reserves which were mildly better than expected at $3.057 trillion for June a rise of just $3bn. In Japan the BOJ was rumoured to be in action supporting 5 – 10yr JGB's as we have seen bond markets fall globally this week. This programme failed to support todays Nikkei action which closed down -0.3% and also watched as the JPY traded close to 114 through US Dollar strength. This move was accelerated after the NFP report but we'll discuss that further down. Australia is feeling the pinch as commodities, geopolitics and slowing trade unnerves trade flow which impacts confidence. The ASX closed almost 1% lower and saw the A$ trade back in the 0.75 handle.
Europe watched as G20 got underway, Trump and Putin meet and all ahead of the monthly release of the US NFP's. Headlines are causing some jittery trades and with oil giving up 3% again today, many are wanting to run a flat book over the weekend. The US Non-Farms released 220k against a 188k expected. The rate of unemployment edged higher to 4.4% whilst the wage growth moved just 0.2%. Ok, the equity traders are focusing on the wage growth number whilst the bond market focuses on the number but the overall trend. A set of numbers like this gives the FED some wiggle room when looking to unwind its Balance Sheet. Worth keeping an eye now on absolute yield levels but also the shape of the curve. However, in Europe stocks were mixed but we did see the DXY trade firmer and especially applied pressure to GBP. Also in the UK House prices (nationwide) slipped 1% last month but remains up nearly 3% for the year.
2's closed 1.40% (+1bp), 10's 2.38% (+1bp), 30's 2.90% (+5bp), Bunds 0.56% (+9bp) closes the US/Germany spread at +181bp, France 0.91% (+10bp), Italy 2.25% (+11bp), Greece 5.25% (-1bp), Turkey 10.54% (+7bp), Portugal 3.01% (+8bp) and UK Gilts 1.31% (+5bp).