Blog/Market Talk
Posted Jul 6, 2017 by Martin Armstrong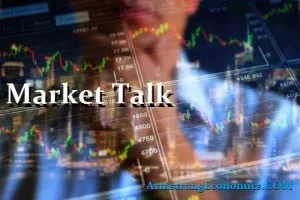 Geopolitics has taken centre stage today as Trump comments on the severity required towards North Korea and prepares for his meeting with Russian President Vladimir Putin. German Chancellor Angela Merkel has talks with President Trump are expected to be frosty as she commented, "He is the most disruptive and egotistical leader at the (G20) summit". G20 takes place in Hamburg Germany, over the next few days and the disruption is expected to grab the front pages away from the main headlines. On the eve of all of this stocks in Asia took a bit of a wobble forcing the Nikkei lower (-0.45%) but with only limited impact on the JPY. We eventually closed well of session lows, but as we have come to expect in summer months light volumes move markets. Oil weighed mostly as we saw a 4% drop at one stage but many looked at FED minutes to provide reasoning. The weakness in bond markets (especially JGB's) provides a mixed response to stocks as the great rotation (from FI to Stock) gathers pace. Many still ponder if higher rates good are a reflection of a healthy economy or a reason to sell stocks! Keep an eye on the DXY as this looks to be waking from a recent sleep. Shanghai and Hang Seng closed mixed to small better.
Morning session for Europe saw equities lower but off their worst levels. Again investors question which way to play as bonds markets hit new lows (price / higher yields) on liquidation cash starts to pile-up. Mid session we saw US data which confirms FED policy. ADP released weaker than expected (158k v's 185k) but shortly after by ISM data accelerated the bond moves and aids the slow DXY bid. Uncertainty persists after the data as Tech's see more profit-taking and core (DAX, CAC, IBEX and FTSE) all edge lower, a move accelerated as US opens weaker. Geopolitical concerns hit travel and leisure with declines close to 1.6% on the day. Oil has bounced from extremes and was seen earlier +1.7% firmer on the day after inventories release lower than estimated, however – only managed a +1% close. Europe closes weak as US shows no signs the sell-off is likely to ease today.
US indices do not like the geopolitical rumblings they are hearing today as North Korea and G20 summit approaches with nerves seen continuing. Again, it was the NASDAQ that lead stocks lower although rising yields may have lent a helping hand. Summer trading volumes remain and so we probably have to wait until August before some form of settled trend returns.
2's closed 1.39% (-1bp), 10's 2.37% (+5bp), 30's 2.90% (+5bp), Bunds 0.56% (+9bp) closes the US/Germany spread at +181bp, France 0.91% (+10bp), Italy 2.25% (+11bp), Greece 5.25% (-1bp), Turkey 10.54% (+7bp), Portugal 3.01% (+8bp) and UK Gilts 1.31% (+5bp).