Blog/Market Talk
Posted Jul 6, 2018 by Martin Armstrong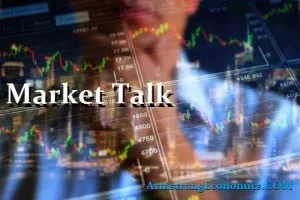 It just looks as though the markets were ready for the trade tariffs as they took them and just moved on! After an initial wobble as sanctions came into effect at US midnight yesterday, the buying appeared and markets were looking forward to US Employment data. Eventually, after much debate and anxiousness equity markets improved as the trading day wore on. The star performer for the day was the Nikkei rallying over 1.1% and with currency well behaved, added much needed momentum. Interesting that the Shanghai closed higher on the day but did hit an new one year low intraday. Levels are well off of 2015 highs and actually almost half the then high. SENSEX also closed better (+0.23%) but is still within 1k points of its all time high; INR hit all time low with a 69 handle! Worth keeping an eye on currency as it is amazing that storey that can be told once stripped away.
The US jobs report probably stopped the declining European indices, well – for now anyway! Core Europe was trading lower before the numbers and also only recovered when US turned higher. There remains many concerns within the region and now even to the extent rumours of overseas buyers are eyeing Deutsche Bank. Rumours today were that a Chinese bank or even JPM maybe looking at them, but was just rumours that lifted the stock almost 3% today. Unusual to have rumours founded on nothing, so the question is what bubbling under the surface. It could be an interesting Monday session as Theresa May hosts the Cabinet at Chequers Friday/Saturday and so far the rumours is she is asking colleagues to "Trust her". Talk is that mobile phones and laptops are banned from entering. It looks as though GBP is trading in the hope of a soft departure, but then it will need to be accepted by Mr Barnier and team not to mention the markets.
US was all about the data and the better than expected headline 213k and the rate rises to 4%. The net result was an initial headline sell-off but a recovery in core stocks indices to close positive on the day. Again, the best performer has been the NASDAQ (+1.3%) and another outperformance by the broader S+P (+0.9%) outshining the +0.4% gain in the DOW. The treasury market reflected the uncertainty with a 1bp parallel shift in the curve, but again we hear of curve flatteners being positioned. We are again seeing a drain in liquidity in the European bond market, which could quite easily turn into volatility if we see a summer headline that spooks markets. Many market makers are so light on inventory that rumours claim longer holidays are being granted. Carrying fewer positions will result in an increase in volatility, as only natural orders will chase prices.
Japan 0.03%, US 2's closed 2.54% (-1bp), 10's closed 2.82% (-1bp), 30's 2.93% (-2bp), Bunds 0.29% (-1bp), France 0.63% (-1bp), Italy 2.71% (-1bp), Greece 3.89% (-8bp), Turkey 16.68% (-11bp), Portugal 1.79% (u/c), Spain 1.30% (-2bp) and UK Gilts 1.27% (+1bp).