Blog/Market Talk
Posted Jul 5, 2017 by Martin Armstrong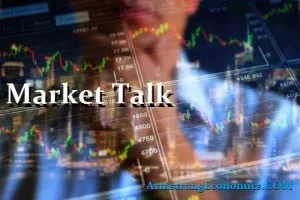 Refreshingly, the markets tended to ignore geopolitical tensions escalating around North Korea after the recent missile test. All core markets returned positive today with China performing for both markets. The Shanghai recovered early weakness and closed up 0.75% on the day, whilst in Hong Kong the large cap's weighed much on the shine but still managed a +0 5% firmer close. There was a similar pattern to the Nikkei where morning weakness was reversed and we managed a +0.25% positive close. The JPY lost all of yesterdays safe-haven bid and it was back to long yen liquidations again. These are typical of summer trading conditions where one headline can have large market impacts because so few people are trading. A similar pattern was seen in the SENSEX today with retail bid starting to nibble away at any pullback.
Europe was not such a sure thing and obviously needed convincing as the day wore on. Tensions within the Middle East weigh on dealers minds and so are continuously checking FX Forwards (Saudi, Qatar and Dirham) as they act as a safety value for pressures. Looks like Qatari 1yr forwards offered at +700 and with Spot drifting from 3.7 to 3.73 last indications seen. Expecting sanctions news, possibly later today.
Core markets were mixed for Europe with a lot of the Talk surrounding Monte die Paschi di Siena and the €5.5bn bailout approval from the EU. The move has helped banks stocks and is watching core banks (HSBC, Deutsche) rally because of the rumoured exposures. Eventually closing small mixed we await this evenings FED minutes release.
A bounce-back for the NASDAQ today despite indications that the North Korean missile launch had impacted futures. The FED minutes indicated the firm desire to continue rate rises but markets refused to listen just yet. 10yr notes were little changed by the close of stock trading hours but we are seeing a small impact of the 2% inflation expectation. Most Talk was that there was little to go-on in regard Balance Sheet unwind, probably because there was division amongst officials.
2's closed 1.40$ (-1bp), 10's at 2.32% (-1bp), 30's 2.85% (u/c), Bunds at 0.47% (u/c) which closes the US/Germany spread at +185bp (+1bp). France 0.81% (-1bp), Italy 2.14% (+4bp), Greece 5.26% (+5bp), Portugal 2.93% (u/c) and UK Gilts 1.26%.