Blog/Market Talk
Posted Jul 5, 2018 by Martin Armstrong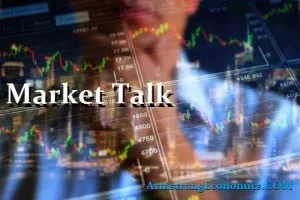 Another weak session for Asia even as some markets did attempt a bounce. The mood in general remains negative with core China Shanghai down another 1% today as the US/China tariff issue possibly are enacted Friday. China has already publically stated they will respond and not be proactive, but the benefit of the time zone offers that opportunity. Yuan is still being watched closely and looks to be easing as we go, but did benefit from yesterdays verbal intervention. The market position is looking for that to edged weaker over time and probably not as fast as the off-shore is indicating. The Hang Seng traded a similar pattern today as real estate and energy weighed on prices and sentiment. The Nikkei drifted yet again and even closed on the days low. Interesting however, that the Yen appears to be losing some of the natural safe-haven flow which could also be linked to the recent Yuan depreciation. The SENSEX hit its day low just ahead of lunch and despite many afternoon opportunities to break positive were eventually all rejected. The index is benefiting from the INR depreciation. This trend will be finish anytime soon, so be aware of INR weakness to come.
Auto-stocks bounce and so went European equity markets. The concerns are obviously still around but fears that the EU would play hardball turned out to be smoke and mirrors. Reality is, the EU are in no shape to challenge anyone soon as domestic relationships continue to be stretched at best. Best performer of the core was unsurprisingly the DAX (+1.2%) with CAC not far off. UK PM Theresa May assembles her cabinet at Chequers tomorrow for BREXIT talks. Many yesterdays were optimistic that the final proposal could be "soft" in favour of EU lines. However, todays market saw sellers again in the GBP so should be interesting come tomorrows headlines.
US futures were moving positively even before influenced by early domestic trading and where benefiting from European sentiment and some early data. A strong cash opening saw the DOW up around 200 points with all core making ground but led by the NASDAQ. US NFP Friday with estimates of around 200k still on the radar. Todays ISM (59.10) was surprisingly strong and is having positive implications for tomorrow numbers also. The FED minutes were probably as expected, but they do still infer they are playing catch-up. Looks like Fridays numbers could have a bigger effect than were being expected. A strong report (definitely keep a close eye on the Hourly Earnings) will hit the front-end bonds again and probably flatten the curve even more. The pace of the rate increases will dictate equity sentiment, but currently the market expects one more which could be the surprise for Q4. A late burst took all indices to their days highs closing around +0.9%.
Japan 0.03%, US 2's 2.55% (+1bp), 10's 2.83% (u/c), 30's 2.95% (-2bp), Bunds 0.3% (-1bp), France 0.64% (u/c), Italy 2.72% (+8bp), Greece 3.97% (+6bp), Turkey 16.79% (-10bp), Portugal 1.79% (+6bp), Spain 1.32% (+3bp) and Gilts 1.26% (-2bp). Peripheral markets losing ground as equity markets performed.