Blog/Market Talk
Posted Jul 4, 2018 by Martin Armstrong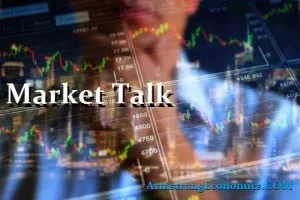 We expected a quiet day today with the US being out, but just didn't quite realise how quiet. In Asia the major talking point was the Yuan and the verbal intervention witnessed earlier today. This diod help the currency recover to the mid 6's (6.6313), having hit its one year low early yesterday. The Yuan decline is bound to start to impact peripheral Asia as you would expect. The core Shanghai index closed down almost 1%, along with the Hang Seng, as real estate, pharmaceuticals and energy stocks leading the way. The Australian index followed a similar pattern closing on the days lows, but were hit more from a currency perspective as the A$ adds additional losses. The Nikkei almost traded positive towards the close but sentiment took it lower in the final minutes of trade. Yen acts as the safe-haven bid again and we are back to mid 110's.
Europe was shocked by the Danske Bank reports and sees its shares drop around 3% on the day. German's Angela Merkel in she headlines again, but then she is never out of them, after addressing trade issues and auto tariff's questioned. In the UK talk is that the BREXIT negotiations maybe softer than anticipated, which has helped GBP bounce a touch (+0.2%). However, we should hear more on Friday after May addresses members invited to Chequers where a possible final agreement maybe aired. UK had a bit of a lift earlier after the UK PMI released better than expected, implying the BOE could be in play by the end of the summer. This is helping confidence in the UK but they probably should look at what they wish to be part of before celebrating possible accomplishments.
Lots of talk also surrounding the ECB's twist operation it rumoured last week. Talk that the maturing proceeds will be reinvested at the long end of European markets is causing yet more curve flattening as liquidity dries even more. Draghi also mentioned last week that rates could remains low beyond summer of 2019 – quite incidentally past his retirement date! Long end bonds remain bid as you would expect.
Japan 0.03%, Bunds 0.305% (+1.5bp), France 0.645% (+1.5bp), Italy 2.64% (+1bp), Greece 3.91% (+1bp), Turkey 16.89% (+20bp) – 15% Inflation still racing faster than forecast, Portugal 1.73% (+1bp), Spain 1.29% (+1bp) and Gilts 1.28% (+4bp).