Blog/Market Talk
Posted Jul 31, 2018 by Martin Armstrong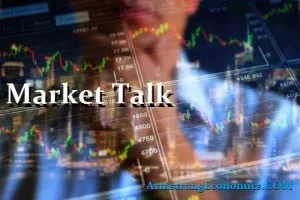 It was almost as though the longer they waited, the more complacent the markets were about the BOJ and the curve! The fears after last weeks rumours, were that the BOJ would start to step away from its rigorous JGB operation. However, after today announcement and comments, JGB 10yrs fell 4bp back to 0.06%. That has not helped the Yen though, as we start to see selling weigh on the currency pusihing it to the high 111's, which was accelerated following the China Trade Talks headline. Actually, much of the news happened late in the European afternoon, so it may as well be best we jump forward to this.
European core started the day heavy and struggling to move positive even following the BOJ decision. Momentum was lacking and only managed to improve after we saw a couple of high profile corporate (BP and Credit Suisse) results beat expectations and lift optimism. We had already seen disappointing PMI data released in Asia and now Europe was equally underperforming. Italian stocks (FTSE MIB +1.25%) did well and could be the healthy promotion seen the joint US address seen yesterday. Upon the late US/China Trade headline, we saw the bid for US Dollars return at the expense of all core but specifically Yen, GBP and Turkish Lira. In late US trade we see both the Yen and Lira off by around -0.7% on the day. BOE to announce Thursday with the market anticipating the hike.
US markets had the benefit of the headline for almost all of its trading day. This concern over China Trade Talks has dominated market momentum for a while now and a move to resolve is extremely welcomed. Any announcement that could reduce these doubts is very bullish news for stocks. Although we have seen weakness the past few days, core indices are still positive on the month. DOW, S+P and NADAQ are still up +4.85%, +3.75% and +2.75% respectively and is the second best month this year. Tech will probably dominate tomorrow as we see Apple's result half-hour after we close this evening. FED decision tomorrow with no change expected.
Japan 0.05% (-5bp), US 2's closed 2.67% (u/c), US 10's 2.96% (-3bp), US 30's 3.08% (-3bp), Bunds 0.45% (+1bp), France 0.73% (-1bp), Italy 2.71% (-7bp), Greece 3.91% (+7bp), Turkey 17.94% (+32bp), Portugal 1.72% (-4bp), Spain 1.39% (-3bp) and Gilts 1.33% (-1bp). The China headline came a ;little too late for most European bond markets and so we will need to await Wednesday opening to see the implications.