Blog/Market Talk
Posted Jul 30, 2018 by Martin Armstrong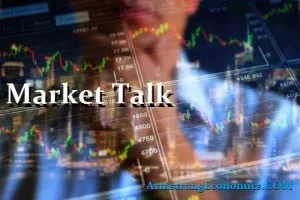 A very busy week ahead with month end numbers, central banks, inflation data and US employment report. That said, volumes are still extremely low and large orders are few and far between but tend to move markets none-the-less. The weaker tone was probably the residue from US tech markets, despite the late bounce seen for the DOW. Tomorrow we hear the result of the Bank of Japan two day meeting and this time it may surprise the market (Nikkei -0.75%). Although the market is pricing an unchanged call, there has been steepening movement in the yield curve recently. The Yen remains around the 111 figure and a small test earlier was rejected as we see it back with a 110 handle late in US trading, as US equities decline. Apart from Jakarta the best Asian index was the SENSEX (+0.45%), off of its intraday (record) high, but still a record close. SENSEX is benefiting from the move away from the public sector in favour of the private sector. Shanghai (-0.2%) and Hang Seng (-0.25%) lost early gains to close lower as tech are real estate continue to weigh on prices.
Core Europe tried desperately to move into positive territory all day but to no avail. Both the CAC and DAX closed around -0.4% today, but again volumes are so low it is a true sign of summer trading. That said, we do have much that could move markets later this week and that move will probably start from Japan tomorrow. Given that key markets are at or near record highs, the mood is expected retracement or at least consolidation. The markets are already pricing-in a BOE move which is benefiting Sterling with a small improvement against the USD. European bond markets saw movement today than equities. As the market turn to the belief that central banks around the globe are turning to reverse gear, curves are starting to steepen with absolute higher yields around the world.
The US markets continued the tech led declines. Given Fridays bearish close and the weakness in the NASDAQ, many are happy to book some gains and take some summer-time away. The big names led the sell-off with FB and Netflix lower, Netflix down 5.5% and around 7% over the week. There is still a lot on the agenda for the week, but many will be hoping this turn is more consolidation than something more dramatic. The NASDAQ is feeling it more due to its previous outperformance. Treasuries saw a small sell-off with the curve steepening. USD remains bid although it has lost to the majors today.
Japan 0.10%, US 2's closed 2.67% (u/c), 10's closed 2.99% (+3bp), 30's 3.11% (+3bp), Bunds 0.44% (+4bp), France 0.74% (+5bp), Italy 2.78% (+5bp), Greece 3.84% (+5bp), Turkey 17.62% (+23bp), Portugal 1.76% (+5bp), Spain 1.42% (+6bp) and Gilts 1.34% (+6bp).