Blog/Market Talk
Posted Jul 29, 2019 by Martin Armstrong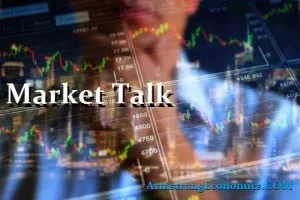 ASIA:
China has condemned the recent protest in Hong Kong labelling the act as a "serious damage to the rule of law." There are still talks of the possibility of China bringing military presence in the region. Meanwhile, Chinese civil rights are being put into question after a Chinese court sentenced a civil rights activist to 12 years in jail. Huang Qi who founded 64 Tianwang, a news website blocked in mainland China that covers alleged human rights issues.
U.S.-China trade talks are set to resume this week, with a trade delegation from Washington scheduled to fly to China on Monday for negotiations with Beijing officials.  Meanwhile, President Trump criticized China's status with the WTO as a "developing country." China hit back at U.S. President Donald Trump's criticism by suggesting President Trump is trying to gain an advantage before the meeting this week.
Regarding Japan and South Korean arguments after Japan banned exports to Seoul, Korean Air canceled flights to Japan after the demand for flights faltered after the ban.
The major Asian stock markets had a mixed day today:
Shanghai decreased 3.53 points or -0.12% to 2,941.01
Kospi decreased 36.78 points or -1.78% to 2,029.48
ASX 200 increased 32.40 points or 0.48% to 6,825.80
NIKKEI 225 decreased 41.35 points or -0.19% to 21,616.80
Hang Seng decreased 291.33 points or -1.03% to 28,106.41
SENSEX decreased 196.42 points or -0.52% to 37,686.37
The major Asian currency markets had a mixed day today:
AUDUSD decreased 0.0007 or 0.10% to 0.6901
NZDUSD decreased 0.0006 or 0.09% to 0.6627
USDJPY increased 0.1470 or 0.14% to 108.8070
USDCNY increased 0.0120 or 0.17% to 6.8928
Precious Metals:
Gold increased 3.04 USD/t oz. or 0.21% to 1,423.46
Silver increased 0.0225 USD/t. oz or 0.14% to 16.4428
Some economic news from last night:
Australia:
HIA New Home Sales (MoM) decreased from 28.8% to -12.4%
Japan:
Retail Sales (YoY) (Jun) decreased from 1.3% to 0.5%
EUROPE/EMEA:
New UK PM Boris Johnson stated that he refuses to meet EU leaders unless they agree to ditch the Irish backstop from the Brexit withdrawal agreement, despite receiving many invitations from European leaders. Meanwhile, the prime minister's chief Brexit negotiator has urged his EU counterparts not to "underestimate" Boris Johnson. Today, the UK's Foreign Secretary Dominic Raab called the EU position "stubborn" and said the UK are more than likely to end up leaving on WTO terms. Following these comments, the pound hit a two-year low on Monday against the US dollar. Later in the day PM Boris Johnson contradicted this statement, and his most senior no deal Brexit planning minister, Michael Gove, by claiming that the government is not working on the basis that a no-deal Brexit is the most likely outcome this autumn. Also today, Boris Johnson signaled he would oppose letting Scotland hold second independence referendum in case of a no-deal Brexit, as more than 60% of Scots wanted to remain in the EU.
Iran's Revolutionary Guards have released audio of an exchange in which a UK warship is told not to intervene in the capture of a British-flagged tanker last week. "Do not put your life in danger" was the warning Iran gave the UK Navy Ship. Iranian commandos seized the Stena Impero near the Strait of Hormuz two weeks after British forces captured an Iranian tanker near Gibraltar over concerns it was defying EU sanctions by transporting oil to Syria. The crew and personnel are all reported safe.
The major Europe stock markets had a mixed day today:
CAC 40 decreased 8.94 points or -0.16% to 5,601.10
FTSE 100 increased 137.55 points or 1.82% to 7,686.61
DAX decreased 2.43 points or -0.02% to 12,417.47
The major Europe currency markets had a mixed day today:
EURUSD increased 0.0017 or 0.15% to 1.1142
GBPUSD decreased 0.01516 or -1.22% to 1.22284
USDCHF decreased 0.0019 or -0.19% to 0.9914
Some economic news from Europe:
Spain:
Spanish CPI (MoM) decreased from -0.1% to -0.6%
Spanish CPI (YoY) (Jul) increased from 0.4% to 0.5%
Spanish HICP (MoM) decreased from -0.1% to -1.1%
Spanish HICP (YoY) (Jul) increased from 0.6% to 0.7%
Spanish Retail Sales (YoY) (Jun) decreased from 2.6% to 2.4%
Italy:
Italian PPI (YoY) (Jun) decreased from 1.5% to 0.9%
Italian PPI (MoM) (Jun) decreased from 0.1% to -0.3%
UK:
BoE Consumer Credit (Jun) increased from 0.906B to 1.046B
M4 Money Supply (MoM) (Jun) increased from -0.1% to 0.1%
Mortgage Approvals (Jun) increased from 65.65K to 66.44K
Mortgage Lending (Jun) increased from 2.94B to 3.73B
U.S./AMERICAS:
The two-day FOMC meeting will commence tomorrow, and the Federal Reserve will announce their future rate policy on Wednesday. Analysts are expecting a 25-basis point decrease in rates. The president, a long-time critic of the Fed's current monetary policy, is urging the Fed to reduce rates further. "The Fed 'raised' way too early and way too much. Their quantitative tightening was another big mistake," President Trump tweeted. Furthermore, the president claimed that other countries know how to play the "game" against the U.S. and accused China of viewing the U.S. as "easy pickens [sic]."
Trade representatives from the U.S. are visiting Shanghai for a two-day meeting this week. At the G20 summit, China and the U.S. agreed to delay any further tariffs until talks resumed. President Trump has stated that he is not overly concerned with securing a deal with China as the U.S. is collecting billions in tariffs. Still, if negotiations do not progress this week it may result resuming the temporarily stagnant trade war.
Pfizer, the largest drug manufacturer in the world, may combine forces with generic drug manufacturer Mylan. Under the agreement, Pfizer will own 57% of the new combined company while Mylan would own the other 43%. Analysts estimate that the combined company could generated over $20 billion in annual revenue.
On Monday morning President Trump signed the 9/11 Victim Compensation bill into law. The bill received bipartisan support from the Senate last week where it received a 97-2 vote. The program initially began in 2011 and has since helped 22,400 victims and first responders of the 9/11 attacks. Today's passage will extend the fund $10 billion over the next ten years.
U.S. Market Closings:
The Dow advanced 28.90 points or 0.11% to 27,221.35
S&P 500 declined 4.89 points or 0.16% to 3,020.97
Nasdaq declined 36.88 points or -0.44% to 8,293.33
Russell 2000 declined 9.94 points or -0.63% to 1,569.03
Canada Market Closings:
TSX Composite declined 38.87 points or -0.24% to 16,492.17
TSX 60 declined 2.79 points or -0.28% to 984.88
Brazil Market Closing:
Bovespa advanced 663.70 points or 0.65% to 103,482.63
ENERGY:
Oil prices edged higher on Monday as the prospect of an expected interest rate cut by the U.S. Federal Reserve overshadowed pessimism over U.S.-China trade talks and worries about slower global economic growth. Meanwhile, China has imported Saudi Arabian Crude for a record volume as the world's biggest exporter fills a shortage left by the void of Iran's supply.
The oil markets had a mixed day today:
Crude Oil increased 0.66 USD/BBL or 1.17% to 56.9639
Brent increased 0.24 USD/BBL or 0.38% to 63.5891
Natural gas decreased 0.025 USD/MMBtu or -1.15% to 2.1408
Gasoline decreased 0.0104 USD/GAL or -0.55% to 1.8677
Heating oil increased 0.0086 USD/GAL or 0.45% to 1.9098
Top commodity gainers: Coal (1.93%), Platinum (1.80%), Wheat(1.41%), and Palladium (1.32%)
Top commodity losers: Lean Hogs (-2.20 %), Cotton (-1.46%), Natural Gas (-1.29%), and Feeder Cattle (-1.10%)
The above data was collected around 14:12   EST on Monday.
BONDS:
Japan -0.14%(+1bp), US 2's 1.85% (-2bps), US 10's 2.05%(-3bps), US 30's 2.59%(-1bps), Bunds -0.40% (-2bp), France -0.14% (-2bp), Italy 1.58% (+1bp), Turkey 14.91% (-9bp), Greece 2.05% (-68bp), Portugal 0.43% (-2bp), Spain 0.38% (+0bp) and UK Gilts 0.65% (-4bp).
Italian 6-Month BOT Auction decreased from -0.063% to -0.210%
US 3-Month Bill Auction increased from 2.040% to 2.070%
US 6-Month Bill Auction increased from 2.010% to 2.035%
French 3-Month BTF Auction increased from -0.545% to -0.541%
French 6-Month BTF Auction increased from -0.596% to -0.589%
French 12-Month BTF Auction increased from -0.655% to -0.650%