Blog/Market Talk
Posted Jul 28, 2017 by Martin Armstrong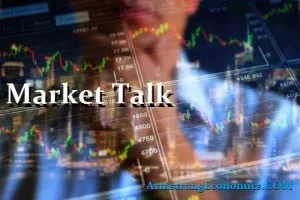 A weak market close for most of the Asian indices today but saw the KOPSI and ASX off around 1.55% the pair. The Nikkei gave up another 0.6% as the yen trade back to the mid 110's. With Shanghai the only core that closed positive even the Hang Seng fell -0.6%. The sell-off was broad based but financials seemed to take their share of the beating, possibly influenced by European declines and notably that of Deutsche bank. The late news that the US Senate had voted down the Obama appeal certainly didn't help sentiment. Japan did see a weaker Retail Sales release (2.1% versus a 2.3% expectation) with an inline Consumer Prices number.
Europe was heavy from the open with much following on from yesterdays trade. The FTSE and CAC closed lowest down around 1% whilst the DAX and IBEX both closed -0.5% around. The talk is that money has decided to liquidate having seen a good run with investors moving into cash. The Euro (and GBP) have had decent runs recently even as stocks lose ground. Money continues to move away from Switzerland, evident in the UBS beat today but with its shares closing over 3% lower. A similar story for the British bank Barclays. All this despite the best EZ Confidence number in almost 10years.
A jittery start for the US markets with the NASDAQ taking most of the pain, eventually recovering from the poor Amazon (-4%) number. The DOW tossed to and froe until finally settling in the black. July and August are traditionally very thin months for volume and so any large order or Q2 earnings miss push prices more than normal. Interesting we continue to see the spread between US and German 10's narrow as the money moves.
2's closed 1.35% (-1bp), 10's at 2.29% (-2bp), 30's 2.89% (-3bp), Bunds 0.54% (+1bp) which closes the spread +175bp (-3bp). France 0.80%, Italy 2.11% (+3bp), Greece 5.27% (+5bp), Turkey 10.33% (-1bp), Portugal 2.85% (-7bp) and Gilts 1.21% (+1bp).