Blog/Market Talk
Posted Jul 27, 2018 by Martin Armstrong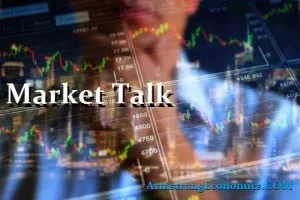 A mixed session at best, but probably not surprising for a summer Friday and just ahead of US GDP data release. Australian ASX was the best core performer gaining +0.9%, helped by the announcement that BHP was liquidating USD assets to BP. Shanghai and Hang Seng closed in opposite directions and again, not too far from previous close. Volumes remain extremely thin which tends to exaggerate the percentage moves. The Nikkei continued its run adding another +0.6%, but then the Yen moved into the 111's again. There has been a lot of discussion this week as to whether the SENSEX could claim the 35k badge for the weekend and today it affirmed its status. We continue to see the index perform as money leaves fixed-income making its way to the private sector. The INR managed to regain some ground on the week, but stays in a bearish trend. Key will be month end numbers as a 69 close rejects the markets view.
Europe had the benefit of an early close ahead of the US turn and was reacted to the US GDP numbers positively. However, after they had closed we saw a more volatile US market so that will be reflected in Mondays trading. However, at the days open economic data (French data) were less than expected, 0.2% against a +0.3% forecast, and so the US numbers were a welcome relief to close the week. A broad improvement of around +0.5% across the DAX, CAC and UK FTSE.
US Q2 GDP 4.1% releasing the best growth number in four years. This was not enough to help an over-bought NASDAQ as we watched the profit-taking continue. The sudden increase in volatility has already scared a few people and a couple of misses in the week (notably Facebook) is a gentle reminder of what to expect after such a great run. NASDAQ closes down 1.5% today, as Twitter and Intel join the decline. Lots to play next week with central banks and month end numbers, but as the volatility leads us out of the consolidation period the lack of volume increases the price action.
Japan 0.10%, US 2's closed 2.675% (-1.5bp), 10's 2.96% (-2bp) and 30's 3.085% (-1.5bp), Bunds 0.4% (u/c), France 0.69% (-1bp), Italy 2.73% (+3bp), Greece 3.79% (u/c), Turkey 17.39% (-24bp), Portugal 1.71% (u/c), Spain 1.36% (u/c) and Gilts 1.28% (u/c).