Blog/Market Talk
Posted Jul 27, 2017 by Martin Armstrong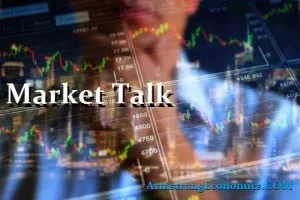 The Nikkei managed to reverse the majority of the days trend with an eventual positive close. It was not that great (+0.15%) but a positive close none the less and as the yen played just under the 112 handle, this helped the move at the close. The FED played its part initially but as the trading day wore on dealers are starting to question the recent run on the Euro especially as the watched the Swissy breaking new lows. We saw the Swiss Franc trade back to 2015 lows as talk surrounds a move away from the region in favour of the USD. Shanghai saw a similar performance to Japan with a small (+0.05%) positive close. The Hang Seng again the better performer closing up just over +0.7%. ASX also closed marginally better as news that corporate(industrials) continue to push ahead of expectations in China and so supporting the outlook for the exporter.
Europe attempted a positive opening, having seen most of Asia recover towards the close, but sadly that was to be only temporary. The Deutsche Bank results were not as good as expected -despite better revenue – but the news of an uncertain outlook was the headline most did not wish to see. The stock closed around 6.5% lower on the day with lower litigation costs the only positive many could take from the numbers. With no clear plan of positivity investors punished the stock. The DAX closed down around -0.75%, which was the weakest of the core (CAC -0.1%; FTSE -0.15% and IBEX +0.25%). Even though the German Consumer Sentiment increased many feel there is a lot of that positivity already priced into the stock, bond and currency markets. Also news that LIBOR will be phased out but more on this report soon.
A similar US opening to the one we saw earlier from Europe. The good corporate result train chugs-on even supported by better than expected initial claims. However, many ponder yet more record highs and simply continue the possibility of a pullback. The USD reversed its negative move in todays trade with losses seen for the CHF, Euro, GBP and many core pairs. Tech saw profit taking but the DOW managed to move ahead. The S+P drifted back from earlier highs but remains well bid for the week.
2's closed 1.36% (u/c), 10's 2.31% (+2bp), 30's 2.92% (+3bp), Bunds 0.53% (-3bp) which closes the spread at +178bp. Italy 2.08% (-3bp), Greece 5.22% (+2bp), Turkey 10.34% (+1bp), Portugal 2.92% (u/c) and Gilts 1.20% (-3bp).