Blog/Market Talk
Posted Jul 26, 2019 by Martin Armstrong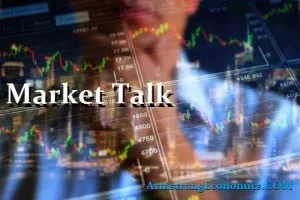 ASIA:
Chinese authorities are suspecting US company FedEx of holding back more than 100 packages that were destined to Chinese company Huawei, the state media reported today.
The US government has agreed to pay American farmers hurt by the trade war with China between $15 and $150 per acre in an aid package totaling $16bn with farmers in the South poised to see higher rates than in the midwest.
China's exports in the first six months rose by just 0.1 per cent, dampening demand for imports to increase pressure on the worldwide supply chain.
The biggest drop in first half exports was to the United States, down 8.1 per cent, despite the trade truce with the US after President Xi Jinping and President Donald Trump met at the G20. Meanwhile Larry Kudlow, director of the National Economic Council, dampened expectations about any major breakthroughs coming from U.S.-China trade negotiations next week. "I wouldn't expect any grand deal," Kudlow told CNBC's "Squawk on the Street" on Friday. "Talking to our negotiators, I think they're going to reset the stage and hopefully go back to where the talks left off in May."
The Chinese government is running up against a self-imposed 2020 deadline to formulate a nationwide social credit plan.
Chinese company I-Space becomes China's first private firm to put satellite into orbit.
The major Asian stock markets had a mixed day today:
Shanghai increased 7.18 points or 0.24% to 2,944.54
Kospi decreased 8.22 points or -0.40% to 2,066.26
ASX 200 decreased 24.60 points or -0.36% to 6,793.40
NIKKEI 225 decreased 98.40 points or -0.45% to 21,658.15
Hang Seng decreased 196.56 points or -0.69% to 28,397.74
SENSEX increased 51.81 points or 0.14% to 37,882.79
The major Asian currency markets had a mixed day today:
AUDUSD decreased 0.0041 or 0.59% to 0.6909
NZDUSD decreased 0.0032 or 0.48% to 0.6630
USDJPY increased 0.0770 or 0.07% to 108.6970
USDCNY increased 0.0117 or 0.17% to 6.8831
Precious Metals:
Gold increased 5.12 USD/t oz. or 0.36% to 1,419.46
Silver decreased 0.03 USD/t. oz or -0.18% to 16.3737
Some economic news from last night:
South Korea:
Consumer Confidence (Jul) decreased from 97.5 to 95.9
Japan:
Tokyo Core CPI (YoY) (Jul) remain the same at 0.9%
Tokyo CPI (YoY) (Jul) decreased from 1.1% to 0.9%
Tokyo CPI Ex Food and Energy (MoM) (Jul) increased from -0.1% to 0.0%
Singapore:
URA Property Index (QoQ) (Q2) increased from -0.70% to 1.50%
Unemployment Rate (Q2) remain the same at 2.2%
Some economic news from today:
Singapore:
Industrial Production (MoM) (Jun) increased from -0.1% to 1.2%
Industrial Production (YoY) (Jun) decreased from -2.0% to -6.9%
India:
FX Reserves, USD increased from 428.80B to 430.38B
EUROPE/EMEA:
France on Friday reiterated the tone set by EU's Juncker by rejecting an aggressive push by Boris Johnson to rewrite the Brexit agreement. France also stated they are ready to "work with" the new British prime minister if it is according to the current withdrawal agreement, said a senior French official.
The EU's executive has taken Hungary to court over the bill it passed last year making it a crime to help asylum seekers. The European Commission maintains the "Stop Soros" law is incompatible with EU law.
Iran has fired a missile that travelled 1,000 km (620 miles) in a test late on Wednesday according to reports. This test put the likes of Israel and the US on red alert. The launch is not believed to have posed a threat to shipping or US bases. A Shabaab-3 missile is believed to have been the type of missile used according to a US Pentagon official. According to the US official: "The intelligence assessment is its part of Iran's efforts to improve the range and accuracy."
The major Europe stock markets had a green day today:
CAC 40 increased 32.00 points or 0.57% to 5,610.05
FTSE 100 increased 60.01 points or 0.80% to 7,549.06
DAX increased 57.80 points or 0.47% to 12,419.90.
The major Europe currency markets had a mixed day today:
EURUSD decreased 0.0018 or 0.16% to 1.1127
GBPUSD decreased 0.00674 or -0.54% to 1.23866
USDCHF increased 0.0034 or 0.35% to 0.9940
Some economic news from Europe:
Germany:
German Import Price Index (MoM) (Jun) decreased from -0.1% to -1.4%
German Import Price Index (YoY) (Jun) decreased from -0.2% to -2.0%
France:
French Consumer Confidence (Jul) increased from 101 to 102
French PPI (MoM) (Jun) decreased from -0.4% to -0.5%
Italy:
Italian Business Confidence (Jul) decreased from 100.7 to 100.1
Italian Consumer Confidence (Jul) increased from 109.8 to 113.4
U.S./AMERICAS:
U.S.-China trade talks will resume next week, but National Economic Council Director Larry Kudlow is warning that we should not "expect any grand deal." In an interview on Friday, Kudlow said that talks will most likely resume where they left off in May before additional tariffs were implemented on billions of Chinese goods. U.S. negotiators will fly to Beijing to resume talks on Monday.
U.S. GDP dipped in the second quarter, but not as much as analysts had anticipated. GDP rose 2.1% in the second quarter of 2019, down a full 1% from the first quarter, but analysts had expected a growth of only 1.8% to 2%.
President Macron of France raised taxes on U.S. digital technology. Companies that generate 750 million euros in global revenue and 25 million euros in French revenue will be subject to a 3% tax. President Trump responded to the tax hike by stating he will "announce a substantial reciprocal action [for] Macron's foolishness." Trump also hinted at possibly incorporating a further tax on French wine, and had previously stated dissatisfaction with France and the EU's high tariffs on American wine.
President Trump also warned Apple that they must pay Chinese tariffs on products and parts made in China. "Apple will not be given Tariff waiver, or relief, for Mac Pro parts that are made in China. Make them in the USA, no Tariffs!" Trump tweeted.
The S&P 500 and Nasdaq continued their bullish rally Friday after posting new all-time highs. Universal Health Services led the rally in the S&P 500 (10.94%), followed by Alphabet C (10.32%), Alphabet A (10.06%), and Twitter (9%). Alphabet C led the rally in the Nasdaq, followed by Alphabet A, Starbucks (9.02%), and Fiserv (6.44%).
U.S. Market Closings:
The Dow advanced 51.47 points or 0.19% to 27,192.45
S&P 500 advanced 22.19 points or 0.74% to 3,025.86
Nasdaq advanced 91.67 points or 1.11% to 8,330.21
Russell 2000 advanced 17.52 points or 1.12% to 1,578.97
Canadian Market Closings:
TSX Composite advanced 42.84 points or 0.26% to 16,531.04
TSX 60 advanced 2.82 points or 0.29% to 987.67
Brazil Market Closing:
Bovespa advanced 164.35 points or 0.16% to 102,818.93
ENERGY:
China's still importing oil from Iran weeks after the U.S. imposed sanctions aimed at halting sales of crude from the Persian Gulf nation.
The oil markets had a mixed day today:
Crude Oil increased 0.2 USD/BBL or 0.36% to 56.3212
Brent increased 0.05 USD/BBL or 0.08% to 63.3795
Natural gas decreased 0.079 USD/MMBtu or -3.52% to 2.1685
Gasoline decreased 0.0062 USD/GAL or -0.33% to 1.8700
Heating oil decreased 0.0083 USD/GAL or -0.43% to 1.9091
Top commodity gainers: Bitumen (0.75%), Rice (0.62%), Lean Hogs(0.58%), and Feeder Cattle (0.54%)
Top commodity losers: Natural Gas (-3.34 %), Oat (-2.37%), Lumber (-2.18%), and Cocoa (-1.85%)
The above data was collected around 14:49   EST on Friday.
BONDS:
Japan -0.15%(+1bp), US 2's 1.87% (+1bps), US 10's 2.08%(+1bps), US 30's 2.60%(-0bps), Bunds -0.38% (+3bp), France -0.12% (-2bp), Italy 1.57% (+5bp), Turkey 15.00% (-49bp), Greece 2.08% (+9bp), Portugal 0.45% (+1bp), Spain 0.40% (+2bp) and UK Gilts 0.69% (-2bp).