Blog/Market Talk
Posted Jul 26, 2017 by Martin Armstrong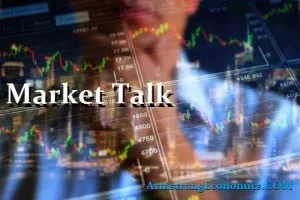 Asia closed broadly positive following yet more European and US stock records. Given stock strength has reversed the yens gains and in late trading see the currency back above the 112 level. The Nikkei added an additional 0.5% with automakers benefiting as European rivals suffer from detrimental events but also as better than expected results (Mitsubishi Motors) aid the move. Exporters (Nintendo) also supported the rally as the currency aides their progress. In China the Shanghai (+0.12%) and Hang Seng (+0.35%) saw strong property related stocks after money continues to find its way into the region. Australia's inflation number released marginally behind expectations (1.9%) which took its toll on the currency (-0.5%).
The trend was already stronger as Europe opened but the UK certainly helped after it released Q2 growth numbers at 0.3%, hot on the heels of a 0.2% Q1 number. UK's FTSE hit more intraday records, with the GBP holding recent highs. It will be very interesting to see the week and month end numbers for these as we are extremely close to electing Bullish Reversals. Other core indices helped the wider momentum with DAX, CAC and IBEX all closing up around 0.5% firmer on the day. However, even as the market discusses the return of Greek bonds it was BREXIT that provided most of the hot talking points. Chris Wilkins, Theresa May's director of strategy has resigned leaving the British government at this critical time. Still early days but certainly has not been a great start to this negotiation's team.
US stocks had a great start with the DOW up over 100 points and setting more record levels. However, it was all about the FED who left rates unchanged (as expected) but provided some direction to wind down. The unwind will start "relatively soon" with many expecting a start this year. Just after the close Facebook release Q2 numbers with a small beat on expectations. Although the shares traded 3% lower upon release they were quick to bounce-back having seen user forecast increase to above 2.01bn monthly users. All core retreated from the days highs but remains constructive. Sentiment is constructive as earnings numbers have been supporting the historic levels, but many still believe the market is stretched.
2's closed 1.36% (-3bp), 10's 2.29% (-3bp), 30's 2.89% (-2bp), Bunds 0.56% (u/c) which closes the US/Germany spread at +173bp (-3bp). Italy 2.11% (-1bp), Greece 5.20% (+1bp), Turkey 10.33% (-2bp), Portugal 2.92% (-2bp) and Gilts 1.23% (-3bp).