Blog/Market Talk
Posted Jul 25, 2018 by Martin Armstrong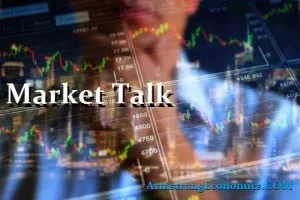 The late recovery in the DOW certainly offered a vote of confidence into Asia which benefited core Nikkei (+0.5%) and Hang Seng (+0.9%). Shanghai played plus and minus all day only to close almost unchanged as the Yuan saw a small recovery after recent declines. We saw a similar story in India where the SENSEX (+0.4%) closed well off of the intraday highs as the currency bounced back. The storey remains concerns over trade wars, together with China's support of its domestic market; while the rest of the world waits to see how Mr Juncker gets on in Washington later today. Give that this is the first of the major events to hit screens, but we should not forget we have the ECB announcing and addressing the market tomorrow.
Europe is desperate to hear the result of these talks as most of European indices trade lower. In Germany the DAX is suffering as the auto-makers lead the index weaker. The UK's FTSE is under pressure as miners and financials weigh on sentiment given fears of a slowing in consumption and confidence. Yesterdays PMI was a shock for many, which is only adding to concerns coming from Asia and continental Europe. #Eventually, we see the headline that Trump and Juncker are to work on lowering tariffs to avert a potential trade war! Who knows what will happen but for whatever reason, European indices edged on the side of optimism and so traded lower into the close. The Italian FTSE MIB lost over 1.45 into the close on fears that trade tariffs will hinder markets hitting exporters.
US markets were reasonably well behaved until late in the session when rumours of a trade alignment started to materialise. This talk saw a sideways pattern spring attention after talk inspired a near 1% bounce for both the DOW and S+P, betting on optimism for both European and US markets that a trade deal could be averted. Its funny that even though the trade and profit results have been supportive, we had to wait until such a headline to accelerate the move! So far, we have seen over 305 of the DOW index report better than expected numbers, but we need a political headline to affirm data releases! However, Thursday we will see the ECB announcement but the tell-tale sign will be Friday GDP release.
Japan 0.07% (-1.5bp, US 2'S CLOSED 2.67% (+3BP), us 10's 2.97% (+_2bp), 30's 3.10 (+2bp), Bunds 0.39% (u/c), France 0.69% (-1bp), Italy 2.67% (u/c), Greece 3.79% (-3bp), Turkey 17.67 (-20%), Portugal 1.72% (-4bp), Spain 1.35% (-1bp), and Gilts 1.27% (u/c).