Blog/Market Talk
Posted Jul 25, 2017 by Martin Armstrong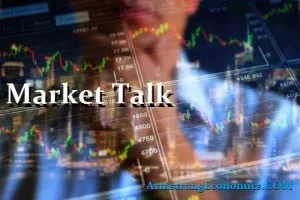 Another mixed session for Asia but we did see a healthy bounce in the ASX as the currency behaved itself. We did see better levels during the trading session for the Nikkei but could not be held for the close. Those loses have been reversed in US trading as futures follow the healthy US market and the currency trades just below the 112 handle. It is probably not surprising we saw a quiet session for Asia as we awaited OPEC, the Federal Reserve, US healthcare debate and even more corporate earnings to set the trend for the week. Also during the Asian session the Euro retained its bid and had made additional ground during the European session but looks to be fading as we approach the US close. Will be interesting to watch the euro next month and the German elections as this looks to be setting itself up for a volatile autumn.
The release of the German IFO (a sentiment index) with a 116 print, against a previous 115.3 number, was all the market needed to restore a strong rally. Even ahead of the two day Fed meeting investors were encouraged. The FTSE was the best of the core indices, closing up around 0.75%, whilst the CAC, DAX and IBEX were all roughly at +0.5%. It was banks and financials that led todays positivity, but we do continue to hear concerns surrounding the German car makers as we await news of a response. There is talk that EU fines will be coming and probably best before you hear a US reaction. This afternoons rally in the oil price has added to the enthusiastic European core after we heard the OPEC news of a Saudi export cut.
Futures were reflecting a stronger US session and that is exactly what we saw. A lot of talk surrounding the Healthcare debate, especially as we see the broad S+P hit intraday records. Feels like – against all odds – the we are seeing the return of the Trump rally. This could be a huge moment for the Democrats when we look back at these events. The S+P closes at record level with all sectors lending a hand. The late ATT results released just after the close has pushed futures even further into the open sky offering further confidence for tomorrows session.
2's closed 1.39% (+3bp), 10's at 2.32% (+6bp), 30's 2.91% (+7bp), Bunds 0.56% (+6bp) which closes the US/Germany spread at +176bp (u/c). Italy closed 2.12% (+8bp), Greece 5.19% (+1bp), Turkey 10.35% (+6bp), Portugal 2.94% (+7bp) and Gilts 1.26% (+7bp.