Blog/Market Talk
Posted Jul 24, 2017 by Martin Armstrong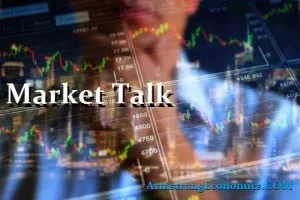 A clear distinction was drawn between Shanghai (+0.4%), Hang Seng (+0.5%) and SENSEX (+0.7%) exchanges and the ASX (-0.6%) and Nikkei (-0.6%) as they both suffered declines. Some Chinese industrial profits have been encouraging, possible regulatory changes and improving economic data continue to support momentum. The yen trades comfortably with a 110 handle – a gain of +0.35% for the currency on the day, but it did settle just over 111 at the US close. The Nikkei on the other side lost -0.65% as industrials led the fall given the currency's safe-haven bid and also expectations surrounding the FED's call later this week. The Aussie market was hit after a rumour that the RBA will not raise rates just because other central banks may be doing. One of the hot topics however, was the IMF call for global growth. Although the growth expectations were called unchanged they have reduced expectations for both the US and UK numbers. They increased forecasts for both China and Europe, whilst saying 2017 may slow to 1.7% from previously forecast 1.8% growth.
European indices have opened heavy as German car makers hit more negative headlines, driving the DAX down yet again. This set the trend for European indices with German auto's down around 3% across the board. The UK's FTSE (-1%) was the worst performer having had the IMF's negative headline release, coupled with a small bounce in the currency. Unfortunately, Europe was unable to rely on economic data as PMI released slightly less than expected. Core markets were off of their earlier lows but pressure remains after last weeks declines. The other trend we have been watching is the currency move and today we saw stocks decline along with bonds and currency. A lot of talk that Deutsche Bank will move around $300bn from London to Germany.
We saw a similar pattern in US markets as we saw most of last week. The markets follow European sentiment, usually following Europe but by the close the broader S+P and the NASDAQ turn by the close and finish in the black. A huge reporting week for markets, so expect volatility but when we have the FED and OPEC on-top of this – it could be fun! In front of the FED data was not really a story and so we wait for more earnings to be released later. NASDAQ set another record.
2's closed 1.36% (+2bp), 10's 2.26% (+2bp), 30's 2.84% (+3bp), Bunds 0.50% (u/c) closing the US/Germany spread at +176bp (+3bp). Italy 2.04% (-2bp). Greece 5.18% (u/c), Turkey 10.29% (+4bp), Portugal 2.87% (u/c) and Gilts 1.19% (+2bp).