Blog/Market Talk
Posted Jul 23, 2019 by Martin Armstrong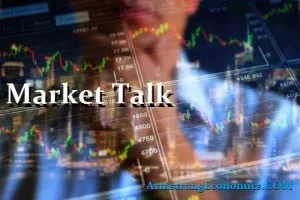 ASIA:
Russia and China had their first joint operation yesterday. The Chinese defense ministry says four bombers, supported by fighter jets, patrolled a pre-planned route over the Sea of Japan and the East China Sea. However, China's neighbors were not happy with the operation. South Korea said its jets fired flares and machine gun warning shots when Russian planes intruded. Japan also raised its voice by protesting both to Russia and South Korea over the incident.
The Former Chinese premier Li Peng, who was responsible for the shutdown of Tiananmen Square, died yesterday. Li Peng adopted the nickname "Butcher of Beijing" after the incident in 1989; he died at 90 years of age.
China suggested today that Hong Kong protesters were crossing a line and that Beijing is prepared to use military force in HK if necessary to maintain control. China also reiterated that it will not tolerate foreign forces in Hong Kong, perhaps alluding to the UK who used to govern the region. In addition within a defense strategy white paper released by China has also warned about a growing threat from Taiwanese "separatists," and stated that it would also not rule out using force against the self-governed island.
FBI Director Christopher Wray warned Congress today that China poses "a more severe counterintelligence threat" to the United States than any other country. President Trump's new Defense secretary said that the U.S. trade war with China was more about national security than the economy. He told reporters, "I think we need to be very concerned about Chinese technology getting into our systems or the systems of our allies. Huawei is the poster child right now for that." Meanwhile, US-Chinese trade talks are expected to resume in person next week.
The major Asian stock markets had a mixed day today:
Shanghai increased 23.33 points or 0.80% to 2,923.28
Kospi decreased 19.15 points or -0.91% to 2,082.30
ASX 200 increased 52.10 points or 0.77% to 6,776.70
NIKKEI 225 increased 88.69 points or 0.41% to 21709.57
Hang Seng increased 57.56 points or 0.20% to 28,524.04
SENSEX decreased 135.09 points or -0.36% to 37,847.65
The major Asian currency markets had a mixed day today:
AUDUSD decreased 0.0027 or 0.39% to 0.6977
NZDUSD increased 0.0007 or 0.11% to 0.6709
USDJPY decreased 0.0810 or 0.07% to 108.1290
USDCNY decreased 0.0064 or 0.09% to 6.8769
Precious Metals:
Gold increased 5.96 USD/t oz. or 0.42% to 1,420.06
Silver increased 0.185 USD/t. oz or 1.13% to 16.5644
Some economic news from last night:
New Zealand:
Exports (Jun) decreased from 5.74B to 5.01B
Imports (Jun) decreased from 5.57B to 4.65B
Trade Balance (YoY) (Jun) increased from -5.590M to -4.940M
Trade Balance (MoM) (Jun) increased from 175M to 365M
Australia:
Manufacturing PMI decreased from 52.0 to 51.4
Services PMI decreased from 52.6 to 51.9
Japan:
Manufacturing PMI (Jul) increased from 49.3 to 49.6
Some economic news from today:
Japan:
Leading Index decreased from 95.9 to 94.9
EUROPE/EMEA:
The UK has a new Prime Minister — Boris Johnson. He was confirmed as the new leader of the Conservative Party and will officially take over the reigns today. Theresa May will take part in her last Prime Minister's questions. After lunch, she made a short farewell speech outside No 10 before traveling to see the Queen to tender her resignation. A victory of 66% for Boris Johnson will give him good stead to boss the conservative party. He already started his campaign by reshuffling his cabinet and appointing Sajid Javid as his chancellor. Priti Patel is expected to become the new home secretary and Dominic Raab as the new foreign secretary. Of those who are leaving will be Jeremy Hunt and Philip Hammond amongst others.
His first address to the UK population was that Brexit will happen by the 31st of October with "no ifs and buts," and will get a better deal than the current withdrawal agreement. However, the EU maintained that they will not be making any changes to the current agreement.
Meanwhile, Ursula von der Leyen has warned that the new PM will have challenging times ahead with the task of guiding the UK out for the Eurozone ahead of the 31 October deadline.
As reported on Monday, the EU has warned that they will enforce retaliatory tariffs if the US go ahead and place a raise to the European auto tariff.
Reported by the Guardian, there are plans for a European-led maritime security force in the Gulf unveiled by the UK foreign secretary, Jeremy Hunt. The plans hit choppy waters as it was rejected by Iran and met resistance from supporters of the incoming prime minister, Boris Johnson. Iran, meanwhile, has hinted at a possible "ship swap" with the UK, as both parties have captured each other's ships. The captured ship in Iran and its crew are reportedly safe.
The major Europe stock markets had a mixed day today:
CAC 40 decreased 12.28 points or -0.22% to 5,605.87
FTSE 100 decreased 55.40 points or -0.73% to 7,501.46
DAX increased 32.15 points or 0.26% to 12,522.89
The major Europe currency markets had a mixed day today:
EURUSD decreased 0.0007 or -0.06% to 1.11440
GBPUSD increased 0.0058 or 0.47% to 1.2494
USDCHF USDCHF increased 0.0001 or 0.01% to 0.9852
Some economic news from Europe:
France:
French Business Survey (Jul) decreased from 102 to 101
French Manufacturing PMI (Jul) decreased from 51.9 to 50.0
French Markit Composite PMI (Jul) decreased from 52.7 to 51.7
French Services PMI (Jul) decreased from 52.9 to 52.2
Germany:
German Composite PMI (Jul) decreased from 52.6 to 51.4
German Manufacturing PMI (Jul) decreased from 45.0 to 43.1
German Services PMI (Jul) decreased from 55.8 to 55.4
Swiss:
ZEW Expectations (Jul) increased from -30.0 to -24.0
Eurozone:
M3 Money Supply (YoY) (Jun) decreased from 4.8% to 4.5%
Manufacturing PMI (Jul) decreased from 47.6 to 46.4
Markit Composite PMI (Jul) decreased from 52.2 to 51.5
Non Financial Corporations Loans (Jun) decreased from 3.9% to 3.8%
Private Sector Loans (YoY) remain the same at 3.3%
Services PMI (Jul) decreased from 53.6 to 53.3
UK:
Gross Mortgage Approvals increased from 42.4K to 42.7K
U.S./AMERICAS:
The International Monetary Fund (IMF) upgraded its annual GDP forecast for the U.S. to 2.6%. In April, the IMF reported an expected growth rate of 2.3%. "The revision for 2019 growth reflects stronger-than-anticipated first quarter performance," The IMF stated in a report released this Tuesday.
Guatemala's government is under pressure from the U.S. to sign the Safe Third Country Agreement to curb illegal immigration. Guatemala's President Jimmy Morales was forced to cancel a trip to the White House earlier this month due to tensions over the unsigned agreement. Morales appeared willing to sign the agreement, but his country's top court prevented him from doing so. President Trump threatened to place tariffs, remittance fees, and bans on the country if a deal is not reached soon. The U.S. State Department already plans to eliminate $550 million in aid to Guatemala, El Salvador, and Honduras over illegal immigration.
Tens of thousands of protesters took to the streets of San Juan, Puerto Rico, to demand Governor Ricardo Rossello's resignation. Additionally, the Puerto Rican government has issued search warrants for Rossello and eleven of his staff members. Nearly two years ago, Hurricane Maria tore through the island and left it in ruins. The situation is still grim for thousands of residents as their infrastructure remains unstable. Numerous politicians have been accused of mismanaging hurricane aid funds, and President Trump has repeatedly commented that he will not send more aid. The final nail in the coffin for Rossello's administration occurred after a leaked chat was posted online between the governor and his constituents in which he mocks the victims of Hurricane Maria and degrades women, homosexuals, and other members of the community. Although the governor has agreed not to run for reelection, he is refusing to step down from his current post.
The S&P 500 and Nasdaq hit new highs this Wednesday. Edwards Lifesciences led the way for the S&P 500 today (9.23%), followed by Grainger (9.04%), Discover Financial Services (8.90%), and United Parcel Service (8.84%). Texas Instruments (7.60%) led the Nasdaq's rally, followed by Microchip Technology (4.51%), Paccar (4.23%), and MercadoLibre (3.97%). The Dow failed to make new highs today after Caterpillar (-4.41%) and Boeing (-3.13%) underperformed.
U.S. Closings:
The Dow declined 79.22 points or -0.29% to 27,269.97
S&P 500 advanced 14.08 or 0.47% to 3,019.55
Nasdaq advanced 70.10 or 0.85% to 8,321.50
Russell 2000 advanced 25.46 points or 1.64% to 1,580.42
Canadian Closings:
TSX Composite advanced 39.16 points or 0.24% to 16,611.84
TSX 60 advanced 1.84 points or 0.19% to 992.12
Brazil Market Closing:
Bovespa advanced 415.26 or 0.40% to 104,119.54
ENERGY:
China has promised to resist US "bullying" after the US said it would impose sanctions on one of China's largest state-backed oil traders as punishment for transporting Iranian crude in defiance of American restrictions.
Meanwhile, the API report released yesterday showed that the US has the largest Crude inventory draw of the year, forcing the price up.
The oil markets had a mixed day today:
Crude Oil decreased 0.2 USD/BBL or -0.35% to 56.5131
Brent increased 0.17 USD/BBL or 0.27% to 63.9235
Natural gas decreased 0.075 USD/MMBtu or -3.26% to 2.2294
Gasoline increased 0.0117 USD/GAL or 0.63% to 1.8724
Heating oil increased 0.0007 USD/GAL or 0.04% to 1.9186
Top commodity gainers: Platinum (2.57%), Orange Juice (2.46%), Wheat(1.59%), and Silver (1.34%)
Top commodity losers: Natural Gas (-3.30 %), Ethanol (-2.33%), Coffee (-1.12%), and Cocoa (-0.77%)
The above data was collected around 13:53  EST on Wednesday
BONDS:
Japan -0.14%(+0bp), US 2's 1.81% (-3bps), US 10's 2.06%(-2bps), US 30's 2.59%(-2bps), Bunds -0.38% (+2bp), France -0.12% (-2bp), Italy 1.50% (-11bp), Turkey 15.72% (-7bp), Greece 2.01% (-4bp), Portugal 0.43% (-4bp), Spain 0.36% (-5bp) and UK Gilts 0.68% (-1bp).
US 5-Year Note Auction increased from 1.791% to 1.824%