Blog/Market Talk
Posted Jul 23, 2018 by Martin Armstrong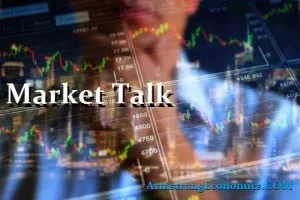 The market is again balancing the idea of whether or not the Yen is a safe-haven currency! Today, we saw a move back into the mid 110's in an almost flight to quality run following weaker Nikkei, ASX etc. Japan was a bag of nerves today following the sell-off seen in JGB's as 10yr rates moved from 3.5bp to 9.5bp. The BOJ were forced to address the issue after talk that they were engaging in "unusual active discussions" according to an earlier Reuters quote. 10yr bonds closed around 8bp whilst Super-long 30yr closed 0.785%. In late US trading we are seeing the Yen has traded back to negative on the day, now around mid 111's. This is typical of the market not knowing how to interpret a move of higher rates from an unreal absolute level. Shanghai is moving on the Yuan move opening negative then spent the day trading higher to close up 1% by the close. More Yuan weakness is expected. SENSEX continues to benefit from the weakening INR and the capital flow realignment and even managed a all-time peak intraday. As we continue to state – this has legs yet.
In Europe the nerves from Asia rolled-in, but many were discussing the G20 rumbles dominating the headlines. Although the official line appeared to be one voice, there were remarks from many countries claiming an unfair US offensive. Trade talks are a concern for many from auto's to industrial metals fears are spreading which is giving the USD a bid for the day. European stock indices were lower during the morning session, but that is probably a result of USD strength in the afternoon. The cash flow continues to find its way to the US and that only looks to be accelerating. European bonds are starting to weigh on markets, even though volumes are light. Summer trading is definitely here but which is probably just as well as any large portfolio move would be spotted immediately.
US markets were traded within an extremely tight range given recent activity. The weekends headlines could not break the mood and even following some initial weakness managed a small positive return. After the bell we have Alphabet (Google) reporting, but ahead we see the shares trading up a little over 1%. After hours the Alphabet release was better than expected and shares jumped another 4%. Banks shares are rallying as global bond market yields rise. European Commission President Jean-Claude Juncker will be in tariff talks in the US with President Trump on Wednesday but doubt that will be this weeks headline news for long! On Friday we see the US GDP release and a possible 4.2%+ could really set things going! Momentum remains strong supported by earnings, a healthy GDP number will light the fuse.
Japan +0.085%, US 2's closed 2.64% (+4bp), 10's 2.97% (+8bp), 30's 3.105% (+7.5bp). Bunds 0.4% (+3bp), France 0.71% (+4bp), Italy 2.63% (+5bp), Greece 3.81% (-2bp), Turkey 16.20% (-47bp), Portugal 1.76% (u/c), Spain 1.37% (+6bp) and Gilts 1.27% (+4bp).