Blog/Market Talk
Posted Jul 21, 2017 by Martin Armstrong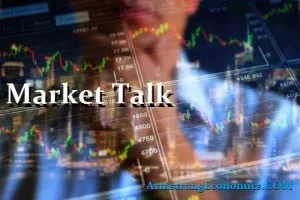 We did eventually see a mixed close in US with the NASDAQ setting new gains but the late rally failed to convince Asian markets of the rally and having seen ECB unchanged, we saw Asian indices small down. It was a reasonably light session to close the week as main core markets drifted. The Nikkei watched the yen trade better (last seen trading towards the 110 handle) so having a negative effect on stocks resulting in a negative -0.2% close. Shanghai and Hang Seng gave a little back also after the recent consistent positive momentum, which is a fair performance when considering recent currency strength. Top talking points were surrounding the disconnect between the bond and stock markets, but also the weakness in the USD and the strength in gold. The USD has been losing support as we approach an almost 2% decline against the Euro but that is having a significant effect on European stocks.
As Mario Draghi has kept the currency going the negative effects are being seen on equities, and a resurgence of bond spread tightening. It appears the fixed-income market is being the adult in the room seeing the road clear to continue the carry tightening play. That said, US stocks have held in well as earnings plays its supporting role but we should have a clearer picture next week when we hear from the Federal Reserve. Core markets closed with almost 2% declines which for foreign investors is really starting to hurt even providing for the recent euro rally.
US markets by comparison had a great day! Yes, we closed lower but having seen the declines at the open, especially coupled with the GE decline (-3%) – and to close back at almost unchanged was a good close for the end of the week. This week has mostly been about earnings and so far they been good. We do have the odd fracture of anxiety but as a whole has been encouraging. Next week will be the busiest of the section but coupled with FED and OPEC will be interesting if this move continues. Worth keeping in mind we saw US bonds, gold, stocks and the USD all moving in the same direction (a trend we have been highlighting for a while).
2's closed 1.34% (-1bp), 10's 2.24% (-2bp), 30's 2.81% (-1bp), Bunds 50% (-3bp), Italy 2.06% (-4bp), Greece 5.18% (u/c), Turkey 10.25% (+4bp), Portugal 2.87% (-9bp) and Gilts 1.17% (-3bp).