Blog/Market Talk
Posted Jul 20, 2022 by Martin Armstrong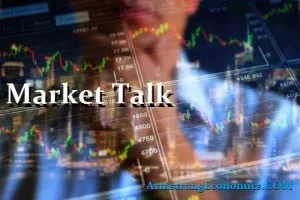 ASIA:
Chinese authorities on Sunday violently dispersed a peaceful protest by hundreds of depositors, who sought in vain to demand their life savings back from banks that have run into a deepening cash crisis. Since April, four rural banks in China's central Henan province have frozen millions of dollars' worth of deposits, threatening the livelihoods of hundreds of thousands of customers in an economy already battered by draconian Covid lockdowns. Anguished depositors have staged several demonstrations in the city of Zhengzhou, the provincial capital of Henan, over the past two months, but their demands have invariably fallen on deaf ears. The demonstration is among the largest China has seen since the pandemic, with domestic travel limited by various Covid restrictions on movement. Last month, Zhengzhou authorities even resorted to tampering with the country's digital Covid health-code system to restrict the movements of depositors and thwart their planned protest, sparking a nationwide outcry.
Morgan Stanley today reduced its forecast for India's GDP growth estimate by 0.4 percent to 7.2 percent for the FY23 due to slower global growth. It further said the growth would further slow down to 6.4 percent in the FY24, which is 0.3% lower than the earlier forecast. According to the other major estimates, including the RBI, the GDP growth rate in the FY23 is likely to be over 7 percent. RBI has also estimated the GDP growth rate at 7.2 percent for the current fiscal. Brokerage firm said the ongoing moderation in commodity prices is improving the near-term trajectory for macro stability and also cut its FY23 average inflation target to 6.5 percent against 7 percent earlier.
Consumer prices in Russia declined 0.17% in the week to July 15 after sliding 0.03% a week earlier, data showed on Wednesday, keeping the door open for the central bank to consider cutting rates as soon as this week. The rouble's strengthening and a drop in consumer demand have helped Russia rein in inflation, which soared to 20-year highs in annual terms after Moscow sent tens of thousands of troops into Ukraine on Feb. 24. So far this year, consumer prices have risen 11.41% compared with a 4.51% increase in the same period of 2021, data from the Federal Statistics Service Rosstat showed. Prices on nearly everything, from vegetables and sugar to clothes and smartphones, have risen sharply since Feb. 24. Meanwhile, inflationary expectations among Russian households declined in July to 10.8%, their lowest level since March 2021, from 12.4% in June, data showed on Wednesday.
The major Asian stock markets had a green day today:
NIKKEI 225 increased 718.58 points or 2.67% to 27,680.26
Shanghai increased 25.29 points or 0.77% to 3,304.72
Hang Seng increased 229.16 points or 1.11% to 20,890.22
ASX 200 increased 109.60 points or 1.65% to 6,759.20
Kospi increased 15.88 points or 0.67% to 2,386.85
SENSEX increased 629.91 points or 1.15% to 55,397.53
Nifty50 increased 180.30 points or 1.10% to 16,520.85
The major Asian currency markets had a mixed day today:
AUDUSD decreased 0.00214 or -0.31% to 0.68787
NZDUSD decreased 0.00069 or -0.11% to 0.62221
USDJPY increased 0.091 or 0.07% to 138.274
USDCNY increased 0.02891 or 0.43% to 6.77301
Precious Metals:
l Gold decreased 10.8 USD/t oz. or -0.63% to 1,700.27
l Silver decreased 0.036 USD/t. oz or -0.19% to 18.698
Some economic news from last night:
Australia:
MI Leading Index (MoM) decreased from -0.1% to -0.2%
EUROPE/EMEA:
The Bank of England has told lenders to prepare for a "deteriorated economic outlook". The bank said the outlook for the UK economy is "very uncertain." It further added that it had been forced to increase interest rates to tackle soaring inflation but acknowledged that this would make it harder for businesses and households to repay their debts. Despite warnings from the International Monetary Fund and OECD that Britain is more susceptible to recession and persistently high inflation than other Western countries, the Bank said UK lenders were well-placed to handle even a severe economic downturn.
The major Europe stock markets had a negative day:
CAC 40 decreased 16.56 points or -0.27% to 6,184.66
FTSE 100 decreased 31.97 points or -0.44% to 7,264.31
DAX 30 decreased 26.43 points or -0.20% to 13,281.98
The major Europe currency markets had a mixed day today:
EURUSD decreased 0.00706 or -0.69% to 1.01604
GBPUSD decreased 0.00415 or -0.35% to 1.19613
USDCHF increased 0.00399 or 0.41% to 0.97249
Some economic news from Europe today:
UK:
House Price Index (YoY) increased from 12.4% to 12.8%
Core CPI (YoY) (Jun) decreased from 5.9% to 5.8%
Core CPI MoM (MoM) (Jun) decreased from 0.5% to 0.4%
Core PPI Output (YoY) (Jun) increased from 15.0% to 15.2%
Core PPI Output (MoM) (Jun) decreased from 1.5% to 0.8%
Core RPI (MoM) (Jun) increased from 0.7% to 0.8%
Core RPI (YoY) (Jun) increased from 11.8% to 11.9%
CPI (MoM) (Jun) increased from 0.7% to 0.8%
CPI (YoY) (Jun) increased from 9.1% to 9.4%
CPI, n.s.a (Jun) increased from 120.80 to 121.80
PPI Input (YoY) (Jun) increased from 22.4% to 24.0%
PPI Input (MoM) (Jun) decreased from 2.4% to 1.8%
PPI Output (MoM) (Jun) decreased from 1.6% to 1.4%
PPI Output (YoY) (Jun) increased from 15.8% to 16.5%
RPI (YoY) (Jun) increased from 11.7% to 11.8%
RPI (MoM) (Jun) increased from 0.7% to 0.9%
Germany:
German PPI (MoM) (Jun) decreased from 1.6% to 0.6%
German PPI (YoY) (Jun) decreased from 33.6% to 32.7%
Euro Zone:
Consumer Confidence (Jul) decreased from -23.8 to -27.0
Current Account (May) increased from -5.8B to -4.5B
Current Account n.s.a. (May) decreased from -5.4B to -15.4B
US/AMERICAS:
Mortgage demand in the US continues to decline as rates and uncertainty rise. According to the Mortgage Bankers Association, mortgage demand hit a 22-year low last week after declining 6%. Applications for mortgages fell 7% for the week, and were 19% lower from the same period one year ago. The average 30-year fixed rate is now 5.82% on loans with a 20% down payment – a year ago the rate was 3.11%.
Home sales in June fell 5.4% from the month prior, according to new data by the National Association of Realtors. Sales declined to a seasonally adjusted annualized rate of 5.12 million, which is 14.2% lower from sales in June 2021. By the end of June, 1.26 million homes were listed across the nation, a 2.4% increase YoY, and the first YoY gain in three years. Median home prices set a record high of $416,000, up 13.4% YoY.
US Market Closings:
Dow advanced 47.79 points or 0.15% to 31,874.84
S&P 500 advanced 23.21 points or 0.59% to 3,959.9
Nasdaq advanced 184.5 points or 1.58% to 11,897.65
Russell 2000 advanced 28.62 points or 1.59% to 1,827.95
Canada Market Closings:
TSX Composite advanced 82.96 points or 0.44% to 19,020.67
TSX 60 advanced 4.23 points or 0.37% to 1,150.07
Brazil Market Closing:
Bovespa advanced 42.03 points or 0.04% to 98,286.83
ENERGY:
The oil markets had a mixed day today:
l Crude Oil decreased 2.39 USD/BBL or -2.29% to 101.830
l Brent decreased 1.24 USD/BBL or -1.16% to 106.11
l Natural gas increased 0.645 USD/MMBtu or 8.88% to 7.9090
l Gasoline decreased 0.0583 USD/GAL or -1.76% to 3.2492
l Heating oil decreased 0.0632 USD/GAL or -1.74% to 3.5636
The above data was collected around 14:05 EST on Wednesday
l Top commodity gainers: Natural Gas (8.88%), Palm Oil(3.23%), Zinc (1.80%) and Lean Hogs (1.77%)
l Top commodity losers: Canola (-2.65%), Soybeans (-2.03%), Lumber (-3.40%) and Crude Oil (-2.29%)
The above data was collected around 14:13 EST on Wednesday.
BONDS:
Japan 0.243%(+0.9bp), US 2's 3.24% (+0.009%), US 10's 3.0321% (+1.31bps); US 30's 3.18% (-0.002%), Bunds 1.2600% (-1.8bp), France 1.8210% (-3.2bp), Italy 3.4980% (+5.7bp), Turkey 16.93% (-107bp), Greece 3.458% (-0.4bp), Portugal 2.414% (+1.2bp); Spain 2.491% (+0.5bp) and UK Gilts 2.1410% (-3.7bp).