Blog/Market Talk
Posted Jul 2, 2020 by Martin Armstrong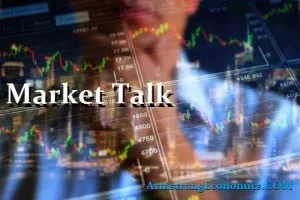 ASIA:
The US Senate has approved a final version of legislation that would punish China for moves that lawmakers fear will crush democratic freedoms in Hong Kong. The move by lawmakers comes as China has passed a controversial national security law for Hong Kong that lends Beijing sweeping new powers over the semi-autonomous city.
The Chinese government did not appreciate the ban on Chinese mobile applications. China's Ministry of Foreign Affairs expressed concerns over the decisions and urged India to "uphold the legitimate rights of international investors." In retaliation, China has also blocked access to the WION website, a major Indian news Channel.
India's factory output has gained marginally in June after two months of sharp contraction, a private survey showed on Monday. The IHS Markit India Manufacturing PMI was 47.2 in June from 30.8 in May. India has lifted its nationwide lockdown with precautionary measures allowing factories to start manufacturing in June. "India's manufacturing sector moved towards stabilization in June, with both output and new orders contracting at much softer rates than seen in April and May," said Eliot Kerr, Economist at IHS Markit.
India's fuel consumption rose in June compared with May, continuing with a gradual recovery as industrial and transport sectors reopened after a stringent lockdown, a government statement issued on Wednesday said. Fuel consumption, a proxy for oil demand, totaled 11.8 million tonnes in June, a decline of about 12% from a year earlier, the government said. India's fuel demand almost halved in April to the lowest since 2007 as the country came to a standstill after it went into a lockdown on March 24 to curb the spread of the coronavirus.
Vladimir Putin is elected as lifetime President of Russia after a referendum was passed. The referendum passed will allow Putin to rule Russia for rule for 12 more years after his term ends in 2024. Putin, 67, has ruled Russia as either president or prime minister since 1999 and was due to leave the Kremlin in 2024. The removal of the ban on presidents serving two consecutive terms means he will have the option of running for office for a further 12 years until 2036. By that point, he would be 84.
The major Asian stock markets had a green day today:
NIKKEI 225 increased 24.23 points or 0.11% to 22,145.96
Shanghai increased 64.59 points or 2.13% to 3,090.57
Hang Seng increased 697.00 points or 2.85% to 25,124.19
ASX 200 increased 98.30 points or 1.66% to 6,032.70
Kospi increased 28.67 points or 1.36% to 2,135.37
SENSEX increased 429.25 points or 1.21% to 35,843.70
Nifty50 increased 121.65 points or 1.17% to 10,551.70
The major Asian currency markets had a green day today:
AUDUSD increased 0.00148 or 0.21% to 0.69320
NZDUSD increased 0.00337 or 0.52% to 0.65169
USDJPY increased 0.05 or 0.04% to 107.47
USDCNY increased 0.0035 or 0.05% to 7.06956
Precious Metals:
Gold increased 8.15 USD/t oz. or 0.46% to 1,777.45
Silver increased 0.06 USD/t. oz or 0.32% to 18.0760
Some economic news from last night:
Japan:
Foreign Bonds Buying decreased from 1,547.5B to 174.6B
Foreign Investments in Japanese Stocks decreased from -421.9B to -494.4B
Monetary Base (YoY) increased from 3.9% to 6.0%
South Korea:
CPI (YoY) (Jun) increased from -0.3% to 0.0%
CPI (MoM) (Jun) increased from -0.2% to 0.2%
Australia:
Exports (MoM) (May) increased from -11% to -4%
Imports (MoM) (May) increased from -10% to -6%
Trade Balance (May) decreased from 8.800B to 8.025B
EUROPE/EMEA:
The UK government will effectively ditch its air bridge plans and simply end coronavirus quarantine rules for those arriving from 75 countries so that people can go on holiday, the Telegraph newspaper reported. It said the UK would shortly lift a ban on non-essential travel to nearly all EU destinations, the British territories including Bermuda and Gibraltar, and Turkey, Thailand, Australia and New Zealand.
UK government has announced that grants worth up to £75,000 are available to the UK space sector to develop new commercial technologies and bring them closer to market. The funding from the UK Space Agency is available for businesses, non-profits and academics. The UK has a thriving space sector, which generates an income of £14.8 billion each year. The UK Space Agency is working closely with industry and academia to ensure it recovers strongly from the coronavirus pandemic.
Germany took over the rotating presidency of the EU for the last time under Chancellor Merkel. The EU's most powerful member became president of the Council on July 1. It will head the 27-member political and economic bloc for the next six months. As the EU's president, German officials will be dealing with the COVID-19 health crisis and the economic damage it has caused in Europe. Other issues include the effects of Britain's withdrawal from the EU, the bloc's trade with China and tensions with the United States.
French President Emmanuel Macron promised 15 billion euros of new funding on Monday to speed up the move to a greener economy, a day after the Greens trounced his party and took control of major cities in local elections. Macron said he would move faster on environment-friendly policymaking and that he was ready to call a referendum on revising the constitution to include climate aims if parliament allowed it.
France's armed forces ministry has provided local authorities with a guide to 100 Africans who fought for France in World War Two, so that streets and squares may be named after them. France's reappraisal of its colonial past is fuelled by the global anti-racism protests and Black Lives Matter.
The major Europe stock markets had a green day:
CAC 40 increased 122.44 points or 2.49% to 5,049.38
FTSE 100 increased 82.40 points or 1.34% to 6,240.36
DAX 30 increased 347.89 points or 2.84% to 12,608.46
The major Europe currency markets had a mixed day today:
EURUSD decreased 0.00127 or -0.11% to 1.12402
GBPUSD increased 0.00092 or 0.07% to 1.24800
USDCHF decreased 0.00049 or -0.05% to 0.94528
Some economic news from Europe today:
Spain:
Spanish Unemployment Change decreased from 26.6K to 5.1K
Swiss:
CPI (MoM) (Jun) remain the same at 0.0%
CPI (YoY) (Jun) remain the same at -1.3%
Italy:
Italian Monthly Unemployment Rate (May) increased from 6.6% to 7.8%
Euro Zone:
PPI (MoM) (May) increased from -2.0% to -0.6%
PPI (YoY) (May) decreased from -4.5% to -5.0%
Unemployment Rate (May) increased from 7.3% to 7.4%
US/AMERICAS:
The US Labor Department released a promising jobs report for June this Thursday. Nonfarm payrolls increased by 4.8 million last month, which is the largest one-month gain in employment in recorded US history. May's figure was revised to show 2.7 million new positions. The unemployment rate in America currently stands at 11.1%.
Around 68% of US workers have less of an incentive to return to work, according to a new study published by the Foundation for Government Ability (FGA). Under the Cares Act, unemployment benefits pay out an additional $600 per week through the Pandemic Unemployment Assistance (PUA) program. Workers who were previously unelidgible of for unemployment insurance, such as contractors and gig workers, have been able to collect these benefits as well. The average American collecting unemployment what would equate to a $50,000 salary. "This disincentive to work is devastating employers who are trying to reopen and save their businesses from bankruptcy or closure," the FGA reported. Lawmakers are now attempting to create bills that would incentivize employees to return to the workforce, such as capping unemployment at 100% of a worker's former salary.
In an interview with Fox Business on Wednesday night, President Trump said he is "all for masks," however, he does not plan to mandate their use at the federal level. "I don't know if you need mandatory, because you have many places in the country where people stay very long distance. You talk about social distancing. But I'm all for masks, I think masks are good," the president stated.
Canadian exports advanced 6.7% in May to C$34.6 billion, while imports declined to -3.9% to C$35.3 billion. StatsCan stated that Canada's trade deficit decreased to C$677 million in May, and revised April's figure to show a C$4.3 billion deficit.
US Market Closings:
Dow advanced 92.39 points or 0.36% to 25,827.36
S&P 500 advanced 14.15 points or 0.45% to 3,130.01
Nasdaq advanced 53 points or 0.52% to 10,207.63
Russell 2000 advanced 4.55 points or 0.32% to 1,431.86
Canada Market Closings:
TSX Composite advanced 107.18 points or 0.69% to 15,622.4
TSX 60 advanced 6.65 points or 0.71% to 940.86
Brazil Market Closing:
Bovespa advanced 31.76 points or 0.03% to 96,234.96
ENERGY:
The oil markets had a mixed day today:
Crude Oil decreased 0.07 USD/BBL or -0.18% to 39.7400
Brent increased 0.16 USD/BBL or 0.38% to 42.1900
Natural gas increased 0.03 USD/MMBtu or 2.01% to 1.7250
Gasoline increased 0.01 USD/GAL or 0.80% to 1.2240
Heating oil increased 0.02 USD/GAL or 1.55% to 1.2164
The above data was collected around 10.40 am EST on Thursday.
Top commodity gainers: Natural Gas (2.01%), Ethanol (4.80%), Canola (3.21%), and Orange Juice (4.85%)
Top commodity losers: Coffee (-1.16%), Cotton (-1.50%), Copper (-0.64%), and Wheat (-0.80%)
The above data was collected around 10:50 am EST on Thursday.
BONDS:
Japan 0.04%(-1bp), US 2's 0.17% (+1bps), US 10's 0.69%(+1bps); US 30's 1.46%(+2bps), Bunds -0.41% (+2bp), France -0.10% (-4bp), Italy 1.29% (-6bp), Turkey 11.69% (+10bp), Greece 1.20% (+1bp), Portugal 0.45% (-4bp); Spain 0.45% (+1bp) and UK Gilts 0.21% (-0bp).
US 4-Week Bill Auction decreased from 0.110% to 0.000%
US 8-Week Bill Auction decreased from 0.140% to 0.135%
French 10-Year OAT Auction decreased from 0.02% to -0.09%
UK 5-Year Treasury Gilt Auction decreased from 0.037% to -0.033%
Spanish 5-Year Bonos Auction decreaed from -0.075% to -0.153%
Spanish 10-Year Obligacion Auction decreased from 0.528% to 0.451%
Japan 10-Year JGB Auction increased from 0.000% to 0.058%