Blog/Market Talk
Posted Jul 19, 2017 by Brittany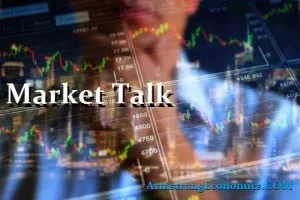 A healthy close for Asia in todays trading after the uncertainty seen from a mixed US session. The large cap DOW recovery helped but it was the broader S+P and NASDAQ that contributed most for Asia's impetus. The Nikkei only marginally closed in positive territory but it was the fact that it closed above the psychological 20k mark that everyone is talking about. In China the Shanghai was in positive sentiment again today closing up over 1.4% with help from a stronger Hang Seng (+0.5%) ahead of the expected US/China news conference – which "was" scheduled for later in the trading day. Of course we see later, that this was cancelled for reasons we have yet to hear but talk is US was seeking a "fairer" deal. ASX and the SENSEX both had positive days as energy and Industrials helped performance.
Europe continued the move with all core closing better on the day. Tech and energy were the sectors leading with closes in excess of +0.5% for CAC, IBEX and FTSE. Interesting that the DAX managed just a +0.15% increase having been suffering for the past few weeks. Despite momentum resuming in the US markets, Europe needs data confirmation before it can build upon all the recent cash arriving; even after its watches as earnings beat in the US. Many are talking about Mario Draghi address from the ECB meeting tomorrow in Frankfurt as concerns mount to recent suggested policy. As money has found its way back to Europe many will be looking for a reason to continue this flow. The bond market has seen money leaving recently as calls for easing of purchases are expected.
US markets set yet another record with S+P, NASDAQ and the DOW all making new highs. Earnings have been the reason but it appears retail has finally started to join-in the euphoria after we saw the S+P beat the DOW for the past few days. Even though the market suffers the lack of political direction, the amount of cash sitting on the side-lines is proving too hot to wait! Markets are being helped by some economic data after we saw better than expected Home Sales today (8.3%) and saw the Atlantic FED raise its forecast by 0.1% to 2.5%. Tech continues to lead despite many calls that valuations are too extreme.
2's closed 1.36% (+1bp), 10's at 2.27% (+1bp), 30's 2.85% (u/c), Bunds 0.54% (-1bp) which closes the spread at +173bp (+2bp). France 0.8% (-1bp), Italy 2.18% (u/c), Greece 5.15% (u/c), Turkey 10.23% (-6bp), Portugal 3.02% (u/c) and Gilts 1.19% (-1bp).