Blog/Market Talk
Posted Jul 19, 2021 by Martin Armstrong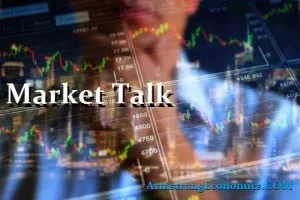 ASIA:
The United States and its allies accused China on Monday of a global cyberespionage campaign, mustering an unusually broad coalition of countries to publicly call out Beijing for hacking. The United States was joined by NATO, the European Union, Britain, Australia, Japan, New Zealand and Canada in condemning the spying, which U.S. Secretary of State Antony Blinken said posed "a major threat to our economic and national security." Simultaneously, the U.S. Department of Justice charged four Chinese nationals – three security officials and one contract hacker – with targeting dozens of companies, universities and government agencies in the United States and abroad.
US Treasury Secretary Janet Yellen expressed doubts about last year's trade deal with China, the first clear statement from the Biden administration detailing its thinking about the future of the agreement between the world's two largest economies. The agreement signed between the Trump administration and China in January 2020 was meant to put a stop to a damaging trade war that triggered tariffs on billions of dollars' worth of goods. The Biden administration has to decide whether to keep the deal, scrap it, or seek to replace it with something new. After 18 months since the first phase of the trade deal was signed , the agreement has turned out to be a truce at best, with both sides continuing to pay more for many imports.
A stock offering by Indian food delivery startup Zomato drew bids worth $46.3 billion as it was more than 38 times oversubscribed on Friday, signaling investors were bullish about the fast-growing sector. The $1.3 billion IPO of Zomato, which is backed by China's Ant Group, was the first in India's food delivery sector. It was priced at 72 to 76 rupees per share, giving it a valuation of up to $7.98 billion. Big institutional investors also placed major bets, with the subscription for their category at 52 times the shares on offer, stock exchange data after subscriptions closed on Friday showed.
The major Asian stock markets had a negative day today:
NIKKEI 225 decreased 350.34 points or -1.25% to 27,652.74
Shanghai decreased 0.18 points or -0.01% to 3,539.12
Hang Seng decreased 514.90 or -1.84% to 27,489.78
ASX 200 decreased 62.10 points or -0.85% to 7,286.00
Kospi decreased 32.87 points or -1.00% to 3,244.04
SENSEX decreased 586.66 points or -1.10% to 52,553.40
Nifty50 decreased 171.00 points or -1.07% to 15,752.40
The major Asian currency markets had a mixed day today:
AUDUSD decreased 0.00646 or -0.87% to 0.73304
NZDUSD decreased 0.00684 or -0.98% to 0.69340
USDJPY decreased 0.72 or -0.66% to 109.36
USDCNY increased 0.01781 or 0.28% to 6.49316
Precious Metals:
Gold decreased 1.9 USD/t oz. or -0.10% to 1,808.99
Silver decreased 0.564 USD/t. oz or -2.20% to 25.096
EUROPE/EMEA:
London accounted for almost half of foreign direct investment (FDI) into the UK in the pre-pandemic year of 2019 highlighted by official data from the Office for National Statistics (ONS). Reflecting the dominance of the capital to the economy and its position as a global financial centre, the Office for National Statistics (ONS) said London's FDI was more than three times that of the second highest region – the south-east. Between 2015 and 2019 the value of FDI in the capital rose from £416bn to £661bn at a time when the value of inward investment in some regions flatlined and – in some cases – fell slightly. Scotland had the third highest FDI position in the UK (£86bn), while Wales (£19bn) and Northern Ireland had the lowest FDI stocks. The ONS said for every job in London, there was £108,656 of FDI stock in 2019 and £39,727 for each one in the south-east in 2019. The average for the other English regions plus Northern Ireland was £20,801 for each job.
The major Europe stock markets had a negative day:
CAC 40 decreased 164.11 points or -2.54% to 6,295.97
FTSE 100 decreased 163.70 points or -2.34% to 6,844.39
DAX 30 decreased 407.11 points or -2.62% to 15,133.20
The major Europe currency markets had a negative day today:
EURUSD decreased 0.00084 or -0.07% to 1.17967
GBPUSD decreased 0.00901 or -0.65% to 1.36749
USDCHF decreased 0.00153 or -0.17% to 0.91799
US/AMERICAS:
Johnson & Johnson is considering filing for bankruptcy due to the ongoing asbestos-containing baby powder debacle, Reuters reported. Allegedly there are plans to spin the massive company into a series of entities to lower payout settlements. The state of Texas permits companies to split and file for a "two-step bankruptcy" to off weight the burden. In addition to the thousands of lawsuits filed against Johnson & Johnson's baby powder products, the company recalled a series of sunscreen products last week that were found to contain cancer-causing agents. The company has yet to officially comment on the matter of bankruptcy, but did state that they would discontinue talc-based powder in the US.
The Boeing 737 is under investigation once again after the Federal Aviation Administration (FAA) ordered a further inspection of switch failures that could fatally change the aircraft's altitude pressure. The 737 MAX aircraft was banned from flying worldwide in March 2019 after multiple crashes claimed the lives of hundreds of passengers. The FAA states that it "does not yet have sufficient information to determine what has caused this unexpectedly high failure rate. The FAA will examine over 2,000 US-based planes and over 9,000 internationally-based 737 aircrafts to ensure the cabin altitude pressure switches are safe.
US Market Closings:
Dow declined 725.81 points or -2.09% to 33,962.04
S&P 500 declined 68.67 points or -1.59% to 4,258.49
Nasdaq declined 152.25 points or -1.06% to 14,274.98
Russell 2000 declined 32.56 points or -1.5% to 2,130.68
Canada Market Closings:
TSX Composite declined 259.09 points or -1.3% to 19,726.45
TSX 60 declined 14.84 points or -1.23% to 1,187.59
Brazil Market Closing:
Bovespa declined 1,565.69 points or -1.24% to 124,394.57
ENERGY:
OPEC+ ministers agreed on Sunday to boost oil supply from August to cool prices which have climbed to 2-1/2 year highs as the global economy recovers from the coronavirus pandemic. After cutting the production by a record 10 million barrels per day mid a pandemic-induced slump in demand and collapsing prices, OPEC+ has agreed from August until December 2021 the group will increase supply by a further 2 million bpd or 0.4 million bpd a month. It aims to fully phase out cuts by around September 2022. The group had agreed to extend their overall pact until the end of 2022 from an earlier planned date of April 2022, to leave more room for maneuver in case global recovery stalls due to new virus variants.
The oil markets had a mixed day today:
Crude Oil decreased 5.45 USD/BBL or -7.59% to 66.3600
Brent decreased 4.96 USD/BBL or -6.74% to 68.6300
Natural gas increased 0.092 USD/MMBtu or 2.50% to 3.7660
Gasoline decreased 0.1431 USD/GAL or -6.35% to 2.1105
Heating oil decreased 0.129 USD/GAL or -6.10% to 1.9843
The above data was collected around 14:05 EST on Monday
Top commodity gainers: Wheat (1.16%), Lumber (3.47%), Steel (2.02%) and Natural Gas (2.50%)
Top commodity losers: Crude Oil (-7.59%), Brent (-6.74%), Gasoline (-6.35%), and Heating Oil (-6.10%)
The above data was collected around 15:00 EST on Monday.
BONDS:
Japan 0.018%(-0bp), US 2's 0.2075%(-0.02%), US 10's 1.1772%(-12.31bps); US 30's 1.8134%(-0.11%), Bunds -0.3940% (-4.3bp), France 0.0490% (-3.4bp), Italy 0.705% (-1bp), Turkey 16.78% (-3bp), Greece 0.676% (-0bp), Portugal 0.243% (-4bp); Spain 0.343% (+4.88bp) and UK Gilts 0.546% (-8bp).
US 3-Month Bill Auction remain the same at 0.050%
US 6-month Bill Auction remain the samw at 0.050%
French 3-Month BTF Auction decreased from -0.647% to -0.651%
French 6-mOnth BTF Auction increased from -0.641% to -0.640%
French 12-Month BTF Auction decreased from -0.637% to -0.638%