Blog/Market Talk
Posted Jul 19, 2018 by Martin Armstrong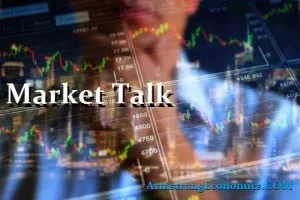 The strength of the USD is starting to become a lot more visible over the past 48 hours. In some countries, its looks as though currencies require a helping hand just to slow their downward spiral. In Japan the battle surrounding the Yen being a safe-haven or not continues, but looks to be losing at present. In late trading we play around the 113 number as the Nikkei dipped just at the cash close. In A$ is a classic example of this with the currency down almost 1% whilst the ASX (+0.45%) benefitted from its decline. The Yuan remains heavy (1yr low today) as the rebalancing continues and so we saw currency and core stock indices' decline again today. The SENSEX was unsure which direction to play, but as confidence is drained so we see stock and the INR lose friends. The INR closes with a 69 handle, but sadly still has plenty to run.
All of core Europe suffered today either through stock or currency. The Euro held reasonably well having recovered from heavier intraday losses, the last look was down around -0.3%. However, core DAX, CAC, IBEX and FTSE MIB all traded lower by around -0.6%. The UK's FTSE was the only positive (+0.10%) but that was because the GBP lost -0.7%. It was down more but saw a small bounce on expected better Retail Sales but could edged only marginally better but that could well be too late. This evening the new BREXIT negotiator (Dominic Raab) meets with Michel Barnier for the first time, so all headlines will be closely scrutinised. The market is still not pricing-in a 'No Deal' so this could well be the catalyst that pushes Sterling over the edge. We did hear more negative forecasts of that today with a few houses calling 1.10 by year end, given this eventuality. Both GBP and Euro trade heavy even with big buyers lurking around.
Core US indices were in negative territory all day. There were a couple of times mid-afternoon where it looked as though that could change, but all were denied. However, we did see the Russell 2k move from strength to strength even closing up +0.5% on the day. We saw the lows hit just into the close, but then given the broad strength of the USD they held in reasonably well. Financials falling around 1.5% reversing much of their recent gains. Commodities (Industrial Metals) and retailers (eBay down 12%) feeling the heat with increased competition and a slowing consumer base.
Japan 0.03%, US 2's 2.60% (-3bp), 10's 2.84% (-4bp), 30's 2.965% (-2.5bp), Bunds 0.33% (-1bp), France 0.62% (u/c), Italy 2.50% (u/c), Greece 3.82% (u/c), Turkey 17.10% (+2bp), Portugal 1.74%, Spain 1.27% (u/c), and Gilts 1.18% (-4bp).