Blog/Market Talk
Posted Jul 18, 2017 by Martin Armstrong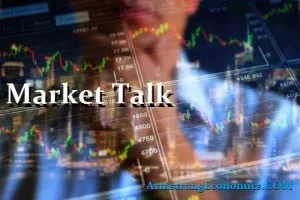 It was US news again that drove market direction for Asia after we heard late in the US time zone that two additional Republican's opposed the healthcare bill. The DXY and US index futures were weaker on the news dragging much of Asian equities with them. In China the data for Home Prices released lower than expected (10.2 versus 10.4%) but having lost so much yesterday todays close was small positive (+0.3%). The Nikkei was not so fortunate in that it lost 0.6% today, with the JPY rallying 0.6% to 111.75 but is drifting back in late trade. The ASX lost again as commodity prices suffer, the ASX lost over 1.25% with the AUD gaining 1.45%. SENSEX also traded weaker today down over 1%.
Europe traded heavy again today with the German DAX (-1.25%) leading the decline. Banks and Industrials were the heaviest sectors with Deutsche Bank falling around 2.5% as concerns continue. Having seen a reasonable H1 performance money has rushed into Europe; the problem is investors are now looking for returns. As the economy slows these investors will be disappointed and start the reverse in capital flow. That was seen in the UK this morning when the inflation print was well below previous numbers. CPI released at 2.6% a shock for the market having seen 2.9% last in May. GBP fell reversing the mornings gains and so the FTSE recovered from the days lows. CAC and IBEX also closed down over 1% which combined to support both bonds and gold.
Banks continued their decline in todays market as concerns expand having seen the NIM (Net Interest Margin) falling for the largest banks. Combined with a decline in trading profits (also seen in recent releases) is having a impact across the whole financial sector and is stretching into leveraged industries. The DOW closed lower, having managed a bounce from the opening decline, but we did see another record high for the NASDAQ closely followed by a small increase on the S+P for the day. The negative news of the Healthcare Bill hit the DXY which helped treasuries and initially gold but that lost most of the days rally towards the close.
2's closed 1.35% (-1bp), 10's at 2.26% (-6bp), 30's 2.85% (-5bp), Bunds 0.55% (-3bp) closing the US/Germany spread at +171bp (-3bp). France 0.81% (-3bp), Italy 2.18% (-4bp), Greece 5.15% (-4bp), Turkey 10.29% (-6bp), Portugal 3.02% (-4bp) and Gilts 1.20% (-7bp).