Blog/Market Talk
Posted Jul 18, 2019 by Martin Armstrong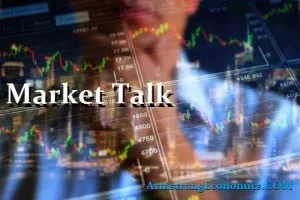 ASIA:
Chinese officials who are in charge of Hong Kong affairs have drafted a plan to resolve the Hong Kong political chaos – but the report reiterated that they will not be using military action.
CNBC has reported that more than 50 multinational companies have pulled out of China since the trade war broke out with the U.S. Most of the companies have moved production out of China to escape the 25% Trump tariff. PC brands HP and Dell could move up to 30% of their notebook production in China to Southeast Asia, Nikkei reported. Japanese Nintendo will relocate a portion of its production from China to Vietnam. There are reports that even Chinese companies are moving out, such as TCL which is a TV producing company that is looking to relocate to Vietnam. It seems like Vietnam could be the beneficiary of the situation.
China is apparently standing firm against the U.S. in the latest bouts of the trade deal. They are taking more of a hardline approach to the talks. Zhong Shan, a member of the Ministry of Commerce, told the People's Daily — the official newspaper of the Communist Party — that China needed to "stand firm" in defending its interests and people, "as well as the multilateralism trading system."
The major Asian stock markets had a negative day today:
Shanghai decreased 30.52 points or -1.04% to 2,901.18
Kospi decreased 6.37 points or -0.31% to 2,066.55
ASX 200 decreased 24.20 points or -0.36% to 6,649.10
NIKKEI 225 decreased 422.94 points or -1.97% to 21,046.24
Hang Seng decreased 131.51 points or -0.46% to 28,461.66
SENSEX decreased -318.18 points or -0.81% to 38,897.46
The major Asian currency markets had a mixed day today:
AUDUSD decreased 0.00341 or 0.49% to 0.70431
NZDUSD increased 0.0021 or 0.31% to 0.6751
USDJPY decreased 0.0760 or 0.07% to 107.8640
USDCNY decreased 0.0045 or 0.07% to 6.8813
Precious Metals:
Gold decreased 4.25 USD/t oz. or -0.30% to 1,419.83
Silver increased 0.104 USD/t. oz or 0.65% to 16.1063
Some economic news from last night:
Australia:
Employment Change (Jun) decreased from 42.3K to 0.5K
Full Employment Change (Jun) increased from 2.4K to 21.1K
NAB Quarterly Business Confidence increased from -1 to 6
Participation Rate (Jun) remain the same at 66.0%
Unemployment Rate (Jun) remain the same at 5.2%
South Korea:
Interest Rate Decision (Jul) decreased from 1.75% to 1.50%
Japan:
Reuters Tankan Index (Jul) decreased from 6 to 3
Adjusted Trade Balance increased from -0.62T to -0.01T
Exports (YoY) (Jun) increased from -7.8% to -6.7%
Imports (YoY) (Jun) decreased from -1.5% to -5.2%
Trade Balance (Jun) increased from -968.3B to 589.5B
Some economic news from today:
Indonesia:
Interest Rate Decision decreased from 6.00% to 5.75%
Deposit Facility Rate (Jul) decreased from 5.25% to 5.00%
Lending Facility Rate (Jul) decreased from 6.75% to 6.50%
Hong Kong:
Unemployment Rate (Jun) remain the same at 2.8%
EUROPE/EMEA:
The Iranian authorities have seized an oil tanker with 1 million litters of "smuggled fuel," according to the state news agency Press TV. Today, U.S. officials said the U.S. "strongly condemns the Islamic Revolutionary Guard Corps Navy's continued harassment of vessels and interference with safe passage in and around the Strait of Hormuz."  Further continuing that "Iran must cease this illicit activity and release the reportedly seized crew and vessel immediately." They also added that the U.S. will "continue to work closely with our allies and partners to ensure the Iranian regime's extortion tactics and malign activities do not further disrupt maritime security and global commerce."
Russia is considering joining the EU payment system, which was a means to save the Iranian nuclear deal in which President Trump walked out of last year. Russia said they will consider if the deal is expanded to include oil purchases.
The UK office of Budget Responsibility has warned that the UK will plunge into recession if the UK leaves the EU with a no-deal. "Heightened uncertainty and declining confidence" would deter investment while higher trade barriers would slam exports. UK stock markets would fall 5%, while the pound would plummet 10%. GDP would shrink by 2% by the end of 2020, the watchdog predicted. Meanwhile, the UK MPs have passed the amendment to block Boris Johnson from suspending parliament in order to not be deterred from a no-deal Brexit.
The major Europe stock markets had a negative day today:
CAC 40 decreased 21.16 points or -0.38% to 5,550.55
FTSE 100 decreased 42.37 points, or -0.56% to 7,493.09
DAX decreased 113.18 points or -0.92% to 12,227.85
The major Europe currency markets had a mixed day today:
EURUSD decreased 0.0005 or 0.04% to 1.1218
GBPUSD increased 0.00514 or 0.41% to 1.24824
USDCHF increased 0.00007 or 0.01% to 0.98737
Some economic news from Europe:
UK:
Core Retail Sales (YoY) (Jun) increased from 2.0% to 3.6%
Core Retail Sales (MoM) (Jun) increased from -0.4% to 0.9%
Retail Sales (YoY) (Jun) increased from 2.2% to 3.8%
Retail Sales (MoM) (Jun) increased from -0.6% to 1.0%
Swiss:
Trade Balance (Jun) increased from 3.398B to 4.096B
U.S./AMERICAS:
Today the House voted to increase the federal minimum wage to $15 per hour. The vote passed 231-199 in the House, and if enacted, will gradually raise the minimum hourly wage over the course of the next six years. The current federal minimum wage of $7.25 per hour was implemented about a decade ago, but many advocates feel that amount is not enough to cover the current cost of living in the U.S. Despite receiving approval from the House, it is unlikely that the bill will pass the Senate. President Trump has said he would personally veto the bill if it makes it to his desk. The White House has voiced concerns that raising the minimum wage may "eliminate jobs and reduce total wages for American workers."
Former President Hoover passed the Buy American Act on his last day of office in 1933 to give preference to American made products purchased by the government. The Trump administration is aiming to amend the act in an effort to increase American manufacturing. The current act qualifies a product as American made if at least 50% of the total cost of production comes from the U.S. The amended act aims to increase steel and iron production by requiring 95% of those materials to come from the U.S. to qualify under the act.
Microsoft reported impressive earnings this Thursday and has become the only American company valued over $1 trillion. The company reported a $1.71 EPS last quarter compared to a $1.14 EPS YoY. In its fourth fiscal quarter of 2019, the company produced $33.7 billion in revenue with a net income of $13.2 billion. Microsoft is now predicting an annual revenue of $110 billion for 2019, which they expect to grow to $125 billion next year.
U.S. Market Closings:
The Dow advanced 3.12 points or 0.01% to 27,222.97
S&P 500 advanced 10.69 points or 0.36% to 2,995.11
Nasdaq advanced 22.04 points or 0.27% to 8,207.24
Russell 2000 advanced 4.85 points or 0.31% to 1,555.62
Canadian Market Closings:
TSX Composite advanced 10.02 points or 0.06% to 16,494.23
TSX 60 advanced 0.62 of a points or 0.06% to 985.07
Brazil Market Closing:
Bovespa advanced 861.06 points or 0.83% to 104,716.59
ENERGY:
Crude oil prices have dropped again today, now hitting new lows for a month. The seized oil tanker by Iran was not able to stop Brent or Crude from dropping close to 3% today.
The oil markets had a negative day today:
Crude Oil decreased 1.28 USD/BBL or -2.25% to 55.4410
Brent decreased 1.16 USD/BBL or -1.82% to 62.6269
Natural gas decreased 0.001 USD/MMBtu or -0.04% to 2.3001
Gasoline decreased 0.0339 USD/GAL or -1.80% to 1.8427
Heating oil decreased 0.0206 USD/GAL or -1.09% to 1.8706
Top commodity gainers: Baltic Dry (3.20%), Lumber (1.59%), Cocoa(1.07%), and Silver (0.75%)
Top commodity losers: Coffee (-5.43 %), Ethanol (-2.44%), Corn (-2.35%), and Crude Oil (-2.18%)
The above data was collected around 10:53 am  EST on Thursday.
BONDS:
Japan -0.13%(-1bp), US 2's 1.83% (-0bps), US 10's 2.06%(+0bps), US 30's 2.59%(+2bps), Bunds -0.32% (-3bp), France -0.08% (-4bp), Italy 1.54% (-7bp), Turkey 16.09% (-25bp), Greece 2.13% (-10bp), Portugal 0.47% (-4bp), Spain 0.40% (-6bp) and UK Gilts 0.77% (+1bp).
Spanish 3-Year Bonos Auction decreased from -0.408% to -0.467%
Spanish 5-Year Bonos Auction decreased from -0.182% to -0.205%
French 3-Year BTAN Auction decreased from -0.65% to -0.69%
French 5-Year BTAN Auction decreased from -0.38% to -0.44%
US 4-Week Bill Auction decreased from 2.135% to 2.090%
US 8-Week Bill Auction decreased from 2.130% to 2.120%