Blog/Market Talk
Posted Jul 17, 2017 by Martin Armstrong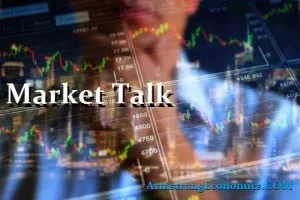 The better than expected GDP release we saw from China was unfortunately, only a positive influence for a short period, then profit taking and summer liquidity took over. Shanghai has had a good run so far but having had the Index inclusion and probably suffering from a stronger currency. Second quarter released at 6.9% compared the 6.8% expected but is well above the government 6.5% target, but was not enough against the negative news flow. Talk is to expect tighter financial regulations, a slowdown in innovations and more IPO's (according to reports from Bank of Communications). Shanghai index closed down 1.4% but we did see the Hang Seng close higher up 0.3%. The negative China sentiment on the mainland index weighed slightly on the ASX also and you can be sure that dealers there will be keeping a very close eye on future China releases. The Nikkei had a quiet day with a small positive close with the JPY weakening just marginally to close 112.75'ish.
Europe's main topic was the start of second round BREXIT negotiations but also was a buzz with stories that regulators may review Deutsche Banks two largest stock holders. Talk is that the investors in Qatar and China are the two holders in which the ECB will be making enquiries. Deutsche Bank shares were one of the reasons provided for DAX weakness today and was probably correct given DB was the largest decline in todays trading. The CAC and IBEX also declined but saw the FTSE close better after news of HS2 projects had been announced. Contributing to the stock market rally was the decline in sterling today, with prices last seen down around -0.4%.
Almost a non event for todays US markets as indices close near to unchanged. We start big earnings season this week with Netflix having just released. Although headline number was less than forecast the revenue was higher with additional subscribers the hot topic of discussion. In late futures trading shares of Netflix were up almost 10%. No data released today but with the price of oil drifting, following last weeks rally – traders are slightly nervous we may see the decline return if not supported by economic data sometime soon.
2's closed 1.36% (u/c), 10's 2.32% (-1bp), 30's 2.90% (-2bp), Bunds 0.58% (-1bp) closing the spread +174bp (-1bp). France 0.84% (-1bp), Italy 2.22% (-6bp), Greece 5.19% (-4bp), Turkey 10.35% (+1bp), Portugal 3.06% (-3bp) and Gilts 1.27% (-4bp).