Blog/Market Talk
Posted Jul 17, 2019 by Martin Armstrong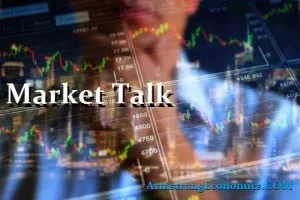 ASIA:
China told the Trump administration today to "make up its mind" regarding the trade deal, according to the South China Morning Post. China also warned that additional tariffs will derail the current negotiations. U.S. Treasury Secretary Steven Mnuchin this week stated that he and his entourage could be traveling to China this week if talks are productive via telephone. Trump earlier stated that he could add additional tariffs on $325 billion dollars' worth of goods.
There seems to be no end to the South Korean and Japanese argument regarding war compensation. Analysts are comparing Japan's treatment of Samsung akin to the U.S.'s treatment of Samsung. At the start of the month, Japan placed restrictions on exports to South Korea on three chemical materials. These materials are essential for manufacturing semiconductors and screens used in smartphones and televisions, all products that are core to Samsung and LG's business.
India is looking to issue bonds in foreign currencies, with the goal of obtaining a lower cost of funding. However, they are neglecting the fact that it will cost them a lot if the foreign currency appreciates against the local currency. Some in the right-wing Hindu party seems to understand the risks that it imposes (especially if in USD). "We can't allow this to happen," declared Ashwani Mahajan, the co-convenor of Swadeshi Jagran Manch (SJM), the economic branch of the right-wing Hindu organization Rashtriya Swayamsevak Sangh (RSS).
The major Asian stock markets had a mixed day today:
Shanghai decreased 5.92 points or -0.20% to 2,931.69
Kospi decreased 18.95 points or -0.91% to 2,072.92
ASX 200 increased 32.30 points or 0.49% to 6,673.30
NIKKEI 225 decreased 66.07 points or -0.31% to 21,469.18
Hang Seng decreased 26.45 points or -0.09% to 28,593.17
SENSEX increased 84.60 points or 0.22% to 39,215.64
The major Asian currency markets had a mixed day today:
AUDUSD decreased 0.0001 or 0.01% to 0.7011
NZDUSD increased 0.0032 or 0.48% to 0.6732
USDJPY decreased 0.1340 or 0.12% to 108.0860
USDCNY decreased 0.0029 or 0.04% to 6.8780
Precious Metals:
Gold increased 19.92 USD/t oz. or 1.42% to 1,424.47
Silver increased 0.4045 USD/t. oz or 2.60% to 15.9630
Some economic news from last night:
Australia:
MI Leading Index (MoM) remain the same at -0.1%
Singapore:
Non-Oil Exports (YoY) (Jun) decreased from -16.30% to -17.30%
Non-Oil Exports (MoM) (Jun) decreased from 5.80% to -7.60%
Trade Balance decreased from 3.960B to 2.450B
Some economic news from today:
India:
M3 Money Supply increased from 10.1% to 10.3%
EUROPE/EMEA:
The EU has opened an Amazon antitrust investigation to determine whether the company is using sales data to gain an unfair advantage over smaller sellers on the marketplace platform. Earlier this week, France issued a plan to tax digital companies. The plan is to tax 3% of revenues generated by large digital companies, such as Alphabet (Google) and Facebook.
The Guardian reported that likely UK PM Boris Johnson issued a letter of support for the EU's single market one year prior to campaign for leave. Meanwhile, the House of Lords passed an amendment to help prevent a no-deal Brexit. This amendment would make it illegal for Boris Johnson's administration not to include parliament, as he earlier announced he would. The outgoing PM Theresa May spoke of her regret in her inability to bring a successful Brexit to the finish line. May also touched upon her being against populism.
European/German car sales dropped 7.9% YoY in one of the worst yearly drops in a decade.
Iran has accused the U.S. of bullying and deliberately targeting innocent civilians, which amounts to "economic terrorism," the foreign minister stated. The missing oil tanker registered to a UAE company reportedly had a technical failure and was towed to Iran for maintenance.
The major Europe stock markets had a negative day today:
CAC 40 decreased 42.67 points or -0.76% to 5,571.71
FTSE 100 decreased 41.74 points or -0.55% to 7,535.46
DAX decreased 89.94 points or -0.72% to 12,341.03.
The major Europe currency markets had a mixed day today:
EURUSD increased 0.00162 or 0.14% to 1.12252
GBPUSD increased 0.00309 or 0.25% to 1.24339
USDCHF decreased 0.0009 or 0.09% to 0.9868
Some economic news from Europe:
Italy:
Italian Industrial New Orders (MoM) (May) increased from -2.2% to 2.5%
Italian Industrial New Orders (YoY) (May) decreased from -0.2% to -2.5%
Italian Industrial Sales (MoM) (May) increased from -1.10% to 1.60%
Italian Industrial Sales (YoY) (May) increased from -0.80% to 0.30%
UK:
CPI (MoM) (Jun) decreased from 0.3% to 0.0%
CPI (YoY) (Jun) remain the same at 2.0%
CPIH (YoY) decreased from 1.9% to 1.6%
PPI Input (MoM) (Jun) decreased from 0.0% to -1.4%
Eurozone:
Core CPI (MoM) (Jun) increased from 0.3% to 0.4%
Core CPI (YoY) (Jun) increased from 0.8% to 1.1%
CPI (YoY) (Jun) increased from 1.2% to 1.3%
CPI (MoM) (Jun) increased from 0.1% to 0.2%
CPI ex Tobacco (YoY) (Jun) increased from 1.1% to 1.2%
CPI ex Tobacco (MoM) (Jun) increased from 0.1% to 0.2%
U.S./AMERICAS:
The Federal Reserve released its Beige Book nationwide survey this Wednesday. The survey expressed general economic growth throughout the nation but noted looming trade concerns. "Economic activity increased in most of the U.S., with eight of twelve Federal Reserve Districts reporting modest to moderate growth," the report began. The survey also noted "widespread concerns about the possible negative impact of trade-related uncertainty." The Beige Book results will be used as supporting evidence for potential policy changes later this month when the FOMC announces their next steps.
New home starts fell to 0.9% in June, according to a new report released by the Commerce Department. Permits for new homes fell to 6.1% last month, which is 7% lower on a YoY basis. While low, mortgage rates began to rise this Wednesday. The average 30-year mortgage increased 3 basis points over the past week to 3.84%; the average 15-year mortgage increased by 4 basis points over the past week to 3.27%.
Foreign home buyers are shying away from U.S. real estate. U.S. homes purchased by foreigners decreased by 36% from April 2018 to March 2019. The National Association of Realtors (NAR) Chief Economist Lawrence Yun stated that foreign buyers simply have "less confidence in owning a property in the U.S." Yun also cited "slower economic growth abroad, tighter capital controls in China, a stronger U.S. dollar and a low inventory of homes for sale" as reasons for the decline.
U.S. economic data for June:
Retail spending increased by 0.4% MoM
Clothing store spending rose by 0.5% MoM
Online orders increased by 1.7% MoM
Furniture sales increased by 1.5% MoM
Restaurant and bar purchases increased by 0.9% MoM
Vehicle purchases increased by 0.7% MoM
U.S. Market Closings:
The Dow declined 115.78 points or -0.42% to 27,219.85
S&P 500 declined 19.62 points or -0.65% to 2,984.42
Nasdaq declined 37.59 points or -0.46% to 8,185.21
Russell 2000 declined 11.22 points or -0.72% to 1,550.78
Canada Market Closings:
TSX Composite declined 18.21 points or -0.11% to 16,484.21
TSX 60 declined 2.17 points or -0.22% to 984.45
Brazil Market Closing:
Bovespa advanced 80.12 points or 0.08% to 103,855.53
ENERGY:
Crude oil reported its fifth straight weekly draw in the U.S., which caused prices to stabilize. Yesterday, Iran agreed to come to the table regarding the ballistic missiles.
The oil markets had a mixed day today:
Crude Oil decreased 1.09 USD/BBL or -1.89% to 56.4162
Brent decreased 0.79 USD/BBL or -1.23% to 63.4419
Natural gas increased 0.007 USD/MMBtu or 0.30% to 2.3161
Gasoline decreased 0.0147 USD/GAL or -0.78% to 1.8803
Heating oil decreased 0.0136 USD/GAL or -0.71% to 1.8945
Top commodity gainers: Bitumen (2.40%), Lean Hogs (2.06%), Silver(2.67%), and Coffee (1.78%)
Top commodity losers: Crude Oil (-1.86 %), Ethanol (-3.02%), Orange Juice (-1.58%), and Sugar (-1.58%)
The above data was collected around 16:07  EST on Wednesday.
BONDS:
Japan -0.12%(+0bp), US 2's 1.83% (-3bps), US 10's 2.06%(-6bps), US 30's 2.57%(-7bps), Bunds -0.29% (-0bp), France -0.04% (-4bp), Italy 1.59% (-2bp), Turkey 16.34% (-45bp), Greece 2.25% (+1bp), Portugal 0.51% (-5bp), Spain 0.45% (-4bp) and UK Gilts 0.75% (-7bp).
German 30-Year Bund Auction increased from 0.260% to 0.300%