Blog/Market Talk
Posted Jul 17, 2018 by Martin Armstrong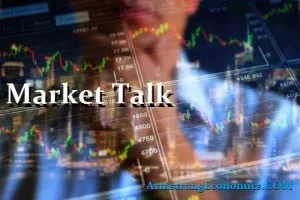 Japan was the only one of the core to distance itself form all others and close positive (+0.45%) on the day. That is probably because the Yen lost ground and seems to have finally broken that correlation play for now. Declining energy prices was the main talking point for Asia, but that started late last week and has rolled into Asia's concern this week. That is what hit the Hang Seng well – along with tech and real estate concerns. But late US trading has seen even that sector (tech) turn around which should reverse much of these moves when trading reopens on Wednesday. In late US trading Tuesday we see Asian futures markets rallying, but we are still yet to hear more on trade talks and tariffs! Sitting within this whole process is the USD which continues to gain strength. DXY is now comfortably trading with a 95 handle with Yen now looking to breach 113 and the A$ being hit yet again.
European indices closed better but probably as much a currency storey as an earnings consideration. The Euro is back with a 1.16 handle (-0.5%) while GBP has lost 1% today. BREXIT is still very much the hot topic today, as headlines read negative on both sides of the Channel. Today we also heard that the IMF has lowered its growth forecasts for both, which is not what you want when the opposition (USA) is raising theirs! UK unemployment was again low, but was probably overshadowed by the calls for another referendum in what many are calling a political shambles. All European indices were lifted in late trading as a direct influence from the recovering US markets. Gold lost again today suffering from the strengthening USD. Last seen at $1226 it still trades heavy with limited room for a bounce just yet.
A very healthy bounce in the NASDAQ today setting new intraday and closing highs. Netflix recovered much of the 14% loss seen upon yesterdays results, but did still settle 5% off. We continue to see the NASDAQ lead this move, even having seen some unexpected numbers. Netflix usually moves around 10% on earnings announcements anyway, so was probably only a little more volatile than expected. Fed Chair Jerome Powell announced in testimony that given the "considerably stronger" economic growth we can see more rate hikes. The flow of dollars back to the US continues and is even accelerating. More curve flattening in treasuries even as 2's move comfortably to 2.62% yield. 10's and Bonds are holding with demand just for the currency as well as the small pickup.
Japan 0.04%, US 2's closed 2.62% (+2bp), 10's closed 2.86% (+1bp), 30's 2.97% (+2bp), Bunds 0.36% (-1bp), France 0.63% (-2bp), Italy 2.47% (-10bp), Greece 3.86% (+5bp), Turkey 7.15%, Portugal 1.74%, Spain 1.25% and Gilts 1.26% (-2bp).