Blog/Market Talk
Posted Jul 16, 2018 by Martin Armstrong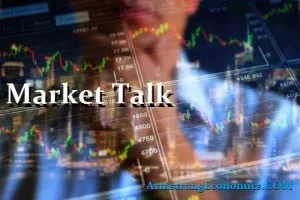 Despite all of the weekends headlines surrounding US Presidents Trump's meetings with NATO, UK's PM Theresa May and then on to Helsinki with President Putin markets maintained calm. The USD remains very well supported, core bonds around the globe held their ground and other than a drift in energy prices, overall we survive in a nonchalant manor. China released data that were all pretty much in line, with growth again seen at 6.7% but a little lower than the previous print. The Hang Seng did managed a small gain, but was not to be seen in the domestic Shanghai that returned a small -0.6% loss. Japan was closed for national holidays whilst the Yen remains focused with a 110 handle. SENSEX settled around -0.6% lower with INR also in a quiet trading day, mid 68's.
Europe in general traded heavy even though ranges were tight. It certainly looks as though Europe lacks the benefit of a strong financials sector, but some banks have bounced (DB +5%) but remains to be seen if they can maintain those gains. Most core settle lower with last weeks political overhangs still heavy on the mind. Energy prices didn't help Europe as they remain heavy after we heard the joint efforts between US and Russian reactions maybe even encouraged sellers.
Financials in the US traded well having seen Bank Of America beats street estimates, which also lent a helping hand to the sector. Investment banking and equity trading areas did well but many keeping an eye on loan growth as this remains an area of disappointment. The treasury curve continues to play extremely flat even as 2's back into the 2.6% region again. 2's/10's continue to play at 25bp but with 10's still around 2.85% and last weeks CPI release at 2.9% it is probably difficult to see 10's remain with a 2 handle for much longer. Trade fears spread uncertainty for financials but its the curve and loan growth that need careful inspection. In the wings its also worth keeping a very close eye on emerging markets and the exposure main street banks have to these countries. DOW the only core to close positive, but market was waiting Netflix numbers. Just after the close the earnings release did disappoint and was last seen down 13% in after hours trading.
Japan 0.04%, US 2's closed 2.60% (+2bp), 10's 2.85% (+2bp), 30's 2.95% (+2bp), Bunds 0.375% (+4bp) influenced possibly by the roll-over, France 0.65% (+4bp), Italy 2.57% (+3bp), Greece 3.81% (+1bp), Turkey 17.7% (+30bp), Portugal 1.78% (+6bp), Spain 1.28% (+2bp) and Gilts 1.28% (+1bp).