Blog/Market Talk
Posted Jul 15, 2019 by Martin Armstrong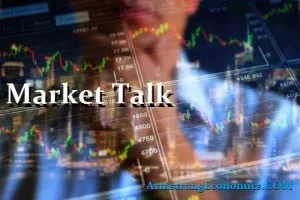 ASIA:
China's released new data today that showed the economy grew at the slowest pace in 27 years, with the trade war with the United States being the prime suspect. China grew 6.2% in the second quarter of 2019, a drop from 6.4% in the first quarter, according to data released by the Chinese government. The pace of growth in the second quarter was at its slowest level since 1992, but still within the target rate set by the government between 6 and 6.5%.
President Donald Trump jumped at the opportunity to use the numbers to his advantage tweeting: "China's 2nd Quarter growth is the slowest it has been in more than 27 years. The United States Tariffs are having a major effect on companies wanting to leave China for non-tariffed countries. Thousands of companies are leaving. This is why China wants to make a deal…."
There is no clear solution over the Japanese and South Korean issue as Japan steps up its tightening of exports. South Korean business owners are calling for a boycott of Japanese goods.
The major Asian stock markets had a mixed day today:
• Shanghai increased 11.64 points or 0.40% to 2,942.19
• Kospi decreased 4.18 points or -0.20% to 2,082.48
• ASX 200 decreased 43.50 points or -0.65% to 6,653.00
• NIKKEI 225 closed today due to the public holiday in Japan
• Hang Seng increased 83.26 points or 0.29% to 28,554.88
• SENSEX increased 160.48 points or 0.41% to 38,896.71
The major Asian currency markets had a mixed day today:
• AUDUSD increased 0.0020 or 0.29% to 0.7037
• NZDUSD increased 0.0028 or 0.42% to 0.6718
• USDJPY increased 0.0280 or 0.03% to 107.9180
• USDCNY decreased 0.0053 or 0.08% to 6.8730
Precious Metals:
• Gold decreased 1.65 USD/t oz. or -0.12% to 1,416.68
• Silver increased 0.155 USD/t. oz or 1.02% to 15.3892
Some economic news from last night:
New Zealand:
• External Migration & Visitors (May) decreased from 8.30% to -1.20%
• Permanent/Long-Term Migration (May) increased from 3,890 to 4,240
• Visitor Arrivals (MoM) increased from -3.2% to -0.2%
China:
• House Prices (YoY) (Jun) decreased from 10.7% to 10.3%
• Fixed Asset Investment (YoY) (Jun) increased from 5.6% to 5.8%
• GDP (QoQ) (Q2) increased from 1.4% to 1.6%
• GDP (YoY) (Q2) decreased from 6.4% to 6.2%
• Industrial Production (YoY) (Jun) increased from 5.0% to 6.3%
• Retail Sales (YoY) (Jun) increased from 8.6% to 9.8%
• Chinese Unemployment Rate increased from 5.0% to 5.1%
Some economic news from today:
Indonesia:
• Export Growth (YoY) (Jun) increased from -8.99% to -8.98%
• Import Growth (YoY) (Jun) increased from -17.71 % to 2.80%
• Trade Balance (Jun) decreased from 0.21B to 0.20B
India:
• WPI Food (YoY) (Jun) decreased from 6.99% to 6.98%
• WPI Fuel (YoY) (Jun) decreased from 0.98% to -2.20%
• WPI Inflation (YoY) (Jun) decreased from 2.45% to 2.02%
• WPI Manufacturing Inflation (YoY) (Jun) decreased from 1.28% to 0.94%
Europe/EMEA:
European Union foreign policy Chief Federica Mogherini has urged Iran to acknowledge the work undertaken by European nations to save the 2015 nuclear deal. Iran recently increased uranium production above the acceptable threshold after the U.S. pulled out of the deal and argued that the EU is not doing enough to save the deal. Foreign Secretary Jeremy Hunt said there was a "small window" in order to save the Iran nuclear deal, as he aims to deflate the tension in the region.
Meanwhile, Israeli PM Netanyahu has criticized the EU foreign ministers for downplaying the breeches and stated that Europe will not wake up until a nuke lands on them.
Ursula Von der Leyen who is likely to replace Jean-Claude Juncker as the European Commission president has made last-minute pledges on the climate crisis, Brexit, an EU minimum wage, and gender quotas for company boards as she tight vote on her candidature.
In the UK, Boris Johnson and Jeremy Hunt will take part in the second and final head-to-head debate of the Conservative leadership campaign. The results of the contest and who will succeed Theresa May as prime minister will be announced on July 23, with the winner taking office a day later.
The major Europe stock markets had a green day today:
• CAC 40 increased 5.35 points or 0.10% to 5,578.21
• FTSE 100 increased 25.75 points or 0.34% to 7,531.72
• DAX increased 64.02 points or 0.52% to 12,387.34.
The major Europe currency markets had a mixed day today:
• EURUSD decreased 0.0012 or 0.11% to 1.1257
• GBPUSD decreased 0.0056 or 0.44% to 1.2517
• USDCHF increased 0.0006 or 0.06% to 0.9846
Some economic news from Europe:
Swiss:
• PPI (MoM) (Jun) decreased from 0.0% to -0.5%
• PPI (YoY) (Jun) decreased from -0.8% to -1.4%
U.S./AMERICAS:
The U.S. government may begin to approve licenses for companies to conduct business with Huawei in the upcoming weeks. Back in May, the tech giant was placed blacklisted and deemed a potential threat to national security. Chinese President Xi and U.S. President Trump recently agreed to allow some business to operate between the U.S. and Huawei, however, licensing and regulations will now be required. "[T]he entity list restrictions should be removed altogether, rather than have temporary licenses applied for US vendors," declared a spokesman for Huawei. "Huawei has been found guilty of no relevant wrongdoing and represents no cybersecurity risk to any country so the restrictions are unmerited."
China announced this Monday that it will no longer conduct business with U.S. companies supporting the sale of arms to Taiwan. "China's government and Chinese companies will not cooperate or have commercial contacts with these U.S. companies," Chinese Foreign Ministry spokesman Geng Shuang reported. America's most recent deal with Taiwan involved a large sale of arms worth $2.2 billion USD.
It is largely expected that the House of Representatives will vote to increase the Federal minimum wage this week. The Raise the Wage Act would increase the current minimum hourly wage from $7.25 to $15. If approved by the House, the Senate and President will need to sign the act into law, which would go into enforcement in 2024.
U.S. Market Closings:
• The Dow advanced 27.13 points or 0.10% to 27,359.16
• S&P 500 advanced 0.53 of a points or 0.02% to 3,014.39
• Nasdaq advanced 14.04 points or 0.17% to 8,258.18
• Russell 2000 declined 8.18 points or -0.52% to 1,561.82
Canada Market Closings:
• The TSX Composite advanced 22.70 points or 0.14% to 16,510.82
• The TSX 60 advanced 0.64 of a point or 0.06% to 986.66
Brazil Market Closing:
• Bovespa declined 103.30 points or -0.10% to 103,802.69
ENERGY:
Oil had a volatile day, sliding on the lackluster Chinese economic growth projections. However, the industrial data from China came in better than expected which helped slow the fall.
The oil markets had a negative day today:
• Crude Oil decreased 0.81 USD/BBL or -1.35% to 59.3218
• Brent decreased 0.4 USD/BBL or -0.60% to 66.2741
• Natural gas decreased 0.04 USD/MMBtu or -1.63% to 2.4112
• Gasoline decreased 0.0505 USD/GAL or -2.55% to 1.9303
• Heating oil decreased 0.0322 USD/GAL or -1.63% to 1.9450
• Top commodity gainers: Coffee (3.42%), Cotton (1.89%), Platinum(1.68%), and Rice (1.66%).
• Top commodity losers: Steel (-7.06 %), Cocoa (-5.70%), Wheat (-5.32%), and Ethanol (-3.26%)
The above data was collected around 15:40 EST on Monday.
BONDS:
Japan -0.12%(+3bp), US 2's 1.84% (-1bps), US 10's 2.09%(-4bps), US 30's 2.61%(-3bps), Bunds -0.25% (+1bp), France 0.06% (+2bp), Italy 1.65% (-9bp), Turkey 16.70% (+24bp), Greece 2.32% (-79bp), Portugal 0.63% (+1bp), Spain 0.52% (+1bp) and UK Gilts 0.80% (-4bp).
• French 3-Month BTF Auction decreased from -0.556% to -0.563%
• French 6-Month BTF Auction decreased from -0.568% to -0.601%
• French 12-Month BTF Auction increased from -0.625% to -0.621%
• US 3-Month Bill Auction decreased from 2.210% to 2.115%
• US 6-Month Bill Auction decreased from 2.075% to 2.010%