Blog/Market Talk
Posted Jul 13, 2017 by Martin Armstrong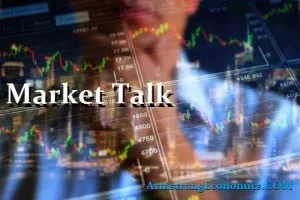 Reflected in Wednesdays late US futures trading Asian indices responded with a strong opening theme. China's Shanghai found additional support from the Trade data releases much stronger than had been forecast. Exports were released 11.3% with Imports at 17.2% whilst the forecasts had been 8.7% Exports and 13.1% Imports. Shanghai closed +0.65% higher with the Hang Seng up over 1% better. Janet Yellen's address started the positive turn and the supporting data accentuated the move. ASX also closed strong up over 1% on the day. The Nikkei had a quiet day closing small better with the JPY reflecting a little weakness to close mid 113's.
Europe has closed better across most of the core but appears anxious to hear from Janet Yellen for her second day address. It could be argued the rise in core reflects the decline in currency (-0.2%) but was not really the hot topic for European traders. The main focal point today was the discussions surrounding Greece and their potential return to the bond market. There is keen interest for a 5yr Greek deal which appears mostly driven by investment bankers, even though a decision on possible debt relief is not expected until 2018! Is it really in Greece's interest to issue more debt! We will discuss this in a separate post.
US indices continues to build on Wednesdays strong performance as we await Yellen's second day. The economic data released today came-in better than forecast at +0.1% despite expectations of zero rise. Being a Thursday we saw the Initial Claims release with todays number also beating expectations at +247k. All this combined to another positive close for core indices with the DOW, S+P and NASDAQ all setting stronger closes up +0.1%, +0.2% and +0.25% respectively.
2's closed 1.37% (+3bp), 10's at 2.35% (+4bp), 30's 2.92% (+5bp), Bunds 0.6% (+3bp) which closes the spread +175bp (+1bp). France 0.88% (+2bp), Italy 2.31% (+7bp), Greece 5.25% (+2bp), Turkey 10.43% (-1bp), Portugal 3.13% (+8bp) and UK Gilts 1.30% (+4bp).