Blog/Market Talk
Posted Jul 12, 2018 by Martin Armstrong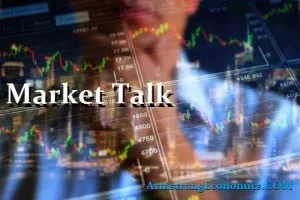 Many in the market were waiting to hear a response from China today, after the escalation by the US in trade tariffs. However, given their noticeable absence has provided a huge relief for markets and so we saw yesterdays decline reversed. An impressive 2.2% bounce proved wide spread and especially creditworthy when we see that the Yuan fixed at its weakest official fix in almost a year. Also worth noting is that ZTE shares rallied 24% China telecom poised to resume business. The Hang Seng managed just +0.6% which was more inline with the region. The Nikkei gained 1.2% but saw the Yen off -0.5%, now trading mid 112's. the Australian ASX also saw a near 1% bounce with the regional mood helping, but is gaining some ground as metals and softs find a bid. Constructive to see it close at the days high. SENSEX drifted marginally from morning highs, but encouraged as the INR held its ground today.
European markets followed the mood even though they were reluctant to take it too far ahead of US CPI release. The DAX was probably the most sensitive as it almost had a negative print mid afternoon on rumours of auto tariff except. BREXIT is again in the news with the discussion of a "common rule book" proposal. However, much is still to do as today is just the 'white paper' which has ignored the service sector in this submission. UK is offering a goods deal while sacrificing services – is how many are seeing this. Irrespective, GBP held its ground and saw little or no volatility I the headlines. CAC closed a near 1% firmer with EURONEXT 100 up 0.8% and peripheral FTSE MIB +0.4% whilst Portugal closed down.
As President Trump arrived in the UK amidst all the palaver of his visit, US CPI was released and was positive. It would appear most missed it, but the strongest in over five years certainly the US cash markets spotted it. The DOW added another 200 points and the NASDAQ made yet more new highs. Earnings season start soon with money still sitting on the side-lines. This still looks to be the most hated rally we've seen in a very long time and the more they hate it, the higher it wants to go! +0.9% rallies for S+P and DOW with an impressive +1.4% for the NASDAQ as Facebook and Amazon hit record highs. Treasury curve continues to flatten and the cash flow starts to accelerate towards the US.
Japan 0.04%, US 2's closed 2.59% (+1bp), US 10's closed 2.85% (u/c), 30's 2.95% (u/), Bunds 0.35% (+3bp), France 0.65% (u/c), Italy 2.62% (-6bp), Greece 3.83% (u/c), Turkey 17.75% (+14bp), Portugal 1.73% (-2bp), Spain 1.28% (-2bp) and Gilts 1.28% (-1bp).