Blog/Market Talk
Posted Jul 11, 2017 by Martin Armstrong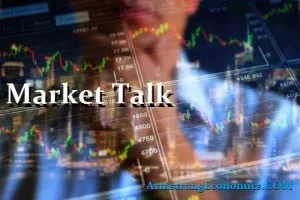 Another encouraging session for Asia as the confidence continues, at least until we see something to the contrary later in the week. Many are referencing the bond markets as they watch yields creep higher and the curve start to steepen as an indication that things have finally turned. China's Shanghai settled small lower but the large cap Hang Seng sored 1.5%. The yen appears happy playing in the 114 range, the Nikkei closed +0.6% better on the day and the positive mood drifts into Europe. The treasury market starts to signal a rate rise expected later in 2017 but the big question remains over the FED balance sheet liquidations.
The European confidence was quickly lost, lead mostly by the FTSE, after rumours of weaker economic growth (confirmed later by the CBI report) revealed deteriorating business confidence. DAX, CAC and IBEX also finished lower with currencies also suffering as the move into the US Dollar continues to build momentum. Despite the rally in oil after the better than forecast inventories report, European indices could not break the end of day downward spiral.
US markets moved in a similar pattern to Asia with negative effects awarded to the Trump Jnr / Russia email accusations, resulting in a 100 point decline in the DOW but then rallied back to close small better. The US dollar benefited again as cash continued its slow trend firmer. The NASDAQ again the top performer on the day closing +0.3% higher. In the DOW it was financials, energy and manufacturing that led the way. Fed governor Brainard said in a speech that the FED would be moving soon the reduce its balance sheet but co-incidentally treasuries rallied upon the announcement. Again, a recognisable summer trading day with the lack of volume accentuating volatility.
2's closed 1.37% (-3bp), 10's at 2.36% (-2bp), 30's 2.92% (+2bp), Bunds 0.55% (-1bp) which closes the US/Germany spread at +181bp (-1bp). France 0.91% (+1bp), Italy 2.31% (+6bp), Greece 5.25% (u/c), Turkey 10.53% (-1bp), Portugal 3.09% (+8bp) and UK Gilts 10yr at 1.27% (-4bp).