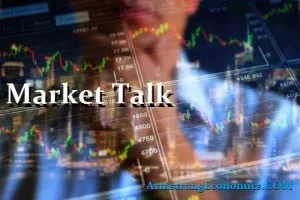 The Nikkei chased to record highs today following yesterdays national holiday. Closing at 26year high (+0.6% on the day) was an impressive performance made even more-so, by the fact the Yen strengthened. Trading around the mid 112's looks comfortable this week but looks to be moving higher beginning February. Shanghai and Hong Kong were both firmer again closing around +0.3% better. Currency looks to be edging a smidgeon weaker again but looks a little early for that play ahead of the February holidays. Inflation was a lot of the talk in Asia following the purchase size from the BOJ. It hit treasuries more than JGB's, but that is probably because of the additional supply scheduled for later this week. Both the ASX and SENSEX closed +0.1% higher, but the former was at the days lows while the later at the higher end of the days range. Worth keeping an eye on the INR as although it is at 2.5yr high against the USD, it has lost much ground against the Euro recently. The year long rally looks to have finished its run, with directional changes expected next week.
Interesting that despite positive economic data out of Germany (Industrial Production) it was the DAX that lagged other core markets. The CAC, FTSE and FTSE (MIB) all added around +0.5% whilst the DAX closed +0.1% firmer. Commodities, Exporters and Financials have been key leaders, but is a little concerning as the Euro is showing signs of continued retracement. All core set a steady performance with gradual appreciation for much of the day. Earnings season soon so many will be looking for confirmation of current PE ratio's to match current levels.
US opened strong and did not look back. The DOW made-up for yesterdays decline resulting in the best within the core. Closing up +0.4% was off of the days best levels, but still a healthy one days return. Kodak was a hot stock today rallying over 110% after news that it planned to launch a Crypto-currency to be called "Kodakcoin". NASDAQ and S+P both closed in the lower end of the days range but still closed +0.1% better on the day.
Japan 10yr JGB 0.066%, US 2's closed 1.96% (u/c), 10's 2.55% (+7bp), 30's 2.88% (+7bp), Bunds 0.46% (+3bp), France 0.81% (+3bp), Italy 2.02% (+4bp), Greece 3.62% (u/c), Turkey 11.35% (-5bp), Portugal 1.82% (-2bp), Spain 1.50% (+3bp) and Gilts 1.28% (+4bp).
Interesting that you are starting to see yields creep higher in the European core, with little or no movement in peripherals. Could be that core is responding to US trend while peripherals are dictated by the ECB. Often said that currency is the pressure valve to the economy; it will not be long before this tension starts to play-out especially as that last of the Central Banks punch bowl (BOJ) looks to have been removed.