Blog/Market Talk
Posted Jan 9, 2017 by Martin Armstrong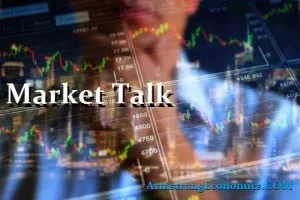 The demand for safe-haven JPY returned with a vengeance today even though Japan was on a national holiday (Coming of Age Day) but in the futures markets the Nikkei lost almost 1.3%. The Yen traded stronger all day and in late US trading was seen slightly under the 116 level. Both the Shanghai and Hang Seng traded firmer but were almost offset by the Yuan weakness. In late trade the offshore CNH was trading 0.45 weaker at 6.8750. We heard at the weekend that China's currency reserved had fallen again for the fifth month in a row to $3010.5bn an indication that the need to reduce the speed of the decline still appears to be managed.
We saw a similar theme in the FTSE as we saw in Asia with a currency decline balancing the equity strength. Many question what is leading but having read Theresa May (UK Prime Minister) comments surrounding the weaker currency benefiting exports, we probably have the answer. GBP eventually finished the day down a little over 15 at 1.2150. The DAX, CAC and IBEX were all weak despite better than expected German Industrial Production, falling energy prices did not help confidence. European bond markets were also better bid throughout the day after hitting their lows just after the European open. Talk is the largest buyer continues to fill his boots with liquidity becoming an issue.
In the US again a tight trading range but we did see new highs for the NASDAQ. Falling energy prices did not help some large cap's early after the open but towards the close had calmed ahead of earnings later this week. On Friday we see big banks announce earnings which could be interesting. Given many failed to see this "Trump rally" Fridays announcement will be interesting to say the least. We continue to watch FX and the Fixed-Income markets for the first signs of movement. Money is already in FI and looking to move soon as the curve bear flattens. Turkish Lira lost over 2% against the USD today, having lost near 17% in 2016. Many are testing the resolve of the central bank who are under pressure from Politian's to cut rates in order to help support the economy.
US 2's closed 1.19% with 10's closing 2.37%. In Germany 10's closed 0.27%, Italy 1.89%, Greece 6.76%. Turkey 11.08%, Portugal 3.93% and Gilts at 1.33%.