Blog/Market Talk
Posted Jan 8, 2019 by Martin Armstrong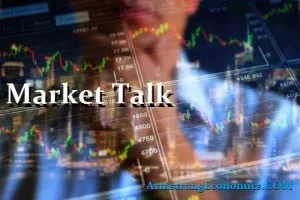 As the market waits for any headline materialising from the US/China trade talks, most Asian equity indices tread water. We did hear positive rhetoric from US Commerce Secretary Wilbur Ross that an agreement could be reached, but despite supporting market momentum more would be required. Tech and utilities have been leading much of the advances, which assisted the Hang Seng at the close (+0.15%). However, core Shanghai did not manage a positive trade all day and closed -0.26%. The Nikkei did see a positive day and even found strength to rally into the close (+0.82%). Much of that move was initially off-set by the Yen's depreciation (printing with a 109 handle). However, by close of US trading the Yen was back to unchanged following equity market uncertainty. The ASX saw a similar pattern, gaining throughout the day as financials helped performance as bond yields increased. The SENSEX flip-flopped with currency, but the selling looks to have returned to the INR with a loss of -0.5% today. The outlook for the Indian Rupee remains weak with expectations that last years highs expected to be retested. The Turkish Lira lost over 2% today, after President Erdogan responded following US John Bolton comments on Syria. Turkey 10yr debt did trade out to 16.22% but settled in at 16.18% (+26bp).
Core European indices closed positive despite the DAX dipped from its days highs. A 1% return for the CAC and a +0.75% for the UK FTSE, whilst the DAX lagged at +0.5% following weaker than expected Industrial Output data. Much of this recent bounce has been tech led, but they were beaten quite badly recently and so look to be rebalancing. Given the return of UK Parliament yesterday, we are starting to see more headlines hitting the screen surrounding BREXIT. Pressure came yesterday for Theresa May after 200 PM's requested she rule out leaving without a deal. GBP started to suffer in late US trade as US equities regained momentum and saw the USD bid. The vote due next week (Jan 15th) is still likely to fail, as it is widely rumoured nothing has changed! In a late vote, the attempt by ministers to rule out a 'No Deal BREXIT' has been unsuccessful – GBP hit again. Although, that maybe a little unjust as the Euro is also off -0.35% as US Dollars benefit on the equities bounce.
US market eventually generated another strong days return, but it was a little touch and go at first. All core gained 1% today, managing to string together the first 3-day gain in over a month. Sentiment was helped by a earlier tweet from President Trump simply claiming trade talks are going well! This was sufficient enough to take prices higher with a solid cross section of advances. Worth keeping an eye on Treasuries after todays sell-off. The 3yr auction was not that well received ($38bn with a poor bid to cover ratio). This evening we see 30yrs back with a 3% handle and this move is denting financials as well as hitting market forward rate perception.
Japan 0.01%, US 2's closed 2.59% (+6bp), US 10's closed 2.73% (+4bp), US 30's 3.01% (+3bp), Bunds 0.22% (u/c), France 0.73% (+1bp), Italy 2.95% (+6bp), Turkey 16.18%, Greece 4.31% (-3bp), Portugal 1.81% (u/c), Spain 1.51% (+1bp) and Gilts 1.27% (+2bp).